​'Naked rambler' makes legal history, appears nude before judges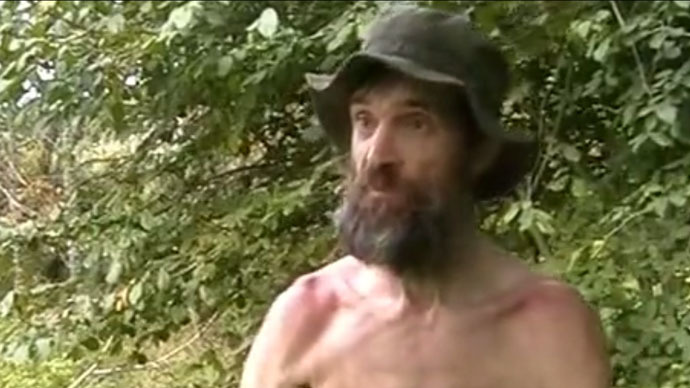 Stephen Gough, popularly known as the Naked Rambler, has made British legal history by appearing before judges at the Court of Appeal in the nude.
Gough, from Hampshire, watched proceedings at the Court of Appeal in London via video link from prison.
The former marine lost an appeal against a conviction for breaching an anti-social behavior order (ASBO).
Gough, 56, remained seated behind a large table as judges were asked to quash his most recent conviction.
READ MORE: Bare your sword: Japanese politician appears nude on campaign poster
READ MORE: Naked weddings? Ministers moot marriage law reform, including nudist ceremonies
His lawyer, Matthew Scott, argued Gough's original conviction for breaching his ASBO, by walking out of prison wearing only his boots and socks, was "unsafe" because he was not permitted to stand trial "not wearing any clothes."
A trial at Winchester Crown Court found Gough guilty last October. He was sentenced to two and a half years in jail.
Gough had refused to put on clothes when he left Winchester prison upon release after serving time for a previous ASBO breach, which bans him from appearing in public without clothing.
Lady Justice Rafferty refused Gough's appeal on Tuesday.
Rafferty said: "In our judgment, were the defendant to have appeared naked in front of the court it would have been a further breach of the anti-social behavior order."
She added this would be a "bizarre notion" and "fatal to his argument."
The judges also rejected a bid to challenge Gough's "manifestly" excessive prison sentence.
While sentencing Gough last year, Judge Jane Miller suggested Gough should be moved to a closed nudist community to prevent further imprisonment.
Gough has spent most of the past eight years behind bars for refusing to get dressed.
He says it is his human right to be naked in public.
In an interview with The Guardian in 2012, he said: "The human body isn't offensive. If that's what we're saying, as human beings, then it's not rational."
Gough was dubbed the "Naked Rambler" after completing a nude trek from Land's End in Cornwall to John O'Groats in Scotland in 2003.