UK police misuse pre-charge bail to ban activists from protesting – report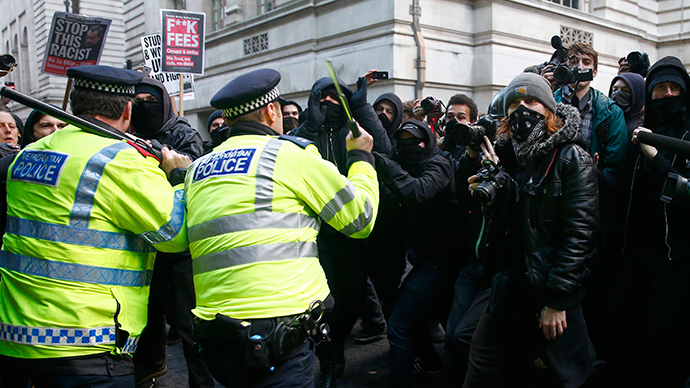 UK police forces are misusing pre-charge bail by banning hundreds of protestors from attending lawful demonstrations, The Guardian newspaper has revealed. Of all bailed protesters, eighty-five percent are never charged with any crime.
Since 2008 police have arrested at least 855 people in England and Wales and then released them on pre-charge bail, setting a date to return to the police station. Until their return, those bailed were prohibited from attending any demonstration. However, 85 percent, or about 732 people, have never been charged, according to data the Guardian collected using the Freedom of Information Act.
READ MORE:Police favor strict bail for terror suspects to aid investigations
Of the 500 arrests by the Metropolitan Police since 2008, only 15 people have been charged. In the same way the City of London, Essex and Sussex police banned 120 people. On average only one in seven has been charged.
Citing "additional research", The Guardian assumed the actual number of bans imposed could be far greater as some of the bail conditions given by custody sergeants were not picked up by the scope of the newspaper's information requests.
In the UK, no court permission is required for a custody sergeant to hand out a protest ban. Should a protester violate this restriction, an arrest for breach of bail could follow. However, people on pre-charge bail can appeal to a magistrate.
"Bail is becoming an instrument that is being used by people without recourse to the judicial process. It is essentially to punish protesters and curb their right to demonstrate," Rachel Harger of leading human rights law firm Bindmans told the newspaper. "It is effectively the police conducting their own extra-judicial justice without going to court."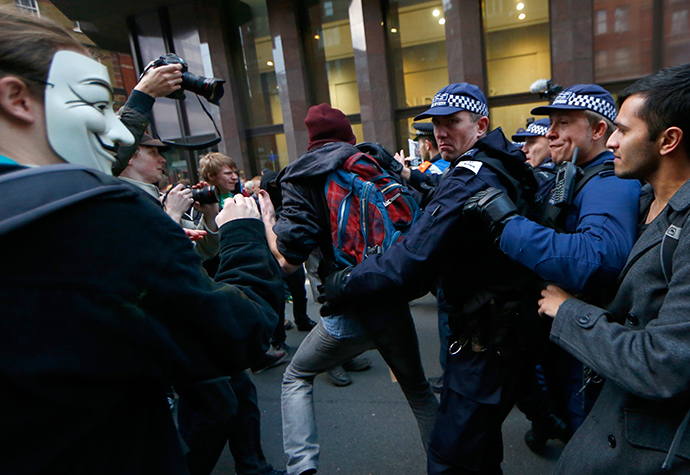 In the meantime, police managed to prove that in 123 cases they had enough evidence to start proceedings against the suspects.
However, civil liberties and protest groups insist that using bail is just a way of "disrupting protest activity without the inconvenience of dealing with a formal legal process."
"As a result of the police's long track record of misusing pre-charge conditions against protesters in an irresponsible way, we believe the only solution is the complete withdrawal of this power for all protest-related offences," The Network for Police Monitoring (Netpol), a group which seeks to monitor public order, protest and street policing, said.
According to the policy officer of civil liberties group Liberty, Rachel Robinson, "the lack of limits on police bail make it liable to abuse and misuse, and can act to frustrate, rather than further, prosecutions."
"Its use against protesters raises particular concerns, potentially chilling peaceful dissent for protracted periods without any prospect of criminal conviction," she added.
READ MORE:Policing the police: Complaints skyrocketing, Home Secretary calls for 'reforms'
The Guardian has also cited an example of Kelly Rogers who was one of those affected by the ban. She said West Midlands Police issued her a "blanket ban on all protests." However no criminal charges were ever pressed against her.
"Ultimately, their only aim could have been to stop us protesting again, even though it is our right to do so," she said.
READ MORE:British police prepare for Christmas 'lone wolf' terror attacks
UK Justice Minister Mike Penning said there will be consultation on pre-charge bail reform.
"The Home Secretary has been clear that it is wrong for people to spend months, or even years, on police bail with no judicial oversight or accountability," he said.
He added that in parallel, the College of Policing "is developing evidence-based guidance to bring consistency, transparency and rigor to the way in which pre-charge bail is used in criminal investigations."
You can share this story on social media: