​UK deploys Tornado jets for surveillance mission in N. Iraq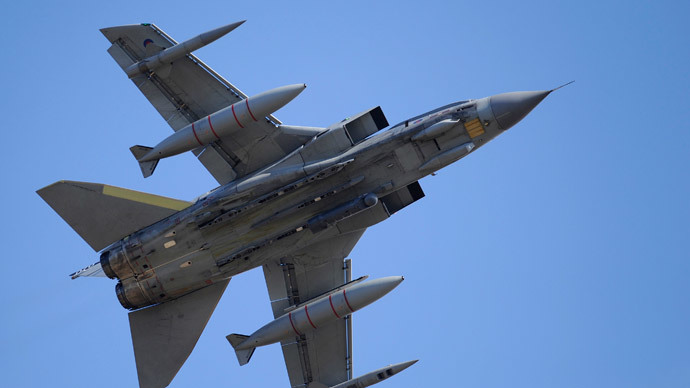 Britain is sending RAF Tornado jets in preparation for a surveillance mission scanning northern Iraq where military aid flights are dropping supplies to thousands of refugees fleeing Islamist fighters.
A No. 10 spokesperson said "a small number" of Tornado jets are pre-positioned in the region "so that they could, if required, use their excellent surveillance capability to gather better situational awareness to help with humanitarian effort," following a meeting of the government's emergency COBRA, or Cabinet Office Briefing Room A, committee on Monday.
UK politicians 'terrified' of military intervention in Iraq – former general
A Ministry of Defence spokesperson said that the jets, which are planned to be deployed within the next few days, "would not be used in a combat role." The jets would be equipped with hi-tech imaging equipment to help determine how many people are trapped on the mountain and where their exact locations are, to then find safe spots to drop off aid, the MoD said.
Speaking about a possible military intervention after the COBRA meeting, Foreign Secretary Philip Hammond said, "I don't think that's necessary at this time. We are talking about a humanitarian intervention." He said he does not "envisage a combat role at the present time."
Hammond's comments came as Andrew Rosindell, a Conservative MP, called for British airstrikes on Islamic State (IS) targets. "I strongly believe that we should carry out immediate targeted air strikes to hold back attacks by Islamist insurgents; whilst making humanitarian aid drops to support groups fleeing from persecution," he said.
A Downing Street spokeswomen also emphasized, "Our focus is very much on the humanitarian effort at the moment." The UK will look at how it can get equipment to Kurdish forces, who are at the frontline of the fight against IS in northern Iraq and who are trying to defend Iraqi Kurdistan.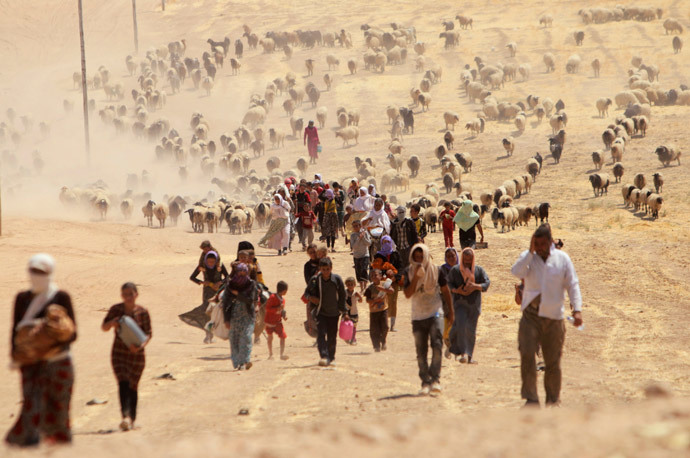 IS fighters have seized territory across Iraq and Syria in the past few months, with continuing reports of the slaughter of Iraqi religious minority groups. Among those reportedly being targeted by the IS are Christians and Yazidis in the north of Iraq, where tens of thousands of Yazidi civilians are trapped on Mount Sinjar without food and water.
On Sunday night, an RAF C130 transport plane had to abort an aid drop for those stranded on Mount Sinjar because it was feared that falling packages would injure refugees.
On Monday night, the RAF made a second drop of essential supplies over Mount Sinjar, including 3,180 reusable containers filled with clean water. The first drop took place overnight on Saturday, with the RAF delivering 1,200 reusable water containers, providing 6000 litres in total, and 240 solar lanterns that can also be used to recharge mobile phones. The MoD spokesperson confirmed it was planning on delivering further aid drops in the coming days.
This decision comes as David Cameron has been urged to recall parliament from its summer recess to address the growing crisis in Iraq and to consider taking part in military action.
When asked whether the decision to send Tornado jets to Iraq, even if for surveillance purposes, could be a first step towards military intervention, Chris Nineham, Vice Chair of Stop the War Coalition, said: "This is how full scale military often interventions start," while adding that the bombing of Libya started with no fly zones.
"The current dreadful crisis in Iraq has its roots in the Western occupation - Iraqi infrastructure was broken and sectarianism was encouraged," he said. "The very last thing is needed is more Iraqis killed by the Western powers, it will only serve to inflame an already desperate situation."
Emergency Funding for Charities
International Development Secretary Justine Greening said, "The humanitarian situation in Iraq area is deeply worrying. UK aid is already helping the people who desperately need it."
On Tuesday, the British government announced it would give £3 million to four charities that help provide food, medical supplies, water and sanitation to over 100,000 people across northern Iraq. The funding will be fast-tracked as emergency funding so Mercy Corps, Save the Children, the International Rescue Committee and Action Against Hunger can start using it immediately.
Greening said: "DFID [Department for International Development] is stepping up its work with charities across northern Iraq where nearly 1.5 million people have fled their homes in recent months." She added, "Our support is helping hundreds of thousands of Iraqis get the food, water and sanitation they desperately need."
According to the government, the four charities will provide around 80,000 people with clean water, improved sanitation facilities and hygiene kits, provide food, shelter and other support to over 10,000 families who have fled their homes and provide medical supplies and assistance to 8,000 people.
Meanwhile, on Monday Iraq's embattled prime minister, Nouri al-Maliki, appeared to have lost his job, after the country's president appointed a rival Shiite politician, Haider al-Abadi, to form a new government.
The US has carried out four rounds of air strikes targeting IS fighters near Erbil, the capital of Iraqi Kurdistan and has sent weapons to Kurdish Peshmerga fighters to help them push back IS forces.