US starts providing weapons to Kurdish forces in Iraq - report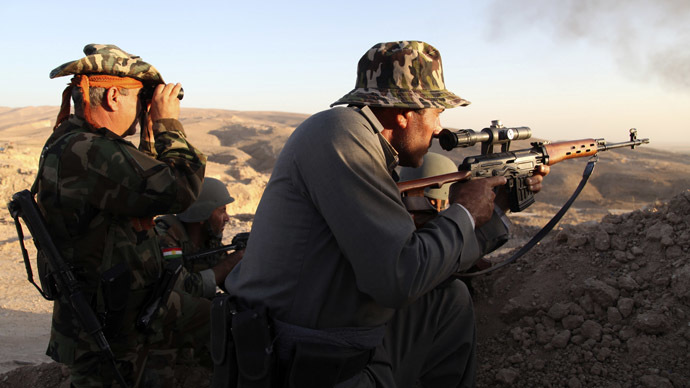 The US has reportedly started direct arms supplies to Kurdish Peshmerga fighters in Iraq to help them battle the Islamic State militants.
Previously the US insisted on selling arms only to the Iraqi government, but that policy has changed now, senior US officials told AP.
The officials would not disclose what kinds of weapons are being supplied or which agency is funneling them.
One official said it was not the Pentagon. Historically, the CIA has been involved in the clandestine arming of foreign fighters in various conflicts.
Iraqi Kurds, who are engaged in intensive fighting with militants from the Islamic State militants, have been complaining that they are under-armed compared to the radical Islamists, who captured a lot of American weapons from the Iraqi army in a lightning offensive in June.
The Kurds earlier received arms deliveries from the Iraqi government, an unprecedented move for Baghdad, which in the past has been reluctant to further empower the semi-autonomous Iraqi Kurdistan. The deliveries were facilitated by the US.

Washington also provides military support for the Kurds in the form of airstrikes delivered on IS positions.
The turmoil caused by the rise of the Islamist militants in Iraq is aggravated by a political crisis in Baghdad, where embattled Prime Minister Nouri al-Maliki accused the newly elected President Fouad Massoum of violating the constitution.
Maliki said Massoum neglected his duty to name a new prime minister from the country's largest parliamentary faction by a Sunday deadline. Maliki is seeking a third term as prime minister, but faces harsh criticism even from his closest domestic and foreign allies for failing to provide security in Iraq and consolidate the nation in a time of crisis.
Following Maliki's surprise Sunday TV speech, rumors were rife in Iraq that tanks had surrounded the presidential palace in Baghdad in a potential armed coup. Reports from the ground said there was increased security presence in the Iraqi capital in the wake of the address.
On Monday, Iraqi state media reported that the country's highest court ruled that Maliki's block is the biggest in the parliament, giving further impetus to Maliki's ambitions to hold on to his position. The court, however, denied those reports hours later.
You can share this story on social media: