'Get over Syria': MPs urge Cameron to push for military action in Iraq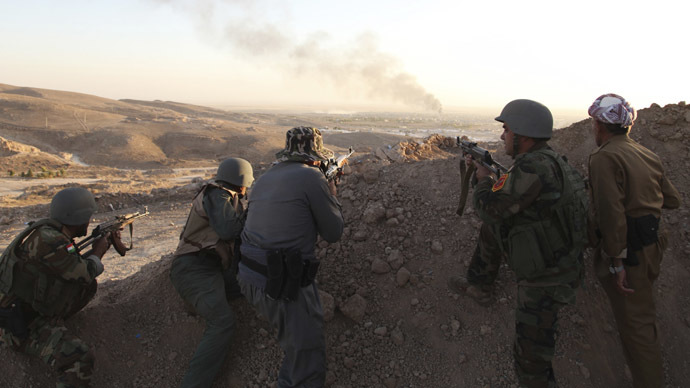 David Cameron is coming under intense pressure to recall parliament amid more reports of minority Christians and Yazidis being slaughtered by Islamic State (IS) extremists in northern Iraq.
A number of MPs are calling on David Cameron to authorize British military support after the United States commenced airstrikes against IS targets who are battling Kurdish forces near the city of Erbil.
MP Conor Burns said the government's response so far, of airdropping supplies while ruling out military intervention, was "not hard enough or strong enough" to help the embattled Yazidi Zoroastrian sect. The Yazidis are fleeing from the Islamic State – formerly ISIS – with many currently trapped on Mount Sinjar in Iraq's northwest.
"These people are being beheaded by people from IS, and our only response is to drop some food or water on them," the Bournemouth West MP said. "I think the US and UK should be involved in airstrikes. I am not by any means advocating a ground war, but I think we should put our special forces in there," he said. Burns also called for arming the Kurds as well as considering asylum requests.
Mike Gapes, the Labour MP for Ilford South and former chair of the Foreign Affairs Select Committee, said Cameron's "defeat and mishandling of the Syria debate" in August 2013 should not keep him from acting now.
"He should get over it and urgently recall parliament," Gapes said.
"I hope we can then, with opposition support, achieve a massive vote for UK military intervention alongside our US and NATO partners to defend and protect our democratic and secular Kurdish friends and to stop the genocide of Christians, Yazidis and other minorities by ISIS in Iraq and Syria," he wrote in an article for the New Statesman.
Gapes added that while the UK officially favored a unified Iraqi state, an inability to stop IS forces would put an end to Iraq, as well as Syria and "probably" Lebanon.
Foreign Secretary Philip Hammond will chair an emergency meeting on the situation in Iraq on Monday, according to Downing Street.
The former head of the army, Lord Dannatt, also backed a parliamentary recall, insisting Britain was "watching in horror" as atrocities were committed.
On the front lines against IS
British officials estimated Saturday that 50,000 to 150,000 people could be trapped on Mount Sinjar, where they fled to escape the Islamic extremists, only to become stranded there with few supplies. Britain has already airdropped aid packages to those trapped on the mountain.
The first aid drop took place over Mount Sinjar on Saturday, with the RAF delivering bundles that included 1200 reusable water containers providing 6000 liters in total and 240 solar lanterns that can also be used to recharge mobile phones.
Yazidis, Turkmen and Christians have been at the frontlines of Iraq's war with IS since the jihadist group stormed into Mosul and Tikrit in mid-June. The Iraqi army capitulated within hours and at least 60,000 officers and soldiers fled on the first day of the assault. Since then, the jihadists have continued to make advances, while Iraqi troops have concentrated on defending Baghdad and the Shia south, leaving the defense of minorities in the north to the Kurdish Peshmerga fighters.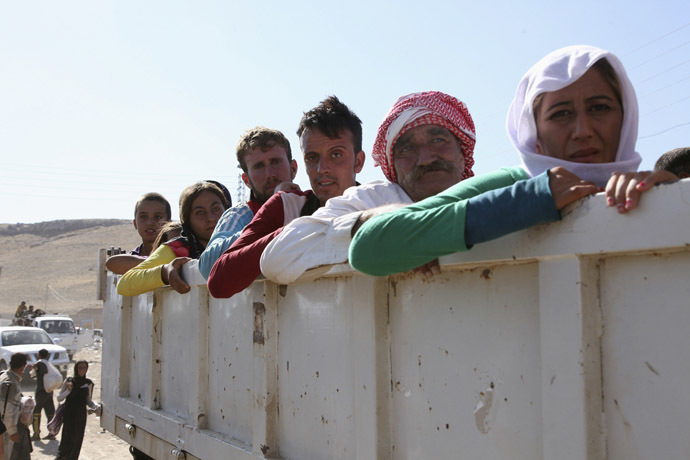 After a meeting on Sunday of the government's Cobra emergency committee to discuss the situation in Iraq, a Number 10 spokesperson said, "The humanitarian situation remains deeply worrying and consequently this continues to be our priority."
"Meanwhile, we continue to engage with the US, Kurds, Turks and other international partners on how to get those trapped on the mountain to safety," the spokesperson added.
On Sunday, Downing Street announced that more UK humanitarian advisers were being sent to the under-threat city of Erbil, the capital of Iraqi Kurdistan, to help deal with the developing crisis.
Iraq's human rights minister Mohammed Shia al-Sudani said in an interview with Reuters that his government had evidence that Islamic State members killed 500 Yazidi civilians. He added that 300 Yazidi women have been kidnapped as slaves.
The UK Government announced an 8-million-pound emergency package last week, 3 million pounds of which will go to charities and NGOs already on the ground and helping displaced people in northern Iraq, and 2.5 million pounds to the International Committee of the Red Cross.
The Associated Press reported on Twitter today that senior US officials say Obama administration has begun directly arming Kurds in Iraq.
Meanwhile, Iraqi Prime Minister Nour al-Maliki faced calls to step down amid the Islamic State insurgency, but in a television speech he gave he indicated that he would not cave in to pressure to drop his bid for a third term.