Bulgarian boxer Pulev to attend sexual harassment course after forcibly kissing reporter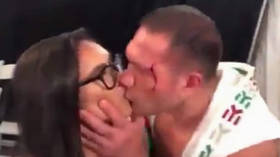 Bulgarian heavyweight boxer Kubrat Pulev has been ordered to complete a sexual harassment course to be licensed to fight in California again following an incident involving a female reporter whom he forcibly kissed mid-interview.
Appearing before the California State Athletic Commission (CSAC) on Tuesday the 38-year-old fighter apologized for his behavior adding that he wants to return to the boxing ring as soon as possible.
READ MORE: Kissed off: Reporter 'set to take legal action' after boxer Kubrat Pulev's uninvited interview kiss
The CSAC voted to extend the boxer's suspension until July 22, agreeing, however, to reinstate his license if he attends sexual harassment prevention classes and pays a $2,500 fine.
Pulev, known as 'the Cobra' was warned he could be slapped with a lifetime ban if he commits similar offenses in the future.
The kissing incident, which attracted much public attention, took place in March after Pulev defeated Bogdan Dinu in Las Vegas to claim the 27th win of his career.
During a post-match interview, conducted by Vegas Sports Daily reporter Jennifer Ravalo, the boxer unexpectedly grabbed the journalist and kissed her in the mouth without consent.
Ravalo later revealed that the two-time European heavyweight champion "shocked" her by his behaviour, and said the incident left her "humiliated."
"I started the interview and mid-interview he grabbed my face and kissed me. I was immediately shocked and embarrassed and I did not know how to respond," she said at the time.
Also on rt.com
'I felt humiliated': Reporter speaks out after being kissed & 'groped' by boxer Kubrat Pulev
"Kissing a woman on the lips without her consent and grabbing her is not acceptable. What he did to me was disgusting, I felt humiliated. No woman should be treated this way," she added.
You can share this story on social media: