'I feel powerless': Brazilian MMA fighter opens up after punching 'masturbating' fan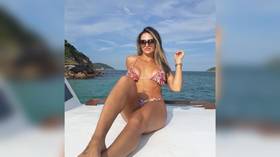 Brazilian MMA fighter Joyce Vieira has revealed she has suffered sleepless nights after hitting a man who reportedly exposed himself while she was posing for a beach photoshoot in Rio de Janeiro.
The uninvited guest, who was later identified in local reports as Josenei Viana Ferreira, was said to have been openly pleasuring himself while watching Vieira, prompting the fighter to interrupt her photo-session.
READ MORE: Rear naked choke? MMA fighter fends off 'masturbating fan' during steamy photoshoot
The Jiu-Jitsu and Muay Thai practitioner, known as 'Princess Fiona', charged at the man before throwing several punches at his face.
"It affected my life, more because I had that reaction, I didn't put my head down and I faced up to him! For a whole week I slept and woke up with the scene in my head," Vieira said days after the incident, according to the Sun.
The 27-year-old regretted that no serious punishment is given for such offences adding that many women 'feel powerless' facing similar situations.
"We feel powerless. It's very strange because he's going to be in the same city as me, and who knows he might be in the same places," Vieira commented on the news that her 'admirer' had been released.
"I have received an innumerable number of messages from women saying that (in similar situations) they didn't file a report, because they know the suspects would end up being released. I think the punishment for these cases should be more severe," she added.
You can share this story on social media: