Rear naked choke? MMA fighter fends off 'masturbating fan' during steamy photoshoot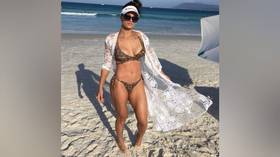 Brazilian MMA fighter Joyce Vieira was forced to use her mixed martial arts training to send an x-rated fan packing after he reportedly approached her in a state of undress as she posed for a steamy beach photoshoot.
Police are reportedly investigating a man identified in local reports as Josenei Viana Ferreira, 26, who disrupted Vieira's photoshoot in the Lagos region of Rio de Janeiro. He was understood to be openly pleasuring himself in public near to the location of the shoot.
The 27-year-old fighter, known to her fans as 'Princess Fiona', took issue with the unwanted attention, throwing a few blows at her admirer.
"When I looked at him, he was the way he was, pants down, standing. On the way people passed by all the time. Children, inclusive," Vieira said of the incident, as reported by Correio24horas via translation.
According to Vieira, who is a high-level Brazilian Jiu-Jitsu and Muay Thai practitioner, the man was displaying his penis which was "visibly erect" and he was "making noises and moaning."
He failed to stop when approached by the fighter and when challenged "went into a state of ecstasy."
"Usually people who are caught doing this always deny, 'no, no'. He no. He continued," Vieira said.
Vieira says that she kicked him to the point that her shins now have bruises. The man retaliated, she says, with a punch of his own.
"The punch made me even more angry. I wanted to kill him," she said.
The incident was reported to the Cabo Frio Women's Police Station, who say that the matter is under investigation and that "diligences are being carried out" related to charging the suspect.
The suspect had claimed he "was urinating" on the beach before the MMA fighter confronted him, according to the Civil Police.
"I have received an innumerable number of messages from women saying that (in similar situations) they didn't file a report, because they know the suspects would end up being released. I think the punishment for these cases should be more severe," Vieira said.
You can share this story on social media: