'¡Increíble!': Mexican teenager scores one of the unlikeliest penalties you will ever see (VIDEO)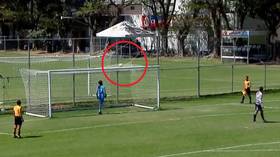 Just when you thought that you had seen everything that there is to see on a football pitch, along comes a video of a Mexican under-17 player scoring the single luckiest penalty kick you will ever come across.
Diego Campillo, a player with the Chivas under-17 team, thought for a few fateful seconds that he had fluffed his moment when he saw his penalty kick cannon skyward off the crossbar when his team's match with with Lobos BUAP went to a penalty shoot-out.
READ MORE: Justice served? Aguero misses VAR-awarded penalty for Man City in crucial UCL QF tie
However, the football gods were clearly on his side. As the ball descended back down to earth - and with Campillo having turned his back - it bounced just in front of the goal line and spun into the goal.
The goal was scored roughly four seconds after the penalty kick was taken which, we're sure, qualifies as some sort of record.
The reaction of the Spanish speaking commentators was one of shock, as they exploded into laughter and repeatedly proclaimed the incident as "¡Increíble!"
The Lobos BUAP goalkeeper clearly didn't see the funny side of the incident, briefly protesting the decision to allow the goal with the match officials before throwing the ball away in disgust.
READ MORE: 'Worst penalty in history!' Footballer suffers spot-kick shocker as he sends ball SIDEWAYS
You will also notice that whoever was in control of the on-screen scoreboard initially ruled it as a missed penalty, before having to reverse his call when the ball somehow crossed the line - surely a first for all involved.
You can share this story on social media: