'Bare-knuckle bloodbath': Reaction after Lobov wins BKFC debut – and sets sights on Malignaggi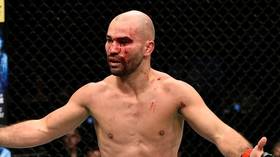 Artem Lobov's victorious bare-knuckle bow against Jason Knight has earned the gutsy Russian-born fighter widespread praise – but also significantly sets up a huge grudge match against Paulie Malignaggi.
Ex-UFC stars 'The Russian Hammer' Lobov and 'The Kid' Knight traded fists for five, two-minute rounds of action at Bare Knuckle FC 5 at the Mississippi Coast Coliseum in Biloxi on Saturday night, with Lobov emerging as the unanimous decision winner.
The damage wrought to both was brutally evident as the pair later shared mugshots of their bruised, bloodied faces – as well as messages of mutual respect.
Also on rt.com
Artem Lobov shows off gruesome scars of war after debut Bare Knuckle win (GRAPHIC)
The bout has been hailed as the most important in more than a century for a sport that is aiming to establish itself in a crowded field alongside the bigger names of boxing and MMA.
Saturday night's showdown was seemingly perfect advert for that, and won widespread praise online.
But it's what follows that could catapult bare-knuckle fighting into the mainstream combat sports conversation, as Lobov, 32, has slugged his way to a showdown with former two-division world boxing champion Malignaggi, who has also signed to the promotion and will make his debut on June 22.
The bad blood between the New Yorker and Russian-born, Irish-based fighter stems from Malignaggi's vicious spat with Lobov's friend and training partner Conor McGregor.
Also on rt.com
'Malignaggi was too easy for McGregor, he won't be a problem for me': Artem Lobov (VIDEO)
Malignaggi, 38, has called on McGregor to step between the ropes to settle it with the gloves off, but with that being highly unlikely, the American will need to settle for a proxy war with Lobov.
That was stepped up at a media event last week, when Malignaggi slapped the ex-UFC featherweight figther as tempers flared.
With Knight dispatched, the way is now clear for the pair to settle things in the ring, in a fight both seem to crave.
"Malignaggi is a little p**** who plucks his eyebrows. I'm going to spark him," Lobov said after his win against Knight.
The promoters will now see Saturday night's action as the perfect appetizer to a bigger, badder showdown between Lobov and Malignaggi in June.
You can share this story on social media: