'The Russian battered you': Man claims Conor McGregor punched him after Khabib taunt – reports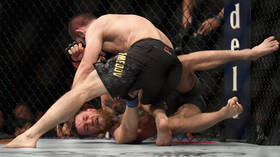 Irish police are investigating claims that Conor McGregor threw a punch at a man during an alleged pub bust-up in Dublin after taunts over the UFC star's defeat to Khabib Nurmagomedov, according to reports in the local press.
According to the Irish Mirror, the 30-year-old former UFC double champion was involved in a skirmish with a man in the Marble Arch pub in Dublin on Saturday.
READ MORE: McGregor charges reduced for 'phone attack' – but UFC star still facing up to 6 years in jail
Sources told the paper that McGregor lashed out following a verbal exchange, during which one pubgoer taunted him by saying "the Russian battered you" – an apparent reference to the fighter's defeat to UFC lightweight champion Nurmagomedov.
"McGregor was being a show off in the pub and one man didn't like it and went up to have a word with him," the Mirror reported, citing a source.
Also on rt.com
'That just shows what kind of lowlife he is': Khabib responds to McGregor's 'insults'
Irish police have confirmed they are investigating an alleged assault, according to the newspaper.
McGregor has been back in his homeland after a lengthy stay in the US, and attended an amateur fight night in the Irish capital on Friday night.
The Irishman has faced several run-ins with the law in recent years in his homeland and beyond.
Last year he was detained in New York after launching an attack on a bus carrying fighters – including Nurmagomedov – to a UFC press conference.
He avoided jail time over the incident, but again found himself arrested Stateside in March after allegedly snatching and stomping on fan's cell phone outside a Miami nightspot after he had tried to take a photo of the MMA star.
Also on rt.com
Miami heat: Video shows Conor McGregor 'phone attack' in Florida
McGregor was released on bail is still facing charges that could carry up to six years in jail.
At the end of March it was reported that he was being investigated by Irish police over sexual assault allegations from December of last year. McGregor's team have rejected the claims.
Meanwhile, the Irishman's return to action after what was another U-turn on his announced retirement from MMA is still unclear.
READ MORE: Conor McGregor being investigated by Irish police over sexual assault
He is serving a six-month ban imposed by the Nevada State Athletic Commission for his role in the post-fight chaos that overshadowed his defeat to Nurmagomedov back in October, but is free to return from April 6.
His next potential opponent was touted as Donald 'Cowboy' Cerrone, although that fight has fallen through amid reports that McGregor was unwilling to take co-main event billing unless he received significant concessions from the UFC, chiefly in the form of shares in the promotion.