'That just shows what kind of lowlife he is': Khabib responds to McGregor's 'insults'
Russian UFC lightweight champion Khabib Nurmagomedov says Conor McGregor's "lowlife" nature is the reason behind the disrespectful comments, personal attacks and trash talk he aims at his opponents.
Talking to media after a Q&A session with students from Moscow's Plekhanov Russian University of Economics on Tuesday, a day before the start of a bitter social media exchange with McGregor, Nurmagomedov spoke on a range of topics, including his take on 'insulting' comments by his bitter rival from Ireland.
READ MORE: 'Unacceptable!' UFC boss Dana White vows to break Khabib-McGregor sparring on Twitter
"You got your money took and your brother's eye socket shook when you fought me you little rat," McGregor tweeted last weekend in an obvious jibe against Nurmagomedov.
The 30-year-old Dagestan native seemed calm responding to questions on the matter.
"He wants to always be in the headlines," he said, speaking in Russian. "If you've noticed, after each UFC event, [he] makes comments. He praises those who win, or insults the others. This is his way of self-promotion, that's how he makes headlines all the time. He knows what he's doing.
"And I have no problem with that, he can say whatever he wants. But inside the cage he didn't say anything. When I was hitting him in the face with my elbows and knees, he did not say anything. When I said 'Let's talk,' he didn't respond. And now, when he is thousands of kilometers away, he is saying things."
"That just shows what kind of lowlife he really is. When he was on the floor he didn't speak to me, and that is what really matters."

The very next day, McGregor once again made headlines with another Twitter attack on the Dagestan native, in which he insulted Nurmagomedov's spouse.
In the tweet, which has since been deleted, McGregor posted a picture of Nurmagomedov and his wife, who was wearing a Muslim veil, along with the text: "Your wife is a towel mate."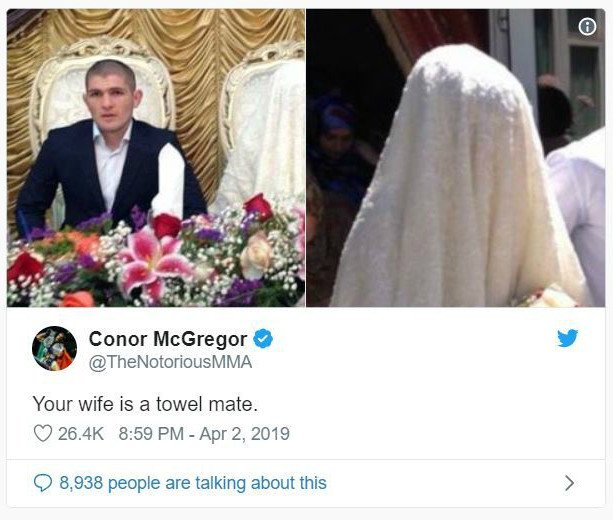 And while it came as an apparent response to comments by Khabib Nurmagomedov in which he likened McGregor's recent retirement announcement to a "jealous wife who says 'I will leave' all the time but then comes back," many believe the Irishman once again crossed the line.
READ MORE: 'Conor's like a jealous wife who leaves and then comes back' - Khabib slams McGregor on retirement
In the build-up to their UFC 229 fight, McGregor also verbally attacked Nurmagomedov's father and coach Abdulmanap, calling him "a quivering coward." The Irishman was also criticized for inviting Nurmagomedov, who is a devout Muslim and teetotaler, to try his branded whiskey during a press conference.
Also on rt.com
'Uneducated racist mutt!': Conor McGregor admonished for 'towel' tweet attacking Khabib's wife
You can share this story on social media: