'Women should be fighters at home' – Khabib risks sexism backlash over comments (VIDEO)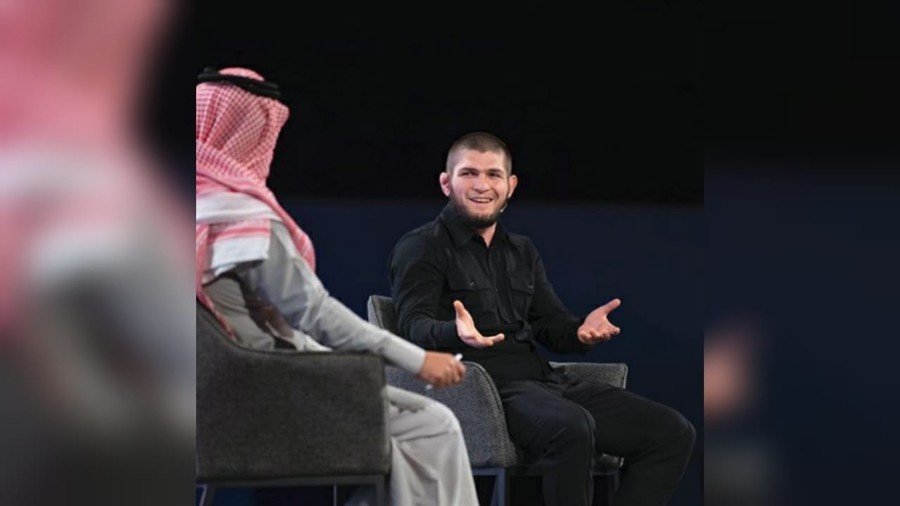 Russian UFC champion Khabib Nurmagomedov has faced accusations of sexism by saying that women "should be fighters at home," in response to a question on what advice he would give to female competitors getting into the MMA game.
Appearing at an event for the MISK foundation during a recent visit to Saudi Arabia, the UFC lightweight champion was questioned by a female member of the audience on his tips for potential MMA fighters, especially women.
"For females, I have very good advice, be fighters at home," answered Nurmagomedov.
"And one more advice, all the time, finish your husband, smash him really bad," he added, imploring women to show men who's boss around the house.
The initial question elicited a ripple of applause from the crowd, although Khabib's response was met with rapturous cheers and laughter, as well as one or two gasps.
READ MORE: 'Put him in midfield!' Football-mad Khabib watches PSG v Liverpool UCL clash (PHOTOS)
The online audience meanwhile has warned the undefeated Dagestani fighter, who is a devout Muslim, to brace for a feminist backlash over the controversial comments.
Others have defended the UFC lightweight king, saying his comments simply reflect his Muslim faith and background - and that he was merely saying that women shouldn't take any nonsense from men.
Nurmagomedov's trip to Saudi Arabia was the latest of several he has undertaken since defeating Irish MMA megastar Conor McGregor in Las Vegas in October.
The Russian fighter's fame has skyrocketed since then, with millions more followers on social media but also increased scrutiny, as evidenced by the latent anger over his latest comments.
He recently spoke out on the issue of nightclubs in his native Dagestan following a shooting at a popular hotspot, asking: "What benefit do these night clubs bring to our society?"
READ MORE: 'Dirty business': Khabib 'fully supports' shutting down all nightclubs in Dagestan after killing
He has also been involved in social media rows with prominent Russian rappers, appearing to criticize the decision to hold rap concerts in his Caucasus homeland.
READ MORE: 'Scum will pay for their words!': Khabib in social media skirmish with Russian rap stars
You can share this story on social media: