Badboy Russian internationals to spend CHRISTMAS in jail as court extends remand until New Year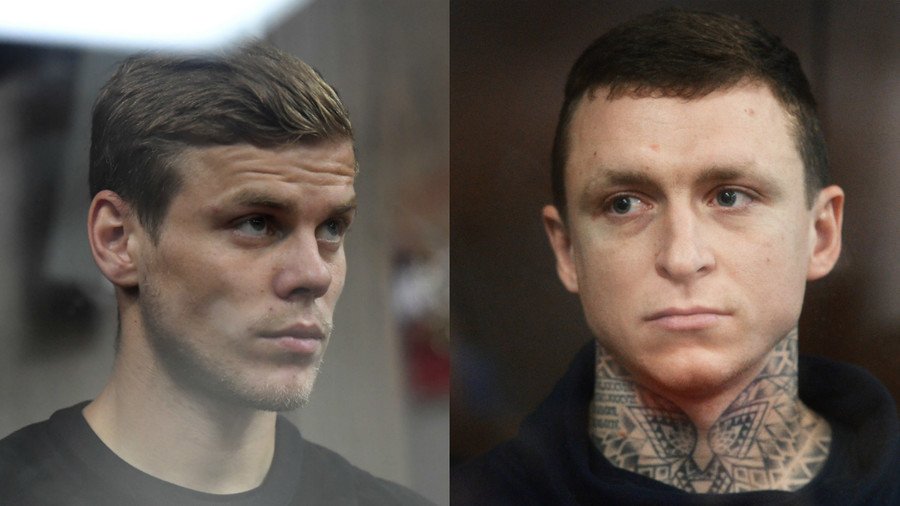 Zenit St. Petersburg striker Aleksandr Kokorin and Krasnodar midfielder Pavel Mamaev will spend Christmas in prison after being remanded in custody to await trial on charges of assault, which occurred after a night spent drinking.
The pair were detained in October over an alleged drunken attack on a civil servant in a Moscow cafe, and a separate assault on a driver earlier on the same day, the latter leaving the victim with brain damage after suffering a series of blows to the head.
READ MORE: 'Prison won't make them better': Kadyrov offers disgraced Russian footballers chance at Grozny club
On Wednesday, a Moscow court ordered the pair, who have made 63 appearances for the Russian national team between them, to be remanded in custody until at least February 8, 2019, when their trial for the offences will begin.
The decision means the two will spend New Year, the biggest celebration in the Russian calendar, behind bars, as well as greet Russian Christmas Day, celebrated in Russia on January 7, also in detention.
Kokorin, 27, and Mamev, 30, are accused of drunkenly assaulting Trade Ministry official Denis Pak in a Moscow café on Monday, after he reportedly complained about the behavior of the two footballers and a group of friends.
Video footage released at the time of the incident allegedly shows the pair hitting Pak around the head with a chair, after which he was left needing hospital treatment.
Both players could face being fired by their respective clubs should they face any more jail time, or be found guilty of the offences, for which they could receive 3 year prison sentences.
BREAKING: Pavel Mamaev and Aleksandr Kokorin will be held in jail until at least February 8th 2019 as the investigation into their assault continues.The prosecution is pushing for a 3 year prison sentence. They have been in jail since early October already. pic.twitter.com/n5m0HWFA0T

— Russian Football News (@RusFootballNews) December 5, 2018
Regarding Wednesday's verdict, Kokorin's lawyer confirmed she would be launching an appeal, claiming the ruling was "extremely sad", and one at which Kokorin's mother burst into tears.
READ MORE: 'Make a ball from bread' – MMA fighter Alexander Emelianenko offers tips to detained footballers
Kokorin and Mamaev were caught in the middle of another scandal two years ago in the immediate aftermath of Russia's dismal exit from Euro 2016, when they were spotted at a Monte Carlo party where rivers of champagne were being served to the sound of Russia's national anthem.
You can share this story on social media: