Tyson Fury v Deontay Wilder: 5 things we learned from the heavyweight clash of the year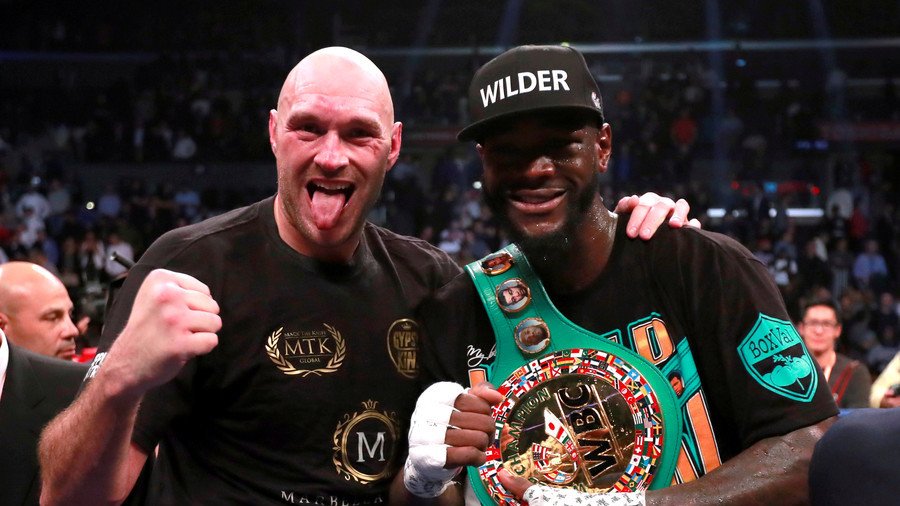 Tyson Fury's comeback title tilt against American champion Deontay Wilder was as thrilling as it was controversial, but it also answered a range of questions about both fighters and the glamorous heavyweight boxing scene.
The two big hitters gave a us a fight fit for a Hollywood script in Los Angeles, that had knockdowns, drama, disputes, and above all some beautiful boxing on the way to a split draw by scores of 115-111 to Wilder, 114-112 to Fury, and level at 113-113.
If you scratch deeper under the surface of one of the most electric heavyweight fights in recent memory, we learned some valuable lessons about boxing's golden division, here RT Sport gives you five of the most important.
1. We are looking at the TWO BEST heavyweight in the world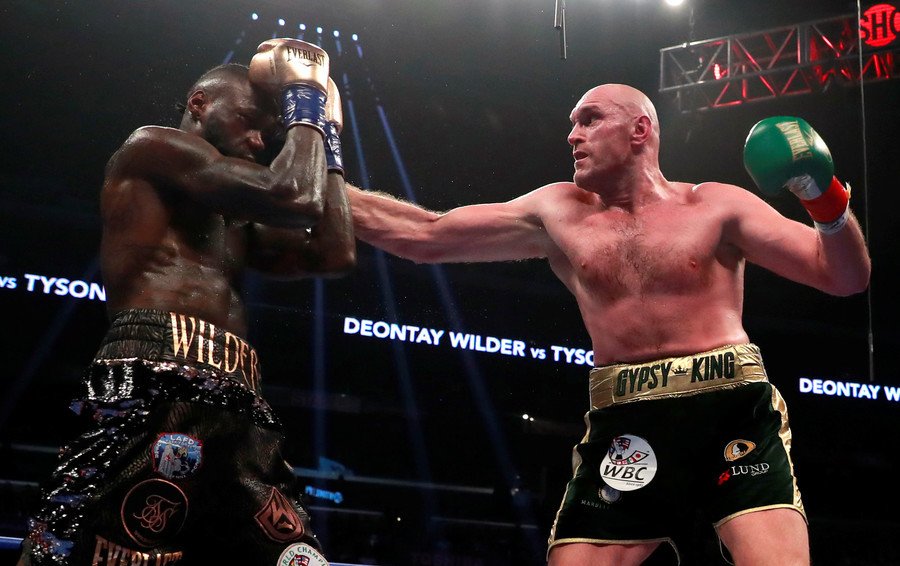 Anthony Joshua may be the UK pay-per-view darling. He may have the lion's share of the belts. He may have the looks. He may have the multi-million pound sponsorship deals and the legions of fans.
But, if we learned anything from Saturday's fight, it's that Tyson Fury's skill set is far superior to that of AJ. Even after 3 years away from top level heavyweight competition, was enough to frustrate and at times school a man unbeaten in 40 fights, with 39 wins by way of knockout.
Many doubted that Fury would be able to waltz straight into a professional ring, coast through two tuneup fights against meager opposition in Sefer Seferi and Francesco Pianeta and six months later take on one of the most feared combatants in the world. Most believed he wouldn't be able to see out the 12 rounds.
Also on rt.com
'He rose from the dead!' Fans in awe at Fury's 'Undertaker' reaction to heavy knockdown (VIDEO)
Fury did just that, and while doing it put on a boxing clinic to display an imperious skill set, and showing the courage of a pride of lions to battle back from two knockdowns. Whatever you may think of the scorecards, a draw for Fury is a victory in terms of achievement.
The old saying goes 'it takes two to tango', and the sheer ferocity of Wilder, rushing forward like a bull and demonstrating his chilling, electric power that turned the bout on its head, displayed exactly why he was considered by many at the top of the heavyweight tree.
Joshua may have a TKO win over Wladimir Klitschko, chosen as the Ring magazine fight of the year for 2017, but the Ukrainian was by then older, slower and inactive since being relieved of his titles by Fury two years prior.
On Saturday, the two most talked about fighters on the planet met in their natural primes, despite Fury's layoff, and showed exactly why they are the top two fighters at heavyweight. Who you rank as number 1 and number 2 is an entirely different question...
2. Wilder really does hit THAT hard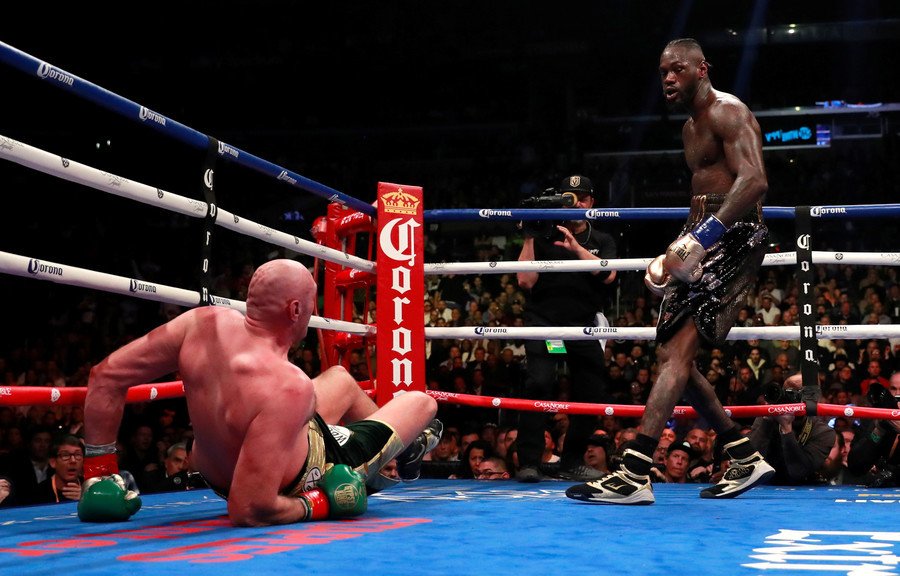 Ok, he may not have lived up to his own hype of having Fury "fear for his life" but Wilder has something that is perhaps the most valuable weapon in a heavyweight's arsenal - a 'get-out-of-jail-free card', an 'equalizer', a leveler. In other words, he can knock any man unconscious with either hand.
Without argument, Wilder possesses power that has frozen the bodies of the world's best big men and perhaps ranks up there with the hardest of any 200-plus pound fighter ever.
His knockdowns of Tyson Fury in the Staples Center proved that immaculately. The first skimmed the back of Fury's shaven head in the ninth round, toppling him over to the canvas.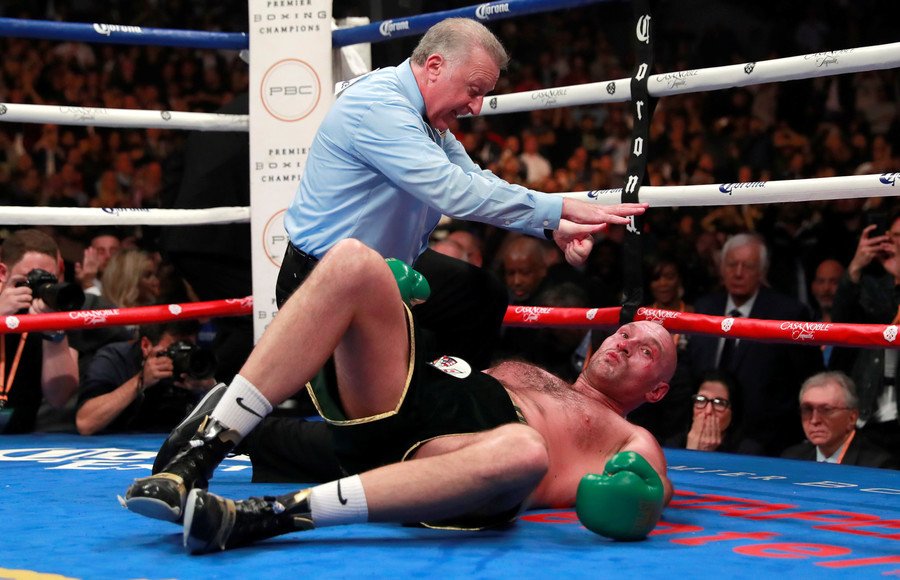 Although Fury may have been off balance, it was enough to still send the six-foot-nine, 256 lbs Fury to the floor for a count of eight.
The second knockdown will be talked about in boxing circles for years to come. Wilder, perhaps sensing he needed a big finish to change the course of the fight, pulled out a dynamite one-two, detonated directly onto Fury's chin.
It is still a toss-up what crashed harder - the combination on Fury's face, or Fury's body to the floor, as the fighter lay prone and eerily motionless after falling. Despite his 39 knockouts, its harder to think of a moment that underlined Wilder's ferocious force more than when he violently put the lineal champion on the seat of his pants for that second time.
3. BUT Fury has a chin made of granite wrapped in steel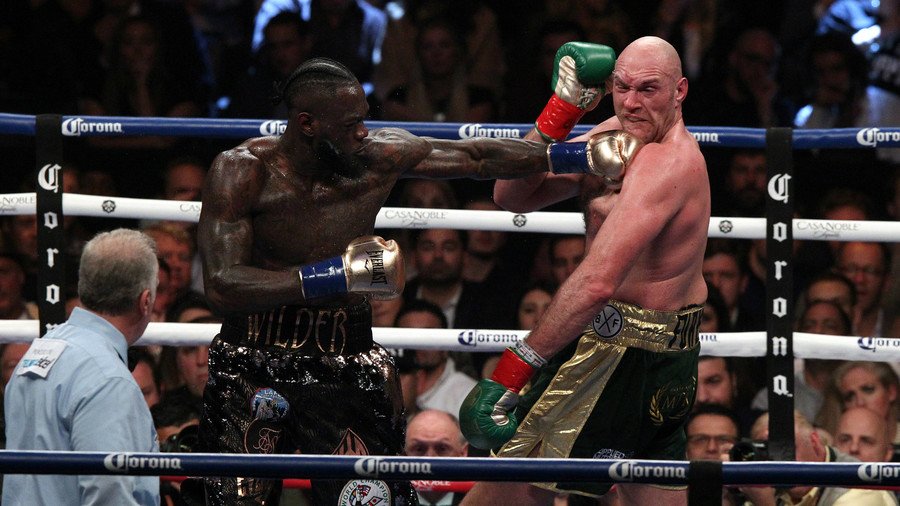 We've all seen the memes and the videos with WWE commentary of an Undertaker story line parodying Fury's miraculous Lazarus-like rise after one of the heaviest knockdowns seen in the ring this year.
It proved that Wilder is more than worthy of his 'Bronze Bomber' tag - which combines nods to his 2008 Olympics bronze medal and his seismic punching power.
It also proved that Tyson Fury has the chin to stand up to any punch that any gloved fighter active in the world today can muster. Most were shocked at Fury's sharpness in spite of 3 years spent away from the world's best heavyweights.
READ MORE: 'They denied me the greatest comeback in history!' - Fury's 1st interview since Wilder draw (VIDEO)
Fury showed no hint of ring rust as he shimmied and jabbed his way to build what many thought was a comfortable points lead, making the windmilling champion miss wildly and producing the cleaner, crisper work.
But the most shocking feat of Fury's performance was his ruse from a devastating 12th round knockdown. Just look at Wilder's face!
Less than a minute later, Fury was back up to his old tricks, hiding his hands behind his back and taunting the onrushing Wilder, seeing out the round before jumping onto the ring ropes to celebrate what he thought was a win.
4. Fury WON back the fans he lost with his display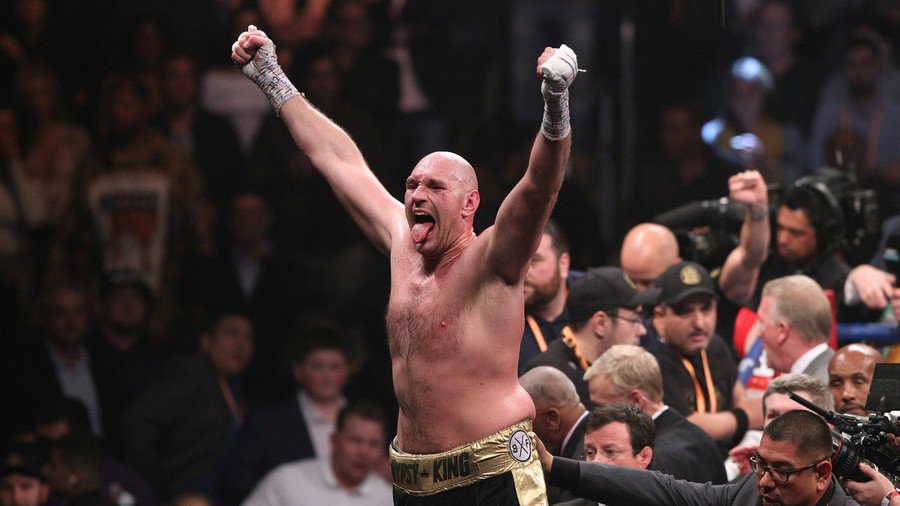 Fury's enforced absence from the sport and subsequent erratic behavior outside the ring saw him lose an army of fans that he had built up during his unbeaten ring career.
Personal and mental problems arose shortly after Fury's dethroning of long-time champ Wladimir Klitschko in Germany; as Fury reached the zenith of his fighting career, a magnifying glass was held up to his life and past to be agonizingly scrutinized.
READ MORE: 'I knew it was going to happen': Ex-champ Lennox Lewis & others slam Fury v Wilder scorecards
A strong argument can be made for such abuse received brought huge detriment to his mental state, as his life quickly spiraled into drink, drugs and depression and forced ever more questionable behavior.
Fury was attacked for making alleged homophobic, sexist and anti-Semitic remarks, and faced a backlash from fans and fellow athletes, some even protested Fury's inclusion in the shortlist for the BBC Sports Personality of the Year award.
The stop-start nature of Fury's comeback, ballooning in weight and perceived disrespect to the sport also hurt his rapport with the more hardcore viewers. But after shedding over 10 stone to put up such a courageous showing inside the ring, Fury has managed to build bridges between himself and supporters, even those on the periphery of the sport.
Fury's hilarious post-fight interviews, such as singing American Pie with the entire assembled press, as well as his graceful nature despite disagreeing with the overall decision, and his inspirational message of "Get up, get over it and let's do it. Seek help. Let's do it together as a team. I did it for you guys" to others suffering from mental health issues, no doubt endeared him further to the masses.
He may not have won the belt but Fury won the hearts of the fans on Saturday.
5. There HAS to be a REMATCH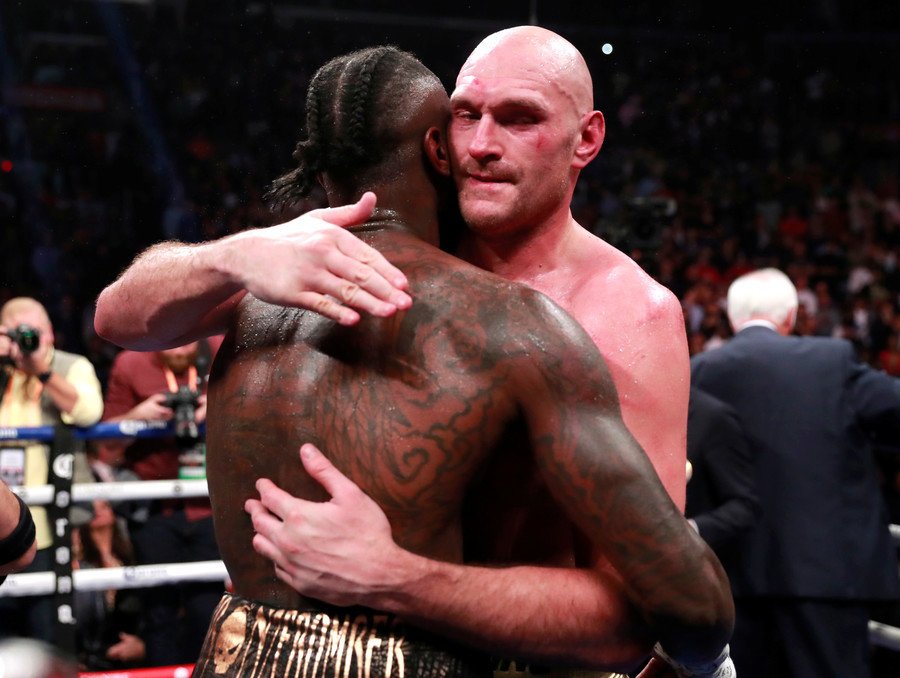 Think what you want of the scoring and the judges, the only way for anything to be settled is to get a rematch organized and organized quickly.
Frank Warren, Fury's promoter, has already touted Wembley and Arsenal's Emirates Stadium as potential venues for a UK return, although Fury himself would rather realize a dream of fighting at Old Trafford, the home of his beloved Manchester United.
A rematch between the two would be music to the ears of Anthony Joshua and promoter Eddie Hearn, who would be able swerve a match with either until 2020 at the earliest. Joshua's next scheduled outing is penciled in for April 13.
Warren has also called for an investigation into the bout's scoring by the World Boxing Council, but his main objective has been pushing to activate the rematch clause in the fight contract.
Fury pocketed a guaranteed $3 million dollars and Wilder $4 million from the fight, with a rematch likely to bring in that amount and more for both.
Of all the things we learned from the fight, the biggest of them all - who is the best of the two best big men - remains unknown, and that is exactly why a rematch is the only logical next step.
You can share this story on social media: