'He rose from the dead!' Fans in awe at Fury's 'Undertaker' reaction to heavy knockdown (VIDEO)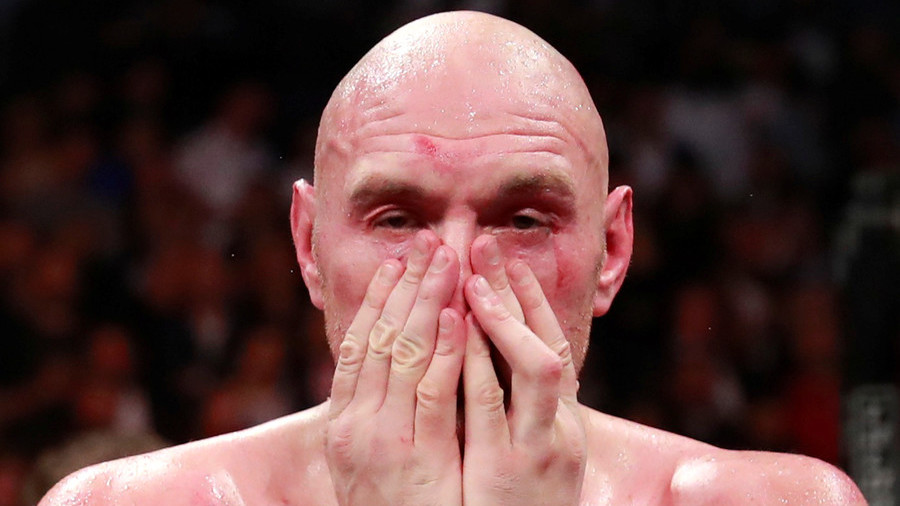 Tyson Fury's reaction to the second knockdown in his world heavyweight title clash with Deontay Wilder has prompted social media users to liken 'The Gypsy King' to another popular ring hero – The Undertaker.
READ MORE: All square! Champ Wilder and plucky Fury scored a draw in heavyweight title fight (PHOTOS)
Fury and Wilder fought to a split draw in LA, with scores of 115-111 to Wilder, 114-112 in favor of Fury and 113-113 a draw, despite many believing the Englishman had won the fight and Wilder's WBC title with some sleek footwork and counterpunching although Wilder had knocked down his opponent twice in the 12 rounds.
Former champ Fury visited the canvas first in the ninth round, then again in the twelfth. After the second knockdown, Fury lay sprawled on the ring canvas as though he was going to be counted out.
Miraculously, Fury managed to scrape his six foot nine inch frame off the floor, as though nothing had happened, shaking off what had seemed to be the show-closing shot without a second thought.
Fury saw out the round to claim a disputed draw, but fans were more preoccupied with Fury's nonchalant reaction, which they likened to wrestling's 'The Undertaker'.
Unsurprisingly, Twitter was awash with memes and video parodies, replaying the knockdown with music from The Undertaker's signature ring entrance. Many also expressed their disgust at the judges scorecards, including Piers Morgan, branding the decision of a split draw a robbery.
The scoring by the three judges seated ringside was considered an affront to the sport by most fans.
Both fighters explained after the fight that they would be interested in a rematch, either in the UK or the US, with Fury also calling out "chicken" Anthony Joshua and exclaiming Wilder was the "second best heavyweight in the world" after himself.