Russian woman casually walks through explosions & fire to test armor suit (VIDEO)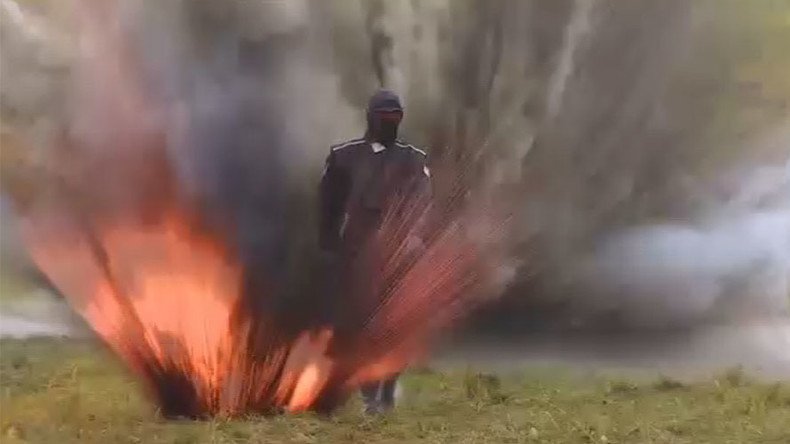 A Russian tactical equipment producer showed off its cutting-edge armor by having a woman walk across a simulated battlefield as blasts detonated under her feet and she was lashed by flames.
The amor appeared to do its job, as model Viktoria Kolesnikova, clad in battle gear from top to toe, didn't seem the slightest bit concerned at the chaos going on around her. Instead, she simply walked on determinedly until the 'all clear' call was given, allowing her to take off her mask. The worst thing that happened to Kolesnikova were the few smudges of soot left on her face.
Talking to excited journalists after her fiery exploits, Kolesnikova said performing stunts such as this gives her emotions unlike anything else.
"Standing inside a fire range is an amazing feeling. It's beautiful and really just, 'wow,'" she said.
Kolesnikova is a professional stuntwoman, but her task on Tuesday was unlike her usual jobs, since the hazards on the range were actually dangerous. Sergey Kitov, the head of the developer team at TsNIITochMash, says the walk was a demonstration of the company's advanced aramid fabric, treated to withstand both kinetic threats and fire.
The designer said the material and suit design are already good enough to deal with bullets and blast fragments, but they are still working to boost its flame retardant properties to withstand 30 seconds of continued exposure, up from the current 15 seconds. The firm hopes to have a finalized product by 2020 to bid for military contracts as part of the Ratnik program.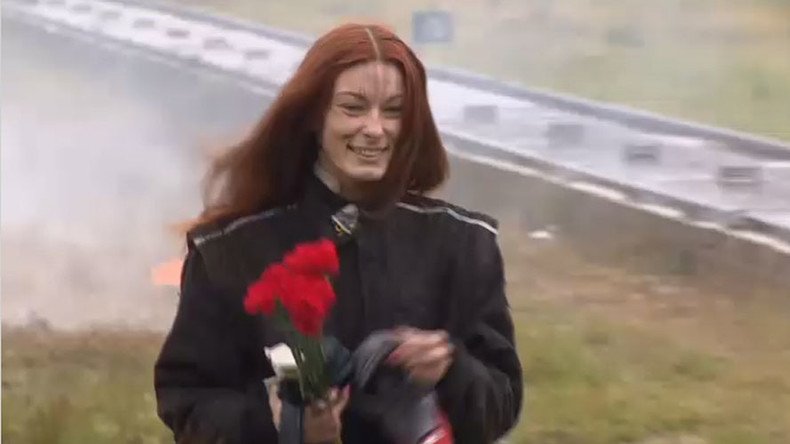 Kitov told journalist it didn't take much convincing to have Viktoria take the walk.
"You know. Our girls are fighters and eager to face any danger," he said.
You can share this story on social media: