Russian ice hockey team accused of sexism over semi-naked pic of presenter on injury table (PHOTOS)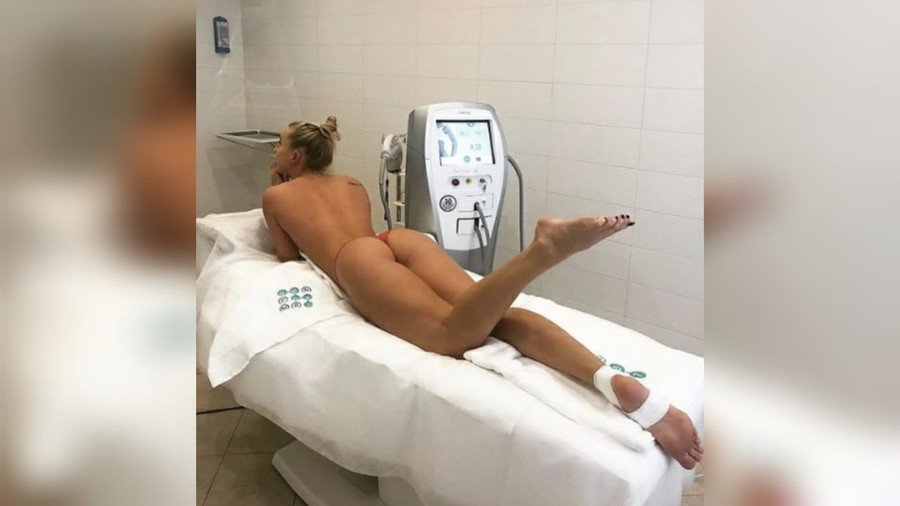 Russian ice hockey team Spartak Moscow have been accused of sexism by social media users after posting a raunchy picture of a presenter lying near-naked on a treatment table.
The team shared the cheeky Instagram snap last week by Yulia Ushakova, a presenter on the Spartak.ru website.
Ushakova, 28, is seen lying on her front on a treatment table, scantily-clad in her underwear and with a bandaged ankle.
She captioned the racy snap with information about the injury, jokingly saying: "Twisted ankle. I found a wrinkle under my bottom. I broke two nails. And all in one day."
"I will start fixing my problems in order of importance – first the wrinkle, then a manicure, and the ankle will heal itself."
The revealing pic by the former bodybuilder was shared by the official Spartak Twitter account, which jokingly presented it in the style of a player injury update, garnering more than 11,000 likes and plenty of plaudits for Yulia's posterior.
However, the post drew the ire of some keyboard crusaders, including the unofficial 'Barca Women' account, which typically posts about women's football.
Various outlets have also picked up on the image, appearing to mistakenly believe Ushakova played as an "attacker" for Spartak.
That fact was mocked in a later tweet by the team, which shared an image of Ushakova looking glamorous in a red and white dress, writing: "The ankle is fine. The attacker has begun to work in the main group and is preparing for the nearest home matches."
Ushakova hosts the 'Silovoy Priyom' (Physical Play) show on the Spartak.ru website. Her Instagram account is packed with pictures of her on presenting duties with Spartak, as well as keeping in shape in the gym.
Spartak currently sit 14th in the Kontinental Hockey League (KHL), and next take on St. Petersburg team SKA in Moscow on Tuesday.
A fully-fit Yulia will no doubt be by the ice to report on the action.
You can share this story on social media: