Crazy elbow KO leaves MMA fighter unconscious for minutes (VIDEO)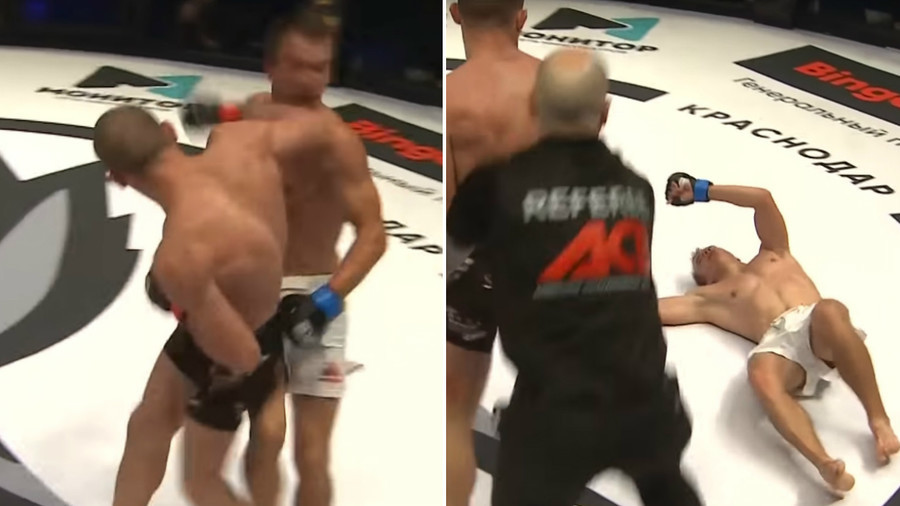 A stunning spinning elbow knockout by Goga Shamatava at ACB 93 in Krasnodar, Russia, on Saturday night could easily make it on the list of the best KOs of the year – although the consequences for his opponent were shocking.
Shamatava, who now stands 13 and 4 in professional MMA, landed a perfect spinning elbow shot on his opponent's chin in the second round of their bout at the Basket-Hall Arena in the southern Russian city last weekend.
ALSO ON RT SPORT: UFC Moscow fighter involved in fatal 5 vehicle crash which left 2 dead
Shamatava's opponent, Pavel Pastushkov, 25, was midway through a spinning backfist strike when Shamatava reacted to the move in a matter of milliseconds, turning around to stun the less-experienced fighter with his right elbow.
The unconscious Pastushkov dropped straight to the canvas, much to delight the crowd, who were largely backing the Krasnodar native Shamatava. The fighter himself, however, remained reserved in his celebration, quickly realizing the seriousness of his opponent's condition.
He immediately signaled to the crowd to stop celebrating, and sat down on the canvas nearby his downed opponent, who was receiving the necessary help. It took paramedics more than three minutes just to get Pastushkov up and seated on a chair. He was then walked out of the cage and helped by medical staff on a cage-side seat.
He was later pictured getting an oxygen mask in the locker room, as well as being fitted with a neck brace – although fears of a serious neck injury were later allayed after an X-ray.
The 27-year-old Shamatava, who was making his ACB debut, was originally scheduled to fight fellow ACB flyweight Valery Khazhirokov (4-1). However, Khazhirokov could not make the weight limit and was scratched from the tournament's card just a day before.
Pastushkov, a native of the city of Novorossiysk, which is also part of Krasnodar Region, had fought in ACB minor league tournament before, and had stepped up as a last-moment replacement to save the fight for Shamatava.
ALSO ON RT SPORT: MMA fighter KOs opponent with vicious head kick despite breaking own arm mid-fight
Despite the obvious fears over the consequences for his health, Pastushkov appeared more upset at the fact that he had lost the bout, rather than the way it happened.
You can share this story on social media: