'I got to dance & the Ballon d'Or, it's sad if people thought it sexist': Hegerberg on twerk 'joke'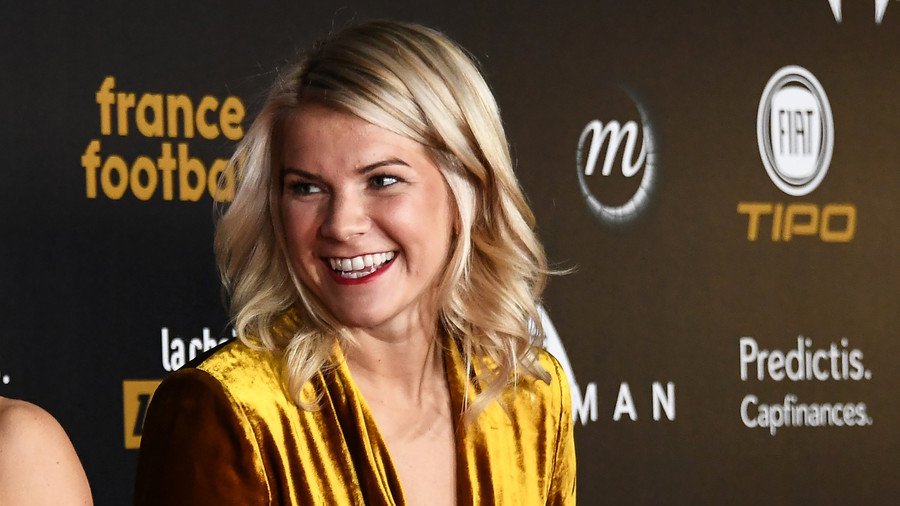 Norwegian footballer Ada Hegerberg, the first-ever winner of the Women's Ballon d'Or, has laughed off suggestions being asked to twerk onstage by ceremony co-host Martin Solveig was 'sexist', calling the very thought "sad".
Viewers were dumbfounded when, upon Hegerberg receiving the award, French DJ Solveig, who was co-hosting the event in Paris with former France international David Ginola, suggestively inquired of the star "do you know how to twerk", to which she sternly replied "no", shook her head, and turned to walk away.
Also on rt.com
Outrage as 1st-ever Women's Ballon d'Or winner asked to TWERK onstage by awards host (VIDEO)
The room seemed to groan collectively and outrage ensued, with fans labelling Solveig "absolute trash", a "sexist sh*tbag" and other choice phrases in response to what they saw as highly disrespectful and inappropriate words.
However, the woman at the center of the storm seemed oblivious to any offense caused. Hegerberg, speaking of the matter directly after the ceremony, said she did not take it as "sexual harassment" and emphasized there were more important issues to focus on.
"I got to dance a bit and I got the Ballon d'Or, and that was in my mind, it was nothing special," the 23-year-old Olympique Lyonnais forward told reporters on the red carpet.
Asked whether she thought Solveig's words were sexist, under the assumption he would not have asked a man to perform the same dance, she replied: "I didn't feel it like that at all to be honest and it's sad if people thought about the situation like that."
She continued: "Yeah I had a lot of questions about this subject. He came to me. It's really sad that it went that way. I didn't think about it at that moment.
Also on rt.com
Meet Ada Hegerberg - the 1st ever Women's Ballon d'Or winner (PHOTOS)
"I didn't see it as a sexual harassment or anything. I was just happy you know. I get to dance and celebrate winning the Ballon d'or to be honest."
Her words echoed Solveig's own message after the internet brouhaha that erupted shortly after Hegerberg's appearance onstage.
The 42-year-old posted a video apology, claiming he was "astonished" at the reaction, called his words a "joke...and probably a bad one" and that Hegerberg had taken it as such, as well as posting a picture of the pair.
Extended footage shows Hegerberg turning around as if to walk away, but turning around again towards the stage and laughing before sharing a dance to Frank Sinatra with Solveig.
Indeed, Hegerberg was not the only player asked to show their dance floor credentials; France's Kylian Mbappe, who won the Trophee Kopa for the best player under 21, also an inaugural award, was too asked to show off his moves upon receiving his gong.
READ MORE: 'It was a joke, a bad one': DJ apologizes for 'twerk' comments to Women's Ballon d'Or winner (VIDEO)
You can share this story on social media: