Meet Ada Hegerberg - the 1st ever Women's Ballon d'Or winner (PHOTOS)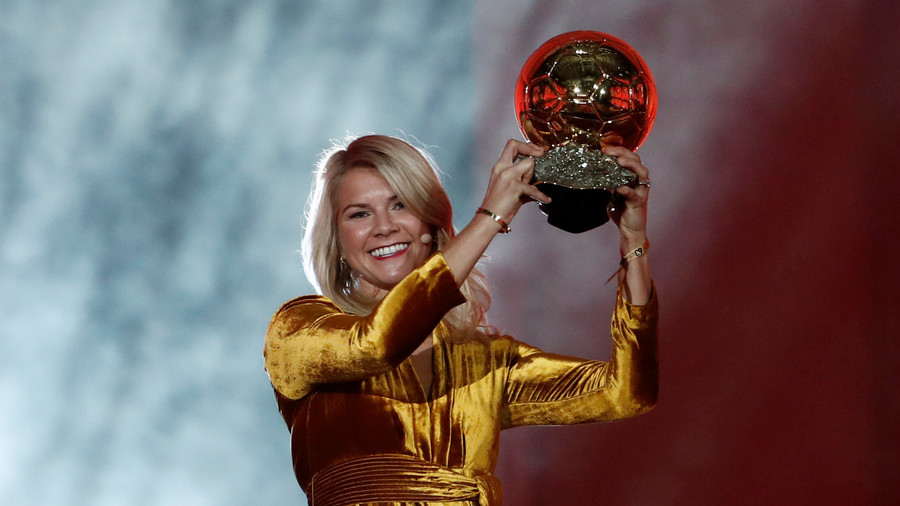 Ada Hegerberg became the recipient of the first-ever Ballon d'Or awarded to a female footballer on Monday at a plush bash in Paris, France, but what do we know about the Norway and Olympique Lyonnais striker?
READ MORE: Outrage as 1st-ever Women's Ballon d'Or winner asked to TWERK onstage by awards host (VIDEO)
The internet exploded in disgust when award ceremony co-host, the French DJ Martin Solveig, inexplicably asked the 23-year-old "do you know how to twerk" in a suggestive manner after receiving the award.
Fans denounced Solveig as "sexist" while praising Hegerberg's classy and firm dismissal of his question, sternly saying "no" in French, shaking her head and walking off.
But aside from the online brouhaha, what do we know about the best women's football player on the planet?
Full name Ada Stolsmo Hegerberg, she was Born in Molde, the same Norwegian county as Manchester United legend Ole Gunnar Solskjaer, the player who scored the winning goal in the Champions League final to clinch an unprecedented treble in 1999, when Hegerberg was just four years old.
Hailing from a city that produced Liverpool legend John Arne Riise and a handful of other Norway internationals, perhaps it was no surprise she would be mould into a fine footballer, if you'll excuse the pun.
Hegerberg began her career by coming through the youth ranks at local Norwegian third division side Sunndal Fotball, before moving on to Kolbotn and then Stabaek, averaging better than a goal a game in her 38 appearances over two seasons.
Those goals earned her a move to Germany to play for Turbine Potsdam before French giants Lyon came knocking. Since signing with the Division 1 Féminine club, Hegerberg has scored a staggering 120 goals in 91 appearances across all competitions for Les Lyonnaises, including finding the net 31 times in 29 appearances in the current season, which propelled her to Ballon d'Or honors.
Those goals have also helped Lyon become the dominant European force in women's football, winning three Division 1 Féminine and Coupe de France doubles on the bounce from 2015 to 2017 and the team are the current French champions.
Akin to the all-conquering Real Madrid in the men's game, Lyon with Hegerberg have won three Champions League titles in a row, from 2016 to 2018, and are the current European champions. Hegerberg, unsurprisingly, was among the goals in two of those three finals.
Football is a family affair for the Hegerbergs, her older sister Andrine plays as a midfielder for Division 1 Féminine rivals Paris Saint Germain, 500 km from north from Lyon.
Ada joined her elder sibling first at Koltborn and then Stabaek, before Andrine made a move to Sweden and then England with Birmingham City, before singing with the big spending capital club.
Aside from her vast array of team honors, the first-ever women's football Ballon d'Or is far from Hegerberg's first individual trophy. In 2016, she was named UEFA Best Women's Player in Europe and the same year honored as Norwegian Sportsperson of the Year aged just 21.
The following year she was named BBC Women's Footballer of the Year, and one year later, was honored with the highest award in her field, being awarded the Ballon d'Or in its maiden year and therefore the title of the planet's best player.
Hegerberg has won 66 caps for her national side, scoring 38 times, better than a goal every two games, but took a hiatus from international football in 2017 to concentrate on scoring a shedload of goals for her club to be named the world's best player a year later. Not too shabby.
With such a solid footballing resume and respect from her peers across the game, it makes Solveig's comments all the more puzzling, raising eyebrows as well as questions as to why twerking was something he chose to focus attention on.
After the cameras perfectly captured Kylian Mbappe's dumbfounded look among an audience who sighed a collective groan at the question, the DJ posted an apology for his comments and insisted he did not mean to offend anyone, insisting it was just a "bad joke" and later saying the player has understood it as such alongside a picture of the pair.
READ MORE: 'It was a joke, a bad one': DJ apologizes for 'twerk' comments to Women's Ballon d'Or winner (VIDEO)
In an interview after the ceremony, Hegerberg admitted she "didn't even think about it" and had not taken it as "sexual harassment".