Outrage as 1st-ever Women's Ballon d'Or winner asked to TWERK onstage by awards host (VIDEO)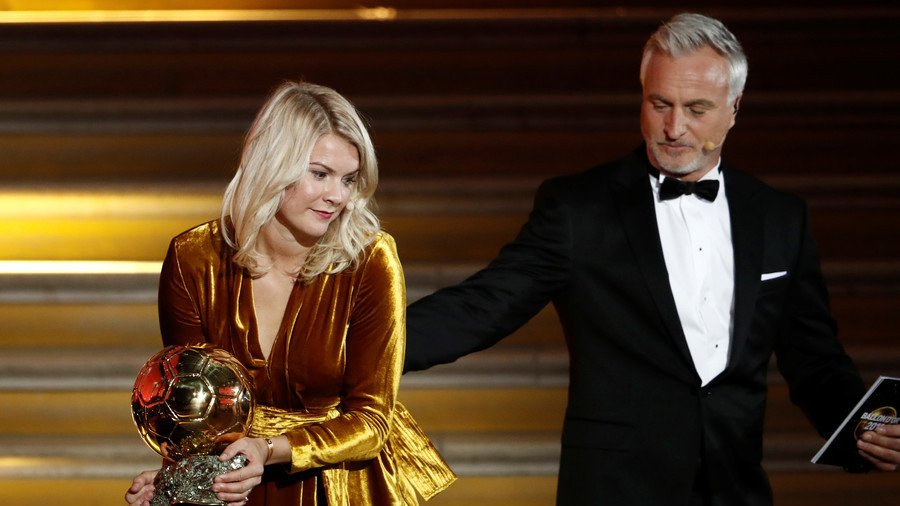 What should have been a proud moment for Ada Hegerberg upon becoming the first-ever female Ballon D'Or winner, was marred by shame when she was shockingly asked to twerk onstage by French DJ and ceremony co-host Martin Solveig.
READ MORE: Luka Modric wins Ballon d'Or, ending 10-year Ronaldo & Messi reign (PHOTOS)
The Norway and Olympique Lyonnais striker made history by clinching the inaugural Ballon d'Or - awarded to the world's best player in the women's game - after scoring 31 goals in 29 games for Lyon across all competitions this season.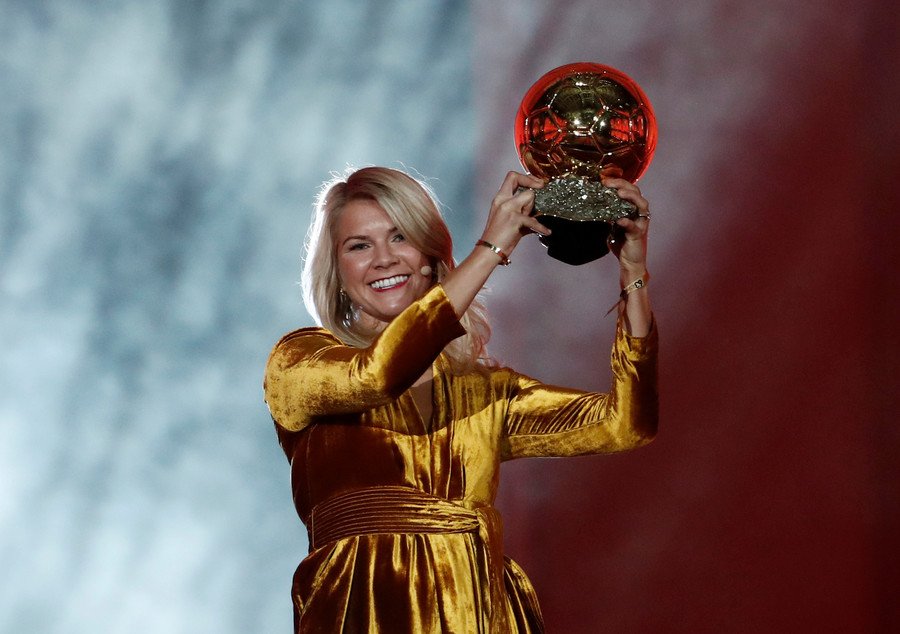 Upon being named winner, voted for by her fellow pros and awarded by France Football magazine at a swanky ceremony in Paris, the 23-year-old made her way to the stage in a stunning gold dress, a fitting outfit to collect the golden award.
In the post-award pleasantries, out of nowhere and for reasons known only to the DJ himself, Solveig then popped the highly inappropriate question "do you know how to twerk?" in a suggestive manner.
The discomfort and near disgust on the player's face was highly apparent, as the embarrassed player gave a defiant "No" in French, shook her head sternly and then made her exit off stage, clearly unimpressed.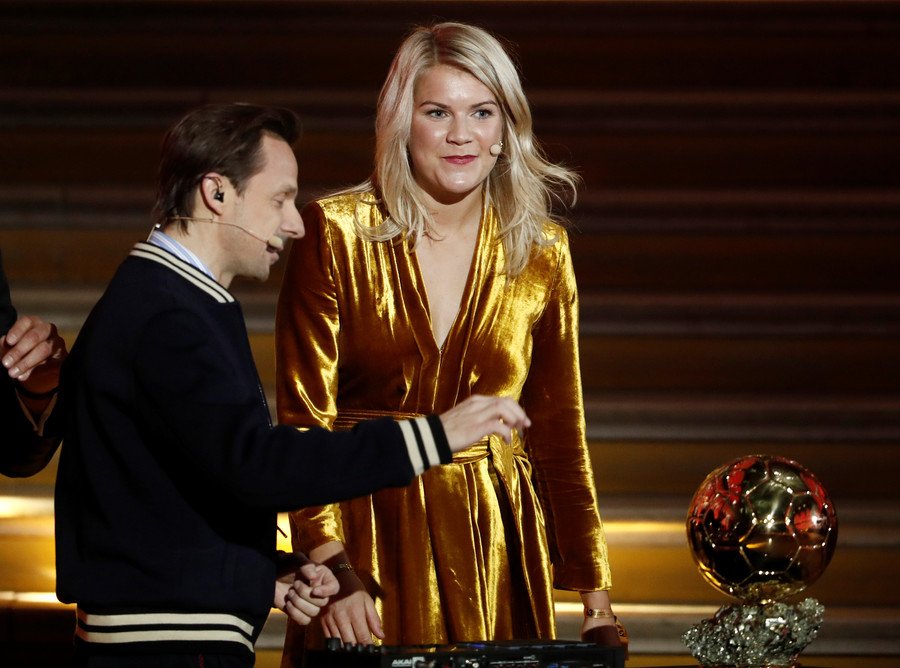 The awkwardness in the room was almost palpable as the audience made a collective sigh at the tiresome and childish remarks. Astonishingly, Solveig and former France international footballer co-host David Ginola, laughed heartily at the joke.
Lyon striker Ada Hegerberg, first female Ballon D'Or winner after scoring over 250 career goals at the age 23, asked to twerk on stage in front of footballing giants and the public watching. Disgusting and really ruined her moment she deserved. Poor. pic.twitter.com/FSz0ozz2T4

— Sean (@SeanWalkerSport) December 3, 2018
Comically framing the shambles, the camera then cut away to 19-year-old French wonder Kylian Mbappe, who looked dumbfounded, having been on the stage moments earlier to collect the inaugural Trophee Kopa, given to the best player under 21.
Rightly so, the Twitterati rushed to express their disgust at such unimpressive remarks from Solveig, labeling his comments sexist and praising the classy Hegerberg for her strong and dismissive reaction. Many called him a "clown" or "trash", and others had more choice words to describe the musician.
Martin Solveig just asked the first ever winner of the Women's Ballon d'Or..... to twerk on stage 👀This motherfucker is about to get #MeToo'd so hard

— JΛKE BUCKLEY 🇦🇺 (@TheMasterBucks) December 3, 2018
'Do you know how to twerk?''No.'how are you this sexist that you'd think to ask a woman who has just been celebrated for earning the highest individual honor in her sport if she want to twerk?? this is right after making her dance. fuck Martin Solveig. pic.twitter.com/hvRB0YfsOu

— amadí (@amadoit__) December 3, 2018
Wow - Martin Solveig asks Ada Hederberg - who has just won the inaugural women's Ballon d'Or - if she can twerk.Her reaction is as you would expect. https://t.co/La5gzxvQsP

— Jeremy Smith (@jeremysmith98) December 3, 2018
Absolute trash: French DJ Martin Solveig asks Ada Hegerberg to twerk after receiving the first women's Ballon d'Or award. (Love her response, though.) This is the crap female athletes deal with on a daily basis around the world.pic.twitter.com/y2TLe3v4u9

— Grant Wahl (@GrantWahl) December 3, 2018
Icky moment: At soccer's biggest award's show, Martin Solveig uses biggest moment to ask Ada Hegerberg -- who was just named best women's player in the world -- if she can twerk. Her reaction says it all. https://t.co/4ay6lU0Orv

— Astead (@AsteadWesley) December 3, 2018
Pointless being outraged at the Ballon d'Or result. A popularity contest, monopolised by an electoral college controlled by sponsors & agents. Always will be.Save your outrage for sexist shitbag Martin Solveig - asking women's winner Ada Hegerberg if she could twerk for him.

— Dan Levene (@danlevene) December 3, 2018
There were, however, calls to divert attention away from a minor DJ and focus on the history-making athlete in question, who has scored over 100 goals for her club side in 82 appearances and has won 66 caps for her country, with a goal ratio better than one in every two games.
We've been talkin too much about Martin Solveig, let's talk about why Ada Hegeberg is here. She is damn good at the football.Spoiler alert: I'm working on a "Players to watch for the 2019 World Cup" piece and Ada Hegerberg is on it. Because you are going to want to watch her. pic.twitter.com/jpzaNY5dqW

— A West (@ayyy_west) December 3, 2018
Real Madrid's midfield maestro Luka Modric collected the men's award, capping an excellent year in which he guided Croatia to a first-ever World Cup final and was pivotal in Madrid winning their third Champions League title in a row in the same summer.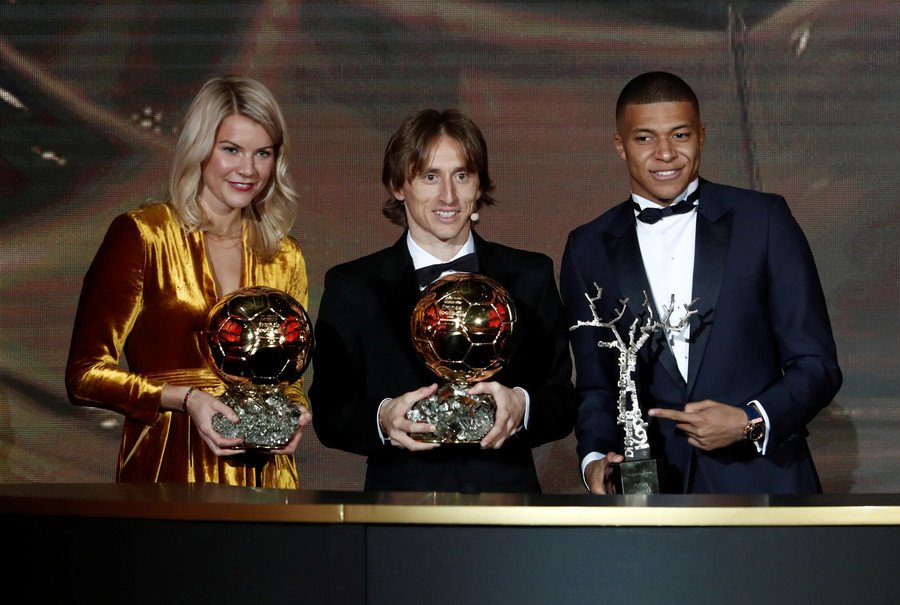 You can share this story on social media: