McGregor settles out of court with security guard who wanted $95K after being 'hit by drinks cans'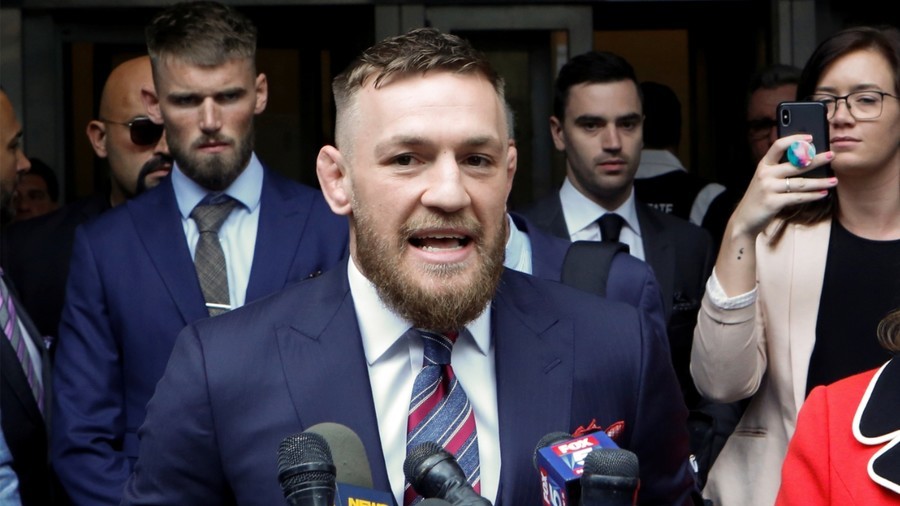 MMA star Conor McGregor has agreed an out-of-court settlement after a Las Vegas security guard filed a $95,000 lawsuit against him for allegedly being hit by energy drinks cans at a UFC press conference in August 2016.
MGM Grand security guard William Pegg filed the lawsuit after being caught in the melee at the venue's David Copperfield Theater ahead of McGregor's hotly-anticipated rematch with Nate Diaz at UFC 202.
READ MORE: McGregor v Diaz press conference descends into bottle-throwing mayhem
McGregor famously lost the first meeting between the pair at UFC 196, and tensions were high during fight week ahead of the rematch. Nowhere was that more apparent than during the pre-fight press conference.
When Diaz walked off stage and headed for the door mid-way through proceedings, it promoted an angry exchange between the two fighters that descended into a missile-throwing melee, as McGregor picked up a handful of unopened cans of Monster Energy drink and hurled them from the stage into the stalls, where Diaz and his team were standing.
Pegg claimed he was hit in the back and shoulder by cans thrown by McGregor during the fracas, and sued McGregor for a total of $95,000. The sum consisted of $5,000 in medical bills and an additional sum of $90,000, calculated as a share of McGregor's $15 million earnings from UFC 202.
READ MORE: McGregor beats Nate Diaz on points at UFC 202
Attempts by Pegg's legal team to bring McGregor to the witness stand were hampered by the Irishman's lawyers, who had successfully moved the case to federal court in an attempt to keep the UFC superstar's financial records private.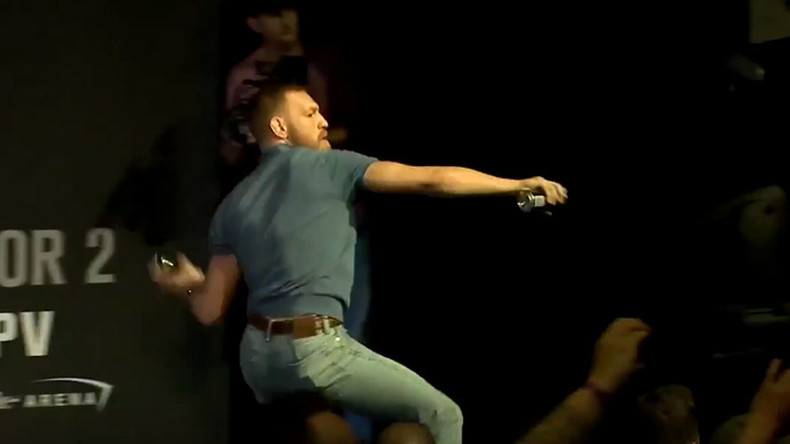 Pegg's lawyers also claimed McGregor failed to show for a scheduled appearance due to his involvement in his subsequent attack on a bus containing Khabib Nurmagomedov at UFC 223 in Brooklyn.
"McGregor's deposition was scheduled for April 6, 2018. However, McGregor did not appear for his deposition. Instead, on the night of April 5, he was throwing metal barriers and other objects at UFC 223, at which he was not scheduled to appear," their statement read.
READ MORE: Conor McGregor sued by fellow UFC fighter over Brooklyn bus attack
But Pegg withdrew his complaint at Nevada Federal Court this week after the two sides of the lawsuit came to a settlement out of court.
McGregor is set to appear before the Nevada State Athletic Commission on December 10 to face sanctions for his involvement in the post-fight brawl after his loss to Nurmagomedov at UFC 229 in October. Nurmagomedov is also scheduled to appear at the hearing.
Both men are expected to be handed suspensions and fines for the incident at the T-Mobile Arena, and will not be booked to compete in their next respective bouts until matters with the commission have been resolved.
Earlier this week McGregor appeared in court in his native Ireland, where he was banned from driving for six months and handed a €1,000 (US$1,130) over charges of speeding.
READ MORE: UFC star Conor McGregor slapped with driving ban & fine in Ireland
You can share this story on social media: