McGregor v Diaz press conference descends into bottle-throwing mayhem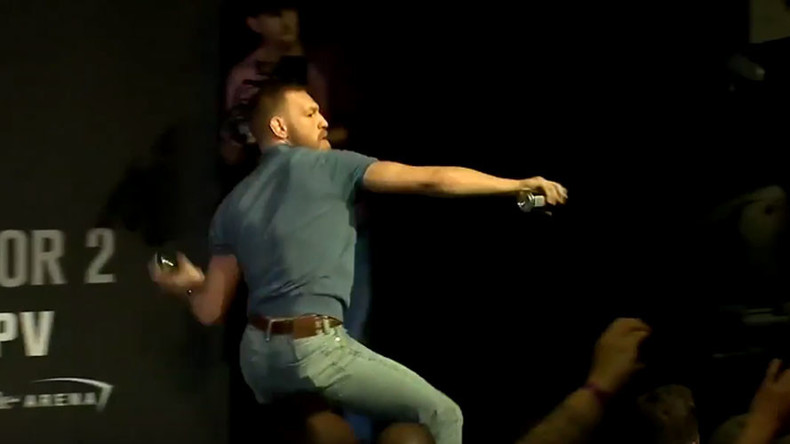 The buildup to the rematch between Conor McGregor and Nate Diaz took an ugly turn on Wednesday, as the press conference for their bout at UFC 202 was halted amid chaotic scenes.
McGregor turned up 30 minutes for the event in Las Vegas, which prompted Diaz and his team to leave the stage soon after.
"The Vegas traffic is heavy this time of the day," the Irishman joked.
"There must be a McGregor show going on because the place is packed out."
He was still speaking as Diaz headed for the exit, giving McGregor the middle finger and hurling expletives at him.
"Hey, f**k your whole team, how about that?" shouted Diaz.
"F**k your whole team," McGregor replied."You'll do nothing. Shut your f*****g mouth. You'll do nothing.
"You'll do f*****g nothing. Not one of you will do nothing. Get the f**k out of here."
Diaz then threw a plastic bottle towards the stage, provoking an angry response from McGregor, who responded by leaping from his seat and swearing furiously.
He threw a bottle back at the American, before launching cans of energy drink in the direction of his opponent.
UFC President Dana White quickly called a halt to the proceedings, shouting "That's a wrap, get him out of here" as security kept the fighters apart.
Diaz defeated McGregor in the second round of their first meeting at UFC 196 after stepping in as a late replacement for Rafael Dos Anjos.
READ MORE: Nate Diaz overpowers Conor McGregor in a shocking win
While the standoff has created extra publicity for the UFC, it's unlikely the promotion will be pleased with either fighter after its recent $4 billion sale.
McGregor has previously clashed with the UFC over promotional activities, and White appeared particularly annoyed with this latest turn of events.
Despite the fallout, Diaz is sure he will emerge victorious on Saturday.
"Same thing like I always say, we'll go out there and my objective is to win," he said.
"I'm gonna train hard and try to get it done. I believe I'm the superior martial artist.
"I'm just gonna go in there and get the job done and not get anything I don't expect."
McGregor believes his chances in their first fight were hampered by the late switch of opponent and he is supremely confident of gaining revenge in the rematch.
READ MORE: McGregor says he will knock Nate Diaz out in UFC 202 second round
"I estimate that I'll be fighting in enemy territory this time," he said. "Usually it's been home for me in this place, with traveling fans.
"That's what I'm estimating, that's what I've been preparing for, that's what I'm looking forward to.
"Let's see what he has. Let's see what his full camp has done."