McGregor says he will knock Nate Diaz out in UFC 202 second round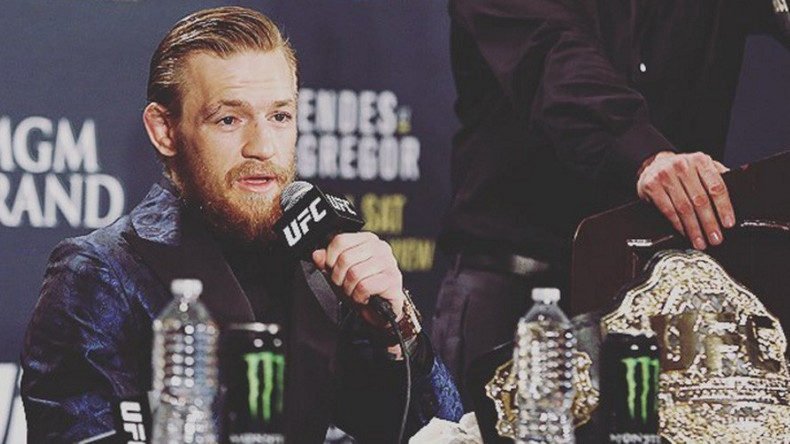 The build-up to the highly anticipated rematch between Conor McGregor and Nate Diaz at UFC 202 has started, with the Irishman predicting a second round knockout victory.
The outspoken Dubliner moved up weight divisions in March to face the American at UFC 196, but was surprisingly choked into submission in the clash.
READ MORE: UFC 196: Nate Diaz overpowers Conor McGregor in a shocking win
McGregor will get his chance at revenge when he faces Diaz again at the T-Mobile Arena in Las Vegas on August 20 - and is determined to put the record straight.
The Irishman admitted that Diaz was resilient but predicted a second-round knockout win.
"If I really look at it, he has a solid chin, he's durable, very experienced, he has the size and the weight on me - I think that was the wrong thing to go and expect (the knockout) in the first round," McGregor said.
"This time, I'm still going to march forward, I'm still going to press him, I'm still going to bust him. There's just going to be a lot more in my tank.
"I'm just going to be a lot more prepared for a man who can stay in there with me, but even still, I struggle to give him past round three. If I was to make a prediction, which I will right now, I believe I will repay the favor and KO him inside the second round."
McGregor was also asked about his thoughts on WWE and whether he could see himself as a professional wrestler in the future.
His answer was not complementary.
"For the most part, those WWE guys are p*ssies, to be honest," said the Irishman.
"They're messed up p*ssies, if you ask me. Fair play to Brock [Lesnar], he got in and fought, but at the end of the day he was juiced up to the f*cking eye balls, so how can I respect that?
"There's some dons in that wrestling game. The McMahons, they're dons. Triple H is a don. The Rock is a don. But the rest of them are p*ssies."
Diaz has also been speaking out ahead of his UFC 202 bout with McGregor, which is set to land the Californian another bumper payday.
The 31-year-old has shot to notoriety by beating the popular Irishman and seen his bank balance increase substantially as a result.
McGregor on Diaz negotiating for a bigger payday at #UFC202: I taught you well. Get that money, Nate.

— FOX Sports: UFC (@UFCONFOX) August 5, 2016
However, Diaz states that he would have been earning big money by the end of his career even if he had not had the chance to face McGregor.
"I'm not one of those guys who sat around here f*cking taking contracts," he said.
"I've been bitching about my contract for the last six years. I've been going through hell, so I knew I was going to get mine.
"When it was time to get mine, I was going to get what I was going to get regardless, and I had a plan to do it. It's not thanks to Conor that I got all of this, but I'm going to say that was a shortcut."