McGregor beats Nate Diaz on points at UFC 202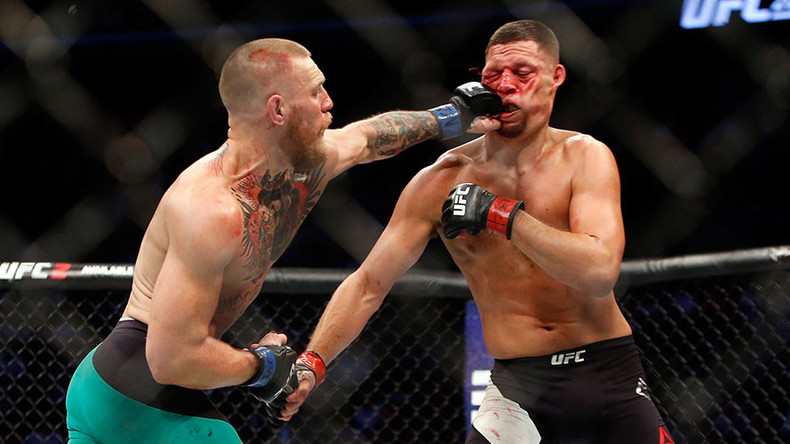 Notorious Conor McGregor won his five-round rematch with Nate Diaz by majority decision. "The king is back," announced the outspoken Irishman after the fight.
McGregor took the fight to the American from the get go, but the Californian, bloodied and beaten, showed the resilience to dominate a tiring McGregor as the bout went on.
After five scintillating rounds, the decision went to the judges. It could have gone either way, given the intensity that both fighters displayed and the changes in momentum throughout.
However, McGregor celebrated as he was named the victor.
The highly anticipated rematch between the pair came after Diaz upset the odds and choked McGregor out in their UFC 196 bout back in March.
READ MORE: Nate Diaz overpowers Conor McGregor in a shocking win
This time around, McGregor came out of the blocks livelier, with the animosity between the pair clear as they did not touch gloves before the action began.
Diaz found himself on the canvas midway through the first round and was subjected to a number of grueling leg kicks by his opponent.
McGregor knocked his opponent to the ground twice in the second round, but refused to grapple with the American, instead looking to defeat Diaz on his feet.
However, the Dublin-born fighter looked to be tiring in the third round as the momentum shifted to Diaz, who landed a number of sickening blows to McGregor's head and body.
Never having never gone the full distance in a UFC bout before, the Irishman looked exhausted in the fourth round but excellent takedown defense kept him in the fight.
Diaz came out firing in the fifth round, looking to knock his opponent out and wasn't impressed by McGregor's evasion tactics – flipping him the bird to show his disgust.
The Californian took McGregor down with only seconds remaining, but McGregor held on to win the bout on points.
What happens now remains to be seen, but the UFC may well look for another rematch between the evenly-matched pair after such an engrossing spectacle.
McGregor may have gone the distance this time, but does not look to be as devastating a fighter in the higher weight division.
The Irishman is said to have earned $3 million from the fight – the most for any UFC bout in history.
Diaz also received the bumper payday he wanted, taking $2 million home from the clash.