'Bloody battle of attrition': UFC fans react to 'brutal' McGregor-Diaz brawl (PHOTOS, VIDEOS)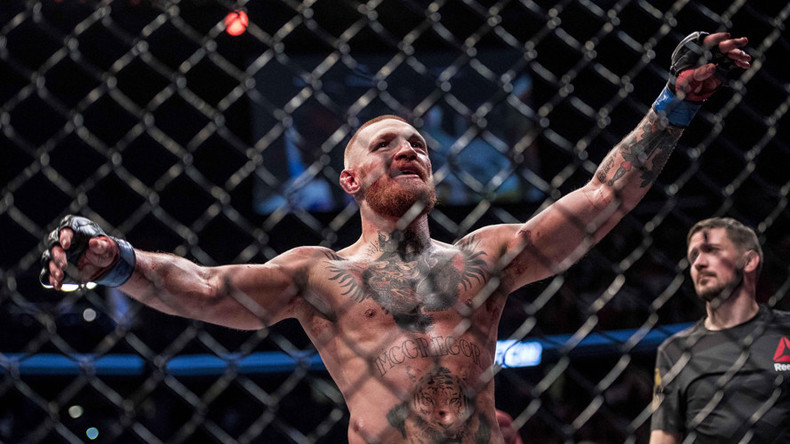 Conor McGregor may have exacted revenge against bitter rival MMA fighter Nate Diaz, but it was the ferocious manner with which the pair traded blows that really overawed fans.
The grudge match went to five rounds in front of a baying crowd in Las Vegas, with the judges scoring the close fight in the Irishman's favor.
READ MORE: McGregor beats Nate Diaz on points at UFC 202
The UFC 202 main event has been likened to a bout between fictional boxing rivals Rocky Balboa and Apollo Creed, thanks to an intense build up and the dogged nature of both fighters.
Viewers have since tweeted about the severe punishment both fighters were able to withstand, with one fan describing the match as a "bloody battle of attrition."
In the lead up to the UFC 202 grudge match, McGregor had threatened to 'kill' Diaz in the octagon, following his defeat to the Stockton fighter last March.
READ MORE: Conor McGregor threatens to 'kill' Diaz at UFC 202 grudge match (VIDEOS)
But despite Diaz being dropped three times during the fight, there wasn't much between the pair, with both fighters ending the match battered and bloodied - but somehow still standing.
In a post-match interview, McGregor paid tribute to his hard-hitting opponent, praising him for putting up stiff resistance.
"He was about 25lbs heavier than me in there. Man, he is as tough as they come. I mean his face was leaking and he was still in my face.
"I hit him one or two [punches] back to the body and that sort of swayed it in my favor, but it was a hell of fight. Very close fight. It's one for the ages."
The scorecard for the T Mobile Arena match-up shows judges awarded the fight to McGregor in a majority decision.
However, debate has erupted online over the result, with a split among some UFC fans over whether McGregor really did gain the upper hand.
Diaz has since said he was surprised that McGregor was awarded the victory.
"I thought I won at least three rounds. Obviously I think I could have done better and done some better things. But yeah, I thought I won the fight," he said.
He accused McGregor of being "scared to engage" and backing off during the fight.
"I feel like they [the judges] should have taken points [off] for that," Diaz added.
With the scores now equal after two fights, fans are now calling for the pair to return to the octagon in the near future to decide things once and for all.