Conor McGregor threatens to 'kill' Diaz at UFC 202 grudge match (VIDEOS)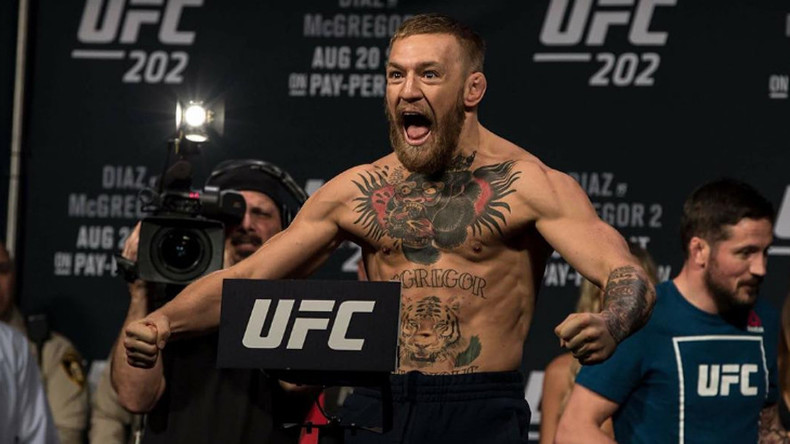 MMA fighter Conor McGregor took the pre-match tensions up a few notches ahead of coming toe-to-toe against Nate Diaz again in Las Vegas on Saturday.
When the pair last met at UFC 196 in March, Stockton brawler Nate Diaz was seen primarily as a last minute replacement for the injured fighter Rafael dos Anjos.
But after a shock submission of the Irishman in Round 2 of their first bloody 'money match', 31-year-old Diaz has become something of a thorn in the ultra-confident McGregor's side.
The duo appear ready to settle the score once and for all at the T-Mobile Arena in Sin City Saturday, with Diaz threatening another UFC upset.
Speaking to Rolling Stone, Diaz said he is catching up to McGregor in terms of popularity and is determined to defeat the Irishman again - whether UFC promoters like it or not.
"Three days [after UFC 196] they called me about a rematch with Conor. I was like, 'Wow they want me back out there and they want me to lose real quick," he said.
"They wouldn't let me sit back at all. They let him sit around… They promote him up every single day. I just don't think they want me to win.
"I'm going to go out there and win again, then everyone is in trouble."
In the duo's weigh-in on Friday night, McGregor laid down the gauntlet by threatening to 'finish' Diaz in their rematch.
'He should have killed me when he had the chance, because now I'm back and I'm going to kill you [Diaz] and your whole f***ing team."
Saturday's brawl will be the second time McGregor has moved up a weight division to meet his opponent. With a revenge narrative running alongside UFC 202, the main event has become one of the most anticipated fights of the year.
The much-hyped bout was given an extra bit of spice when a pre-match press conference on Wednesday erupted into chaos. In front of a crowd of TV crew and journalists, the two mixed martial arts specialists came to blows, resulting in McGregor hurling bottles of water at his opponent.
Since then, fans have been busy posting images of their own preparations and excitement in the build-up to the grudge match.
Other diehard UFC fans have posted their tips for how McGregor should tackle Nate by pacing himself throughout the bout.