Tempers flare as shirtless Tyson Fury & Deontay Wilder clash at fiery LA presser (VIDEO, PHOTOS)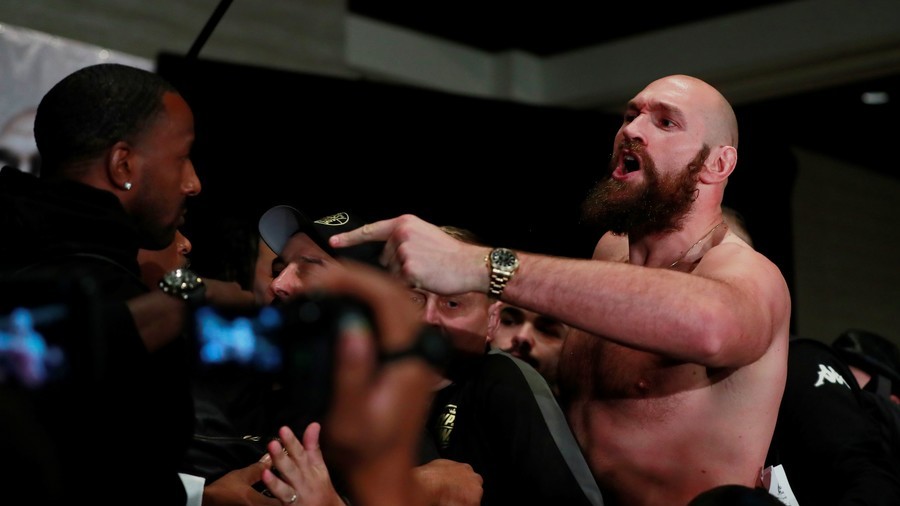 What started out as a run-of-the-mill occasion descended into an ugly shouting match as scuffles broke out on stage at the pre-fight press conference between Deontay Wilder and Tyson Fury in Los Angeles.
Tempers erupted when the pair confronted each other during an intense face-off, with Wilder shouting in the Brit's face, telling him he was going to knock him out while Fury mockingly bobbed and weaved his head in response.
And when members of Wilder and Fury's respective teams moved in to prevent tempers from boiling over, scuffles broke out among the teams and Fury took off his jacket and shirt as the two protagonists were separated to avoid an ugly clash.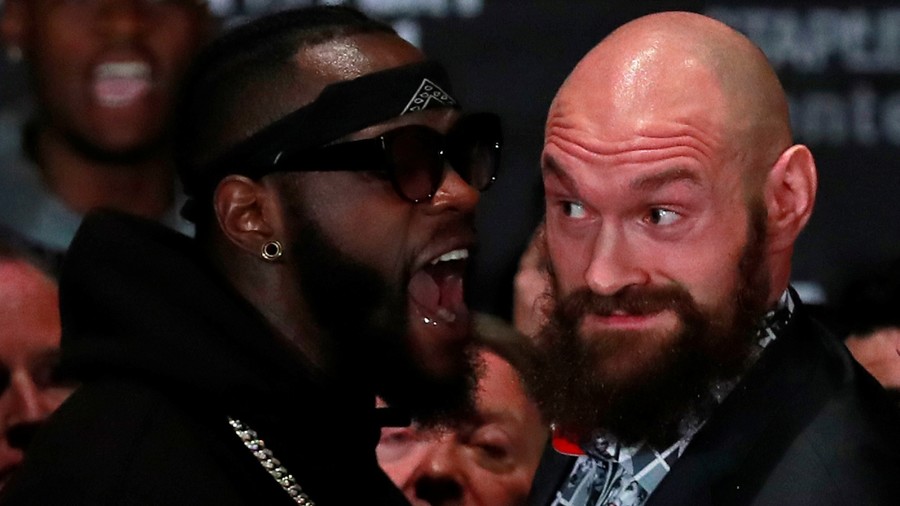 Wednesday's press conference took place on the three-year anniversary of Fury's world title-winning performance over Wladimir Klitschko, and the timing wasn't lost on the Brit.
"It's my anniversary today," he told the assembled press. "It's three years since I went to Germany and kicked Wladimir Klitschko's arse all over Dusseldorf, and I'll do the same to Deontay on Saturday.
"I'm here to do a job and enjoy myself, and I hope the boxing fans around the world are going to enjoy this fight as much as I will."
Wilder started out calm and composed in his opening statement as he revealed his excitement ahead of the contest.
"I can't wait," he enthused. "It's been my saying this whole time: I cannot wait. Time is clicking, it's boiling down. Can you feel the energy?
"This is a moment I've been waiting for my entire career. This is the time, it's my time. Fury had his time. When he beat Klitschko that was his time, that was his window. Now it's my time."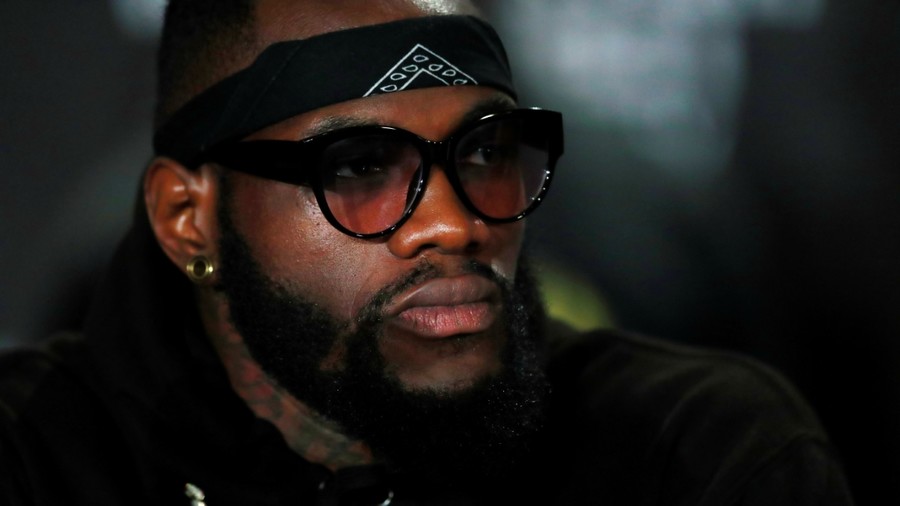 But things started to heat up when the press conference went to the Q&A segment, which quickly descended into a back-and-forth shouting match between the pair.
Before the chaos ensued, Fury said that he was returning to the sport not just as the heavyweight division's lineal champion, but as a champion for people around the world who deal with mental illness.
READ MORE: 5 reasons Tyson Fury can topple Deontay Wilder in world heavyweight title clash
The Brit suffered with mental health issues during his time away from the sport. But he explained that now he is back on the world stage, he wants to be an inspiration to those who deal with similar issues every day.
"I stand for more than a championship. I stand here as an ambassador for mental health," he said.
"I'm the people's champion. I've got millions of people around the world who look up to me and I'm on a mission to inspire these people."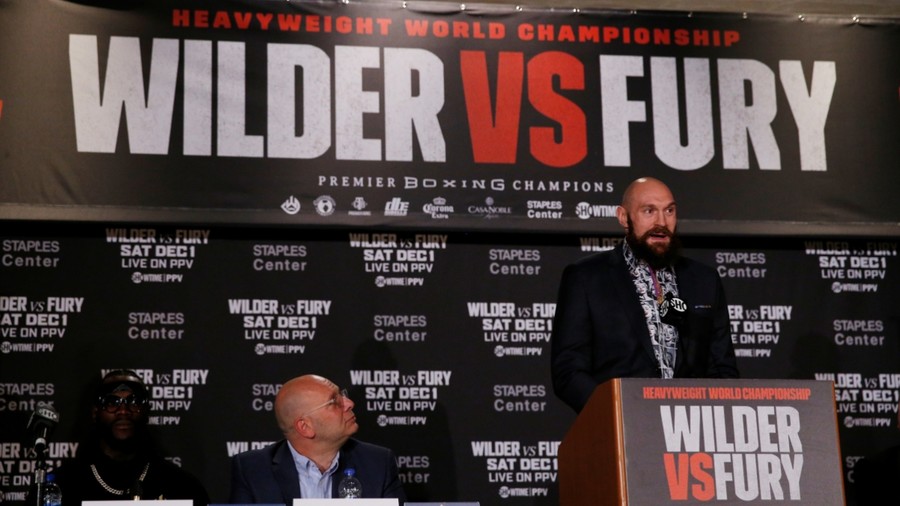 Then Fury turned up the mental warfare and clearly touched a nerve when he questioned Wilder's tough-guy image.
"When I look at him I don't see a bad man, I see a pretender," said Fury.
"This ain't an act. I am what I am. A bald-headed, big-bearded hulk of a man. And I didn't practice to talk like this. I just do it."
READ MORE: Betting bonanza: Boxer Billy Joe Saunders makes £70K wager on Tyson Fury to beat Deontay Wilder
It left Wilder all fired up, as the American turned his sights on Fury as he sought to question the Brit's boxing credentials.
"I was at the Olympics. I medalled. I've never seen him in the Olympics, I've never seen him medal," he stated.
"I've knocked out every fighter I've faced. Why hasn't he? Why is his ratio so low?
"He didn't beat Klitschko, Klitschko beat himself. If Klitschko had shown up and thrown more punches he'd have won. Everybody knows that."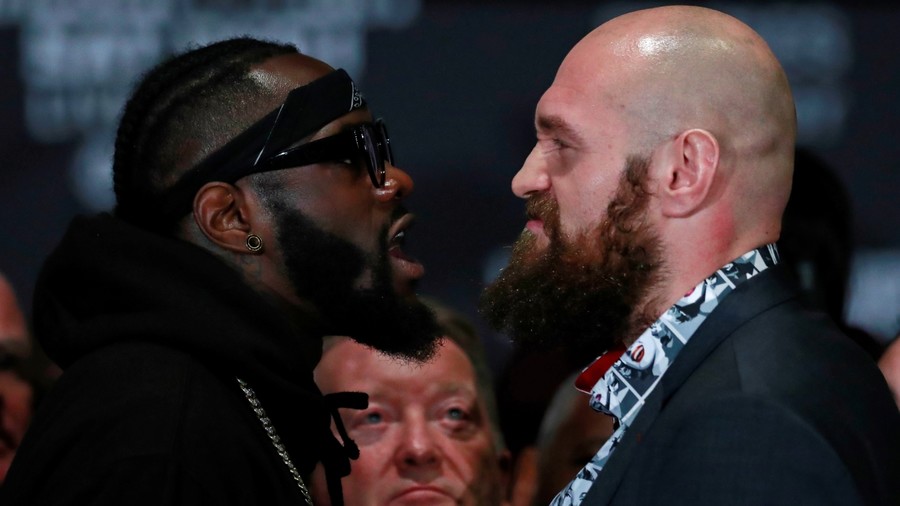 And with the fight just a matter of days away, the defending WBC champion issued a warning to the returning Fury, saying that he's been ready for their match-up for weeks, and that the smiling adversary he had spent time with during the lead-up to the event was now replaced by a world champion determined to defend his crown.
READ MORE: 'I'm a different monster in that ring and he knows it': Wilder questions Fury's coaching switch
"So much emotion is running through my body right now. I was ready two weeks ago," he declared.
"I can't wait to put these hands on you. When I get in the ring, it'll be no more Mr. Nice Guy."
You can share this story on social media: