5 reasons Tyson Fury can topple Deontay Wilder in world heavyweight title clash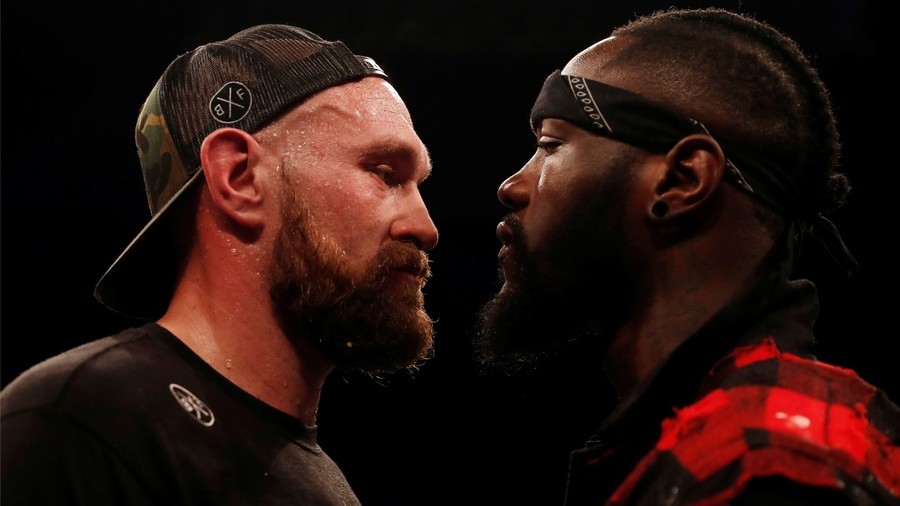 WBC heavyweight world champion Deontay Wilder is arguably the most destructive puncher in boxing and Tyson Fury is returning to world-class competition for the first time in three years. So how can "The Gypsy King" win?
A glance at Deontay Wilder's professional boxing record is enough to give any heavyweight sleepless nights. Forty fights, 40 wins, 39 wins by knockout. It's a record that is unmatched at the highest level of heavyweight boxing.
Stepping up to challenge 'The Bronze Bomber' is former WBA, IBF, WBO, IBO and The Ring heavyweight world champion Tyson Fury who, prior to his enforced absence from the ring, was - and is still self-proclaimed as - the lineal heavyweight champion of the world.
After a near-three-year hiatus, Fury returned to the sport earlier this year and stopped overmatched former cruiserweight Sefer Seferi on his comeback in June, then outpointed Italian Francesco Pianeta in August.
READ MORE: Tyson Fury drafts in Freddie Roach ahead of Deontay Wilder clash
Now Fury faces off against power-punching world champ Wilder as he bids to return to the heavyweight summit.
The boxing world may be split on the winner - and Fury may be the underdog with the oddsmakers - but here are five ways 'The Gypsy King' can upset those odds and become heavyweight champion of the world once again.

1. FURY HAS PREVIOUSLY SNUFFED OUT ELITE-LEVEL KNOCKOUT POWER
Fury's world title triumph against Wladimir Klitschko in Dusseldorf saw him face a man who had even more knockouts to his name, with 53, than Wilder. Klitschko had a proven big-game temperament a record of working out his opponents in the early part of fights before stopping them in the middle-to-late rounds.
But against Fury, Klitschko simply had no answer, as the Manchester fighter frustrated, outmanoeuvered and comprehensively outboxed 'Dr. Steelhammer' to claim all but one of the major championship belts.
Despite standing toe to toe with a heavy hitter like Klitschko, Fury wasn't unduly ruffled by anything the Ukrainian could throw at him, and that performance will give the Brit confidence that he can repeat the feat against Wilder on December 1.
2. SIZE AND WEIGHT ADVANTAGE
Wilder has built a career out of throwing power punches, backing up his overwhelmed opponents and finishing them with heavy shots. But he's unlikely to move Fury around the ring in the same way he has dominated his past opponents.
Wilder is a tall, rangy fighter with considerable reach, but Fury will be the bigger, heavier man in the ring on fight night, and won't be bullied by the American in the clinch.
Indeed, Fury may well use his size and weight to wear on Wilder in the clinch during the early rounds in a bid to sap the Alabama native's gas tank for the later rounds.
3. FURY CAN WIN BY KNOCKOUT, BUT IT'S NOT JUST ABOUT POWER
He may not necessarily have a reputation as a concussive knockout puncher, but far too many people seem to be discounting Fury's knockout potential. As a six-foot-nine, 240lb-plus heavyweight with excellent technique, Fury has punched with power sufficient to finish 19 of his 27 opponents to date.
But knockouts come not just from the power of the man throwing the shot. Wilder's style can get quite ragged at times, and he throws long, winging hooks that are wide open to straight counters from a boxer-puncher with smart footwork and excellent timing.
Throw in the fact that the man throwing those counters could be as big as 250lbs and it's clear to see that Fury, with his boxing smarts, has the ability to use Wilder's aggression against him and shock the world with a knockout of his own.
4. WILDER MIGHT NOT BE FULLY FOCUSED
It's no secret that Fury isn't Wilder's number-one target. That honor belongs to reigning WBO, WBA, IBF and IBO world champ Anthony Joshua, the man who inherited Tyson's belts.
Wilder has given countless interviews talking about his efforts to get Joshua to sign on the dotted line, but that fight remains out of reach for now. Victory over Fury may bring that bout one step closer, but if Wilder is more focused on proving a point, it could come back to bite him on fight night.
Loading up too early could lead him to gas out and get stopped late, while over-committing could see him caught by Fury's deceptively powerful shots. And if he fights on adrenaline, he may experience a performance drop-off mid-fight that could cost him if the fight goes to the scorecards.
Fury's target is the title, plain and simple. But with so much going on in Wilder's head going into the bout, could Anthony Joshua prove an unwanted distraction in the final reckoning?

5. GAME MANAGEMENT COULD LEAD FURY TO THE TITLE
Wilder's incredible record of 40-0 (39 KOs) may also offer a potential route to victory for Fury. Put simply, Wilder hasn't been made to battle to the scorecards in his career and isn't as battle-tested as Fury in the later rounds of fights.
Just six of Wilder's 40 wins saw him pushed beyond the fifth round, compared to 12 of Fury's 27 wins. And faced with a bigger, stronger, heavier man, Wilder may see his best chance of victory coming within the first four or five rounds.
READ MORE: Russian MMA promotion fires fighter after mass brawl & 'sex assault' threats against rival
The big question is what happens if the fight reaches the mid-way point, Wilder has thrown his best punches and Fury is still standing?
Fury's two wins over Dereck Chisora and his world title-winning performance against Klitschko show just how he can face off with a big puncher, frustrate them and wear them down over an extended period to win on the cards, or by stoppage.
Fury is a master of game-management in the ring. If he gets the gameplan right and executes as he did against Klitschko, he could well end the night with that famous green WBC belt draped over his shoulder.