Postponed Copa Libertadores final to be played Dec 8 or 9, will not be held in Argentina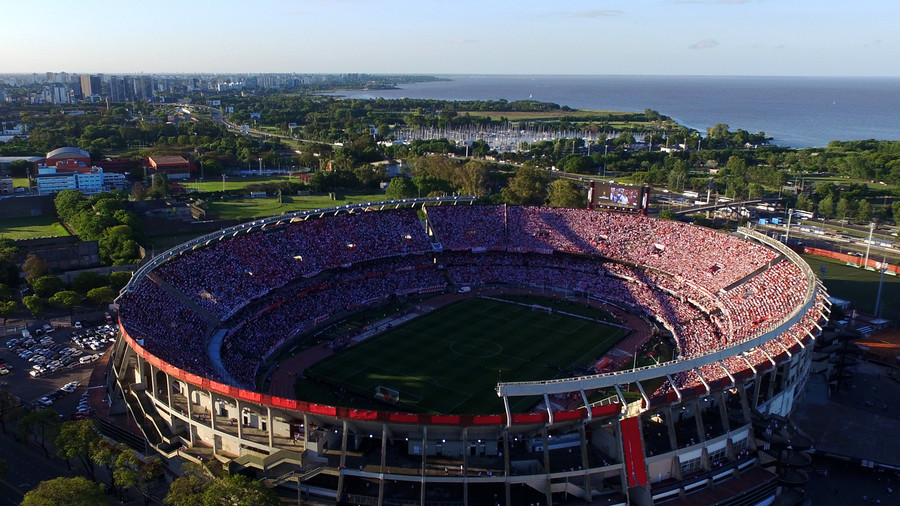 The decisive 2nd leg of the Copa Libertadores final between Argentina's River Plate and Boca Juniors, postponed due to an outbreak of fan violence, will be played on either December 8 or 9, at a venue outside Argentina.
READ MORE: OFF! Copa Libertadores final suspended AGAIN in bid to 'preserve equality' after violent bus attack
South American football federation CONMBEOL convened in Paraguay on Tuesday to discuss the new venue and date of the game, postponed when River fans attacked the Boca team bus on Saturday as it made its way to River's El Monumental stadium in Buenos Aires, causing injury to their arch rival's players.
The authority later confirmed in a statement that the game will take place on either Saturday December 8 or Sunday December 9, two weeks after originally planned.
Both clubs' presidents, Rodolfo D'Onofrio from River Plate and his Boca counterpart Daniel Angelici, were present at the meeting.
Whatever the uncertainty over the date, the game will certainly not be held in Argentina, with Asuncion, the Paraguayan capital, looking the most likely city to host what has been called 'the biggest football derby on the planet'.
The game was originally planned to take place on Saturday, but was called off when River fans ambushed the coach transporting their opponent's squad, throwing missiles that smashed the vehicle windows and even caused the driver to momentarily lose consciousness.
Players were also exposed to tear gas fired by police attempting to break up the unruly crowds. Among the injured were former Man City and Juventus forward Carlos Tevez and Boca captain Pablo Perez.
READ MORE: 'I was unaware!' Ex-footballer denies knowledge of huge 'Wolf of Wall Street' drug lab on his farm
The game was delayed several times, with Boca pushing for a postponement to a later date, but CONMEBOL reportedly wanted the game to go ahead as planned, before it was eventually put back by 24 hours.
However, the game on Sunday was again called off when Boca penned a request for the game to be played at a later date due to concerns over "equality".
The news was met with anger by the 70,000 fans present. Police made 29 arrests that day and were forced to discharge rubber bullets after ugly scenes ensued in the Argentine capital.