Boca Juniors 'request suspension' of Copa Libertadores final in bid for 'equality' after bus ambush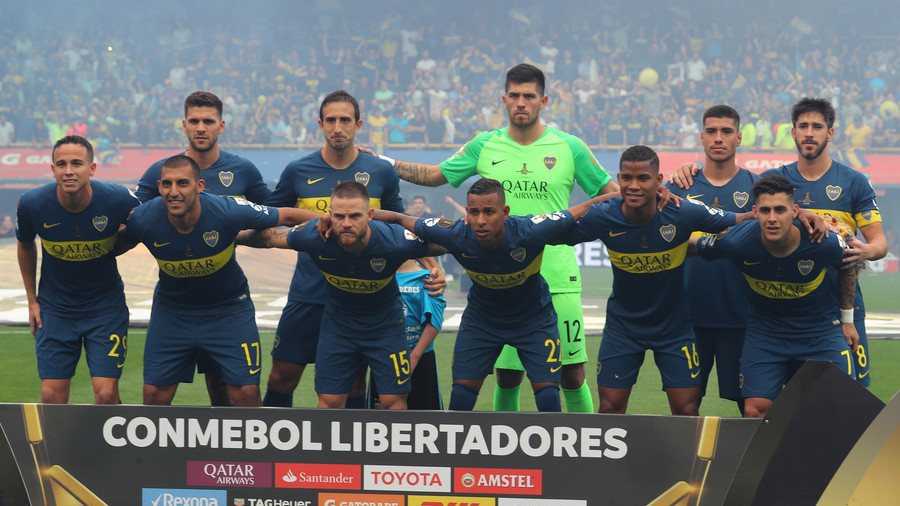 Boca Juniors have requested their Copa Libertadores final 2nd leg versus arch rivals River Plate be suspended further after the match was postponed 24 hours after their team bus was attacked, injuring several players.
READ MORE: Violence erupts as Copa Libertadores final postponed due to bus ambush (VIDEO/PHOTOS)
The match was originally scheduled to take place on Saturday at River's El Monumental stadium but South American football federation CONMEBOL confirmed the match as postponed until Sunday after River fans ambushed the Boca team coach as it made its way to the ground.
Aside from injuries from broken glass when the coach windows were smashed by missiles from a smattering of hostile River fans, Boca's players were also exposed to and inhaled tear gas used by police to disperse the crowds.
Boca captain Pablo Perez was among the most seriously injured and was treated in hospital after a shard of glass hit him in the eye.
Boca tweeted a statement on Sunday that read: "Club Atlético Boca Juniors made a formal presentation to Conmebol on Sunday to request that the final of the Copa Libertadores be played in conditions of equality, as agreed by the presidents of the South American entity, Boca and River, in the minutes who signed on Saturday at the Monumental.
"Yesterday afternoon, Boca Juniors requested to postpone the match due to the incidents and it was established as a priority that it could be played under equal conditions.
READ MORE: 'I thought it was a suicide bomber': Fan straps flares to LITTLE GIRL ahead of Copa final (VIDEO)
"After the acts of violence suffered in the vicinity of the stadium, having noted the magnitude and seriousness of them and the consequences they have generated in the establishment, Boca considers that these conditions are not met and requests the suspension of the match, as well as the application of the corresponding sanctions provided for in Article 18, so that Conmebol acts accordingly."
CONMEBOL had originally pushed for the match to go ahead as normal, but eventually the decision was made to replay the game a day later, much to the chagrin of the 70,000 fans inside the stadium.
Violent scenes followed the announcement, with police firing rubber bullets to quell unruly supporters on the streets.