'I thought it was a suicide bomber': Fan straps flares to LITTLE GIRL ahead of Copa final (VIDEO)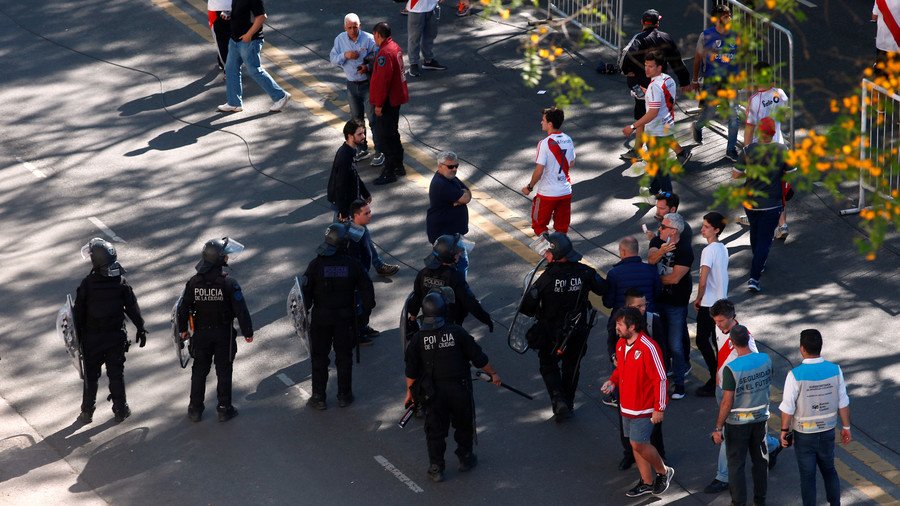 A fan of River Plates has been filmed strapping flares to a little girl in a shocking bid to sneak pyrotechnics into El Monumental Stadium for the Copa Libertadores final 2nd leg against Buenos Aires rivals Boca Juniors.
READ MORE: Copa Libertadores may be OFF as Boca bus pelted with missiles, players affected by tear gas (VIDEO)
In the footage, the fan can be seen arranging the flares underneath the toddler's replica River jersey, in an apparent attempt to fool security. The use of flares is prohibited at football stadiums in South America, but they are fairly commonplace.
Football fans on social media were quick to express their disgust at what they saw as "classless" behavior that has no place in the game, with some even mistaking it the girl for a suicide bomber.
The footage emerged not long after River fans ambushed the Boca team bus as it made its way to the stadium, pelting the vehicle with missiles, smashing windows and causing players to be affected by police teargas which had been fired to disperse the unruly crowds.
South American football federations CONMEBOL announced the game would be delayed by one hour. Boca were understood to have been calling for a postponement.
You can share this story on social media: