Finger lickin' good?: Former Manchester United defender Evra fondles raw turkey in bizarre video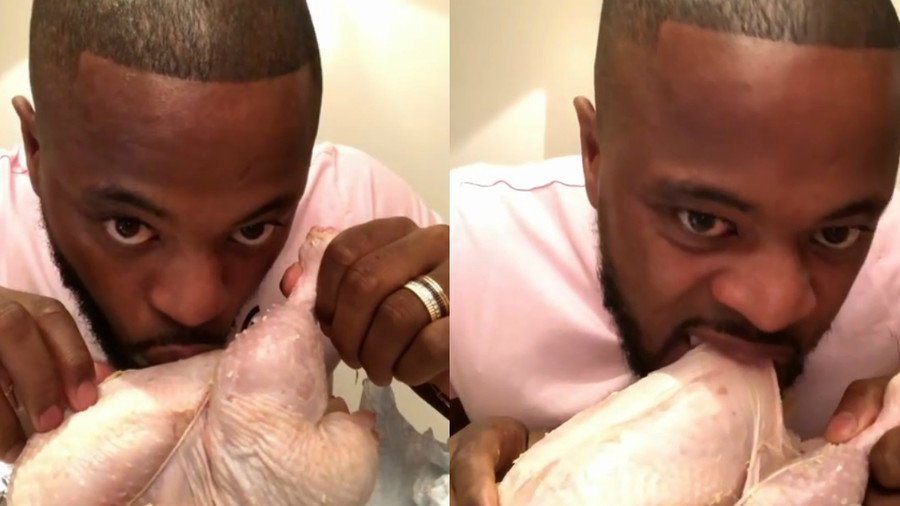 Patrice Evra, 37, who apparently has a lot of time on his hands now that he is without a club, posted a video of him fondling a raw bird in what appears to be an unconventional nod to the US holiday of Thanksgiving.
The video, which is the latest in a series of bizarre posts from the former Manchester United captain, has confused and disgusted the Twitterverse.
In it Evra can be seen bizarrely (and somewhat seductively) slapping the poultry before shouting his 'I love this game' catchphrase.
The reaction to the video has been one of confusion, with numerous fans responding to the video and asking as to the motivation for it.
It should be noted that Evra's behavior here makes him a prime candidate to contract salmonella, an illness currently affecting numerous people in the United States in an outbreak across 35 states.
READ MORE: Usain Bolt linked with shock move to Mexican team managed by Maradona
Signs of salmonella include fever, diarrhoea and stomach cramps and can leave the sufferer ill for a period of more than one week.
So, we do NOT recommend you try this at home!
You can share this story on social media: