'Disgusting': College basketball player suspended for flooring rival with brutal elbow (VIDEO)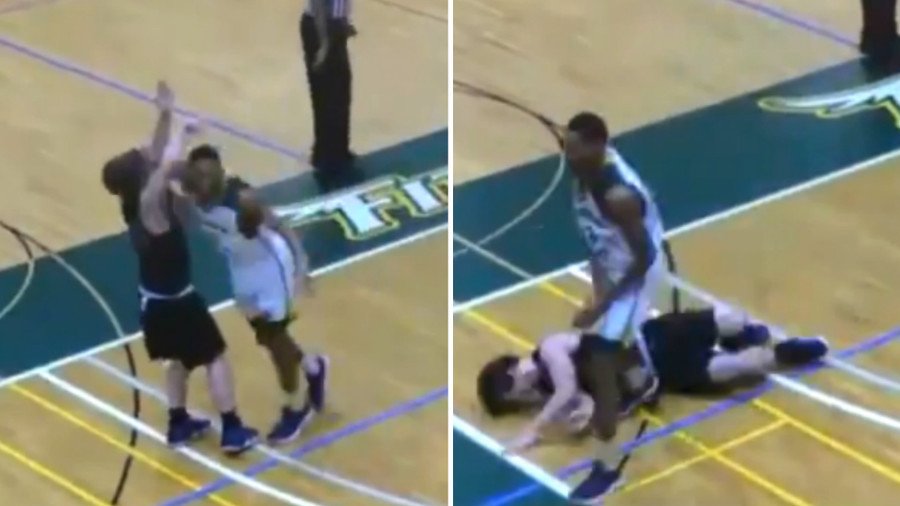 Fitchburg State basketball player Kewan Platt has been suspended and kicked off campus for an indefinite period for flagrantly elbowing his opponent in the face during a Division III college game.
The incident took place on Tuesday when Fitchburg State was hosting the Nichols College Bisons.
READ MORE: NBA icon Kobe Bryant dropped from film festival jury over 2003 rape claims
In the second period, the Bisons' Nate Tenaglia netted a three pointer only to be sent sprawling to the floor moments later after a sickening elbow to the face from Platt. The Fitchburg player appeared to check whether the baseline referee was watching him before landing the elbow strike.
Another referee who spotted the vicious shot handed Platt a second technical foul which led to his immediate ejection.
Following the incident – which was deemed "disgusting" by many fans – the Fitchburg State community apologized for the player's behavior and promised to hand down punishment accordingly.
"The Fitchburg State community is appalled by the conduct displayed during Tuesday night's home basketball game," Fitchburg State athletic director Matthew Burke said in a statement.
"The player involved has been indefinitely suspended from the team and barred from campus, effective immediately.
"His behavior is antithetical to our community values and good sportsmanship. Fitchburg State does not tolerate behavior that violates those standards. The case is being reviewed at the student conduct level for consideration of further sanctions."
Representatives of the Nichols College Bison confirmed that Tenaglia had avoided serious injury and was able to finish the game, adding that they would continue to monitor his health.
You can share this story on social media: