'Pride of Dagestan': Khabib honored with highest award in home republic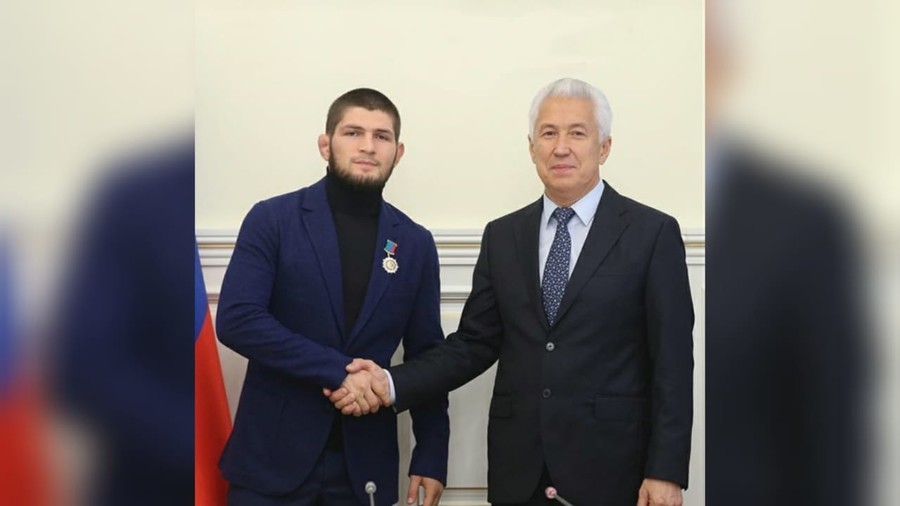 UFC lightweight king Khabib Nurmagomedov was hailed as "the pride of Dagestan and Russia" as he received his home republic's highest award in recognition of his sporting achievements and services to the region.
The undefeated MMA star was honored alongside his father and trainer, Abdulmanap, as the pair received the 'Order of Merit for the Republic of Dagestan' from regional head Vladimir Vasilyev.
READ MORE: Khabib presented '1st Russian UFC champ' cup by hometown team, kicks off match (PHOTOS/VIDEO)
"Khabib is the pride of Dagestan, the pride of Russia,"TASS reported Vasilyev as saying at a ceremony in Makhachkala, the capital of the North Caucasus republic.
"Now the most popular headwear in Russia is perhaps the papakha," Vasilyev added, referring to the now-famous traditional headwear donned by Khabib at press events and after fights.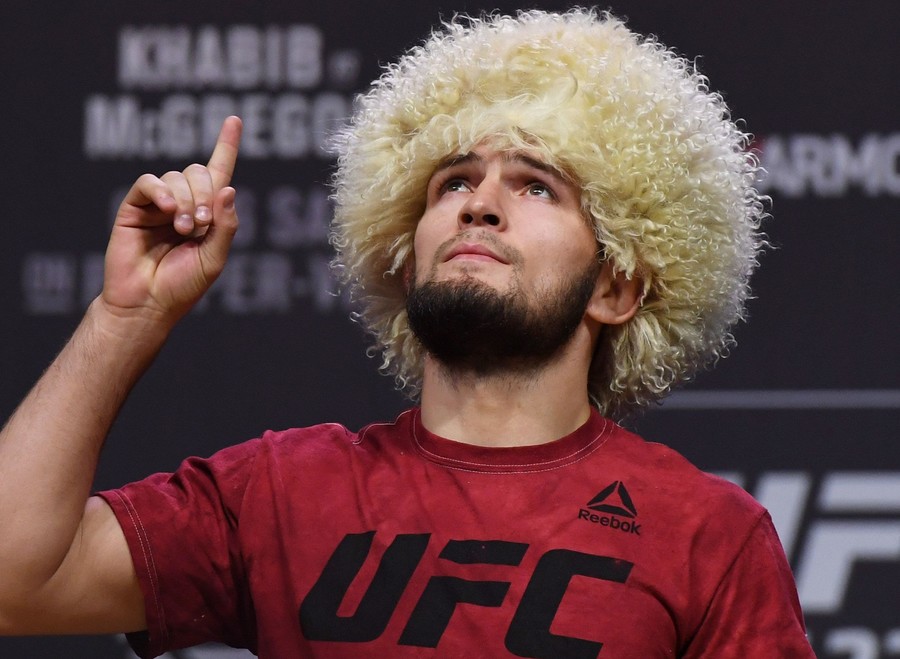 Nurmagomedov, who is unbeaten in 27 professional MMA fights, has already received the 'People's Hero of Dagestan' award in recognition of his sporting feats and contribution to the region.
Commenting on the latest addition to his burgeoning array of accolades, the fighter himself said it was actually some time since he had been awarded a medal.
"Not long ago I thought to myself that I haven't got a medal for a long time. Because the last medal I had was in 2011 at the world cup," said Khabib, likely referring to his past achievements in combat Sambo.
"After that I only performed in a professional sense, and victories there are on an official record, they give money, but not medals. I'm very happy to be awarded such a high honor and be recognized."
After defending his lightweight title against Conor McGregor at UFC 229 in Las Vegas in October, Nurmagomedov was greeted by thousands of adoring fans on his return to his home republic.
READ MORE: 'I begged God for one thing – to leave me in the cage with this clown' - Khabib Nurmagomedov (VIDEO)
He showed off his UFC lightweight belt at the local Anzhi Arena, home to his favorite football team, and he and his father also enjoyed a personal reception with Russian President Vladimir Putin.
Nurmagomedov, 30, recently met President Recep Tayyip Erdogan during a visit to Turkey as well as high-ranking figures from the UAE and Kyrgyzstan.