Khabib Nurmagomedov adds Turkish President Erdogan to list of high-profile meetings (VIDEO)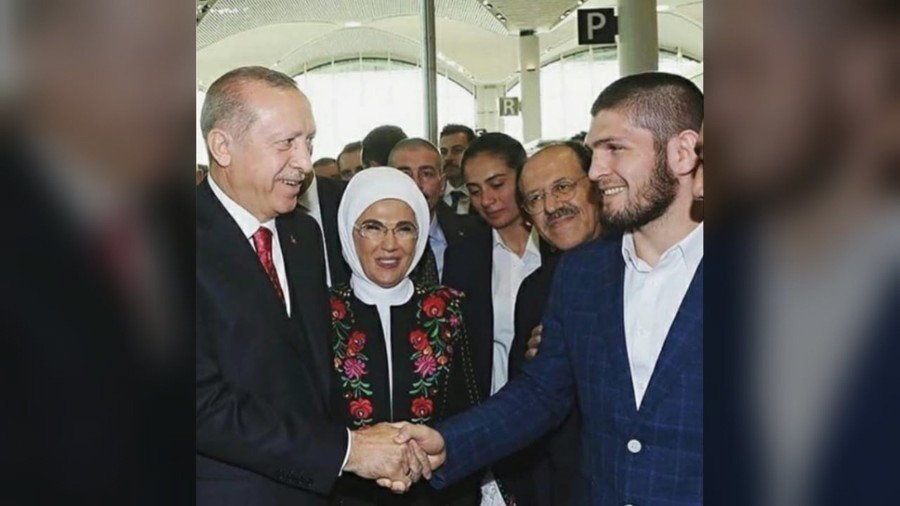 Russian UFC champ Khabib Nurmagomedov met with the Turkish President Recep Tayyip Erdogan, in the latest addition to the list of high-profile meetings he has had during the world tour following his win over Conor McGregor.
"Very nice to meet you," wrote the 30-year old UFC lightweight champion, captioning the picture showing him shaking hands with the Turkish leader. It is known that his father Abdulmanap is also visiting Turkey at the moment, as well fellow UFC fighter Zubaira Tukhugov.
READ MORE: 'It was a great honor that Putin supported us' - Khabib extends gratitude to Russian president
The short meeting with Erdogan has been also captured by the cameras and posted on the YouTube channel of Turkish Channel 24 TV.
Lately, Nurmagomedov has been seen in the company of the Russian President Vladimir Putin, who congratulated him on a worthy victory just days after his return to the homeland. Putin also asked Nurmagomedov senior not to punish his son too hard for his behavior following the fight with McGregor.
READ MORE: Putin to Khabib on UFC brawl: 'When someone provokes us from outside, there can be hell to pay'
Over the weekend, Nurmagomedov also posted a photo with Sheikh Diab Bin Zayed Al Nahyan of United Arab Emirates, captioning it "Thank you so much for hospitality. See you soon Brother."
You can share this story on social media: