'Like a dad...RIP boss': Mahrez dedicates Wembley goal to tragic Leicester owner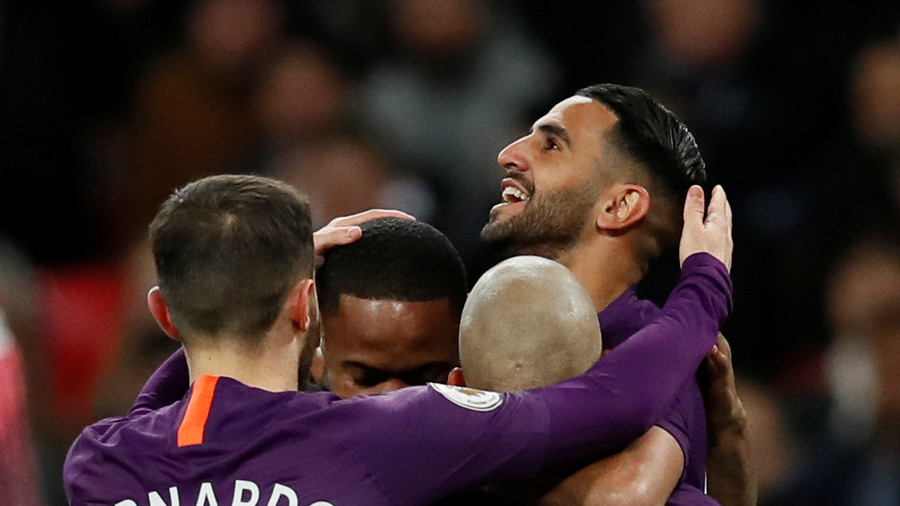 Riyad Mahrez has dedicated his goal in the Premier League match between Man City and Tottenham Hotspur on Monday to tragic Leicester City owner Vichai Srivaddhanaprabha, who died in a helicopter crash 24 hours prior.
READ MORE: Leicester City helicopter crash: Tributes laid as fans gather at stadium
Mahrez, 27, was named 2015/16 PFA Players' Player of the Year when 'The Foxes' clinched the Premier League title in an against-all-odds fairytale rise from relegation candidates to champions in just one season.
The player, now at Man City, netted six minutes into the current champions' match with Spurs on a torn Wembley Stadium turf on Monday, pointing to the sky in celebration of the strike.
The goal came the day after Leicester owner and chairman Vichai Srivaddhanaprabha, 61, was named among the five people killed in the crash shortly after takeoff in the car park near the club's King Power Stadium.
Mahrez, who played despite the devastating news, admitted that it had been "difficult" after the loss of someone he labelled a father figure.
"It's been very, very difficult for me," Mahrez told Sky Sports. "The boss was very special to me. I spent four and a half years there and I have many memories with him.
"He was such a good person, so I'm very, very sad, and it's why, when I scored, I put my hands in the sky for him. He did a lot for me and for Leicester. It's difficult to speak about it because it's so sad.
"He was like a dad for us. He was very, very special, such a good person, a very big heart. It was heartbreaking and shocking for me to have this news, of course with all the other people who died with him.
READ MORE: Vichai Srivaddhanaprabha: The billionaire behind one of sport's greatest ever stories
"It's a difficult situation. I'm with Leicester and the families of the victims. I always wanted to play [on Monday] because I knew he would have wanted me to play. He was very passionate about football. It was difficult; I kept thinking about him. It was difficult to sleep as well. It's part of life, but it's difficult."
City manager Pep Guardiola spoke after the game of a tough time for his charge. Mahrez's goal earned City the three points needed to put them back on top of the Premier League on goal difference.