'Conor McQuitter, Golden Girl & cheating a**': Mayweather in scathing posts to ex-opponents (PHOTOS)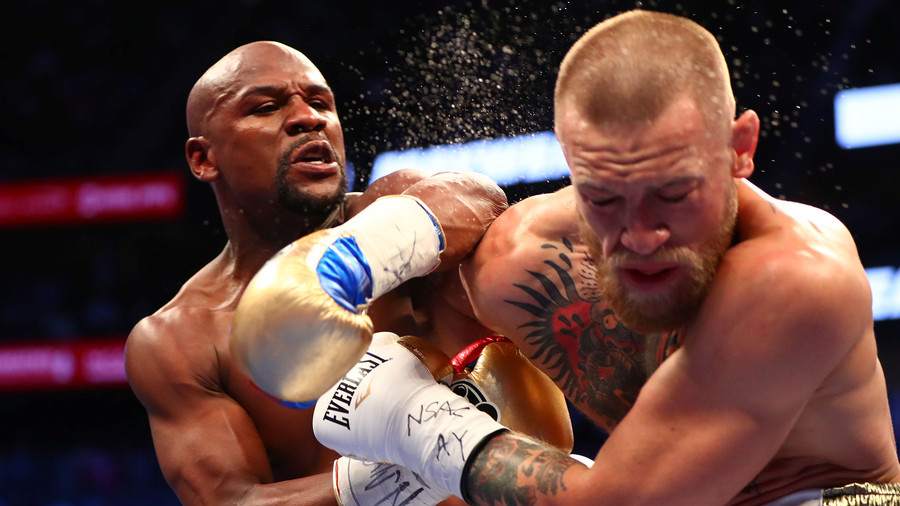 Boxing legend Floyd Mayweather Jr has stunningly attacked MMA star Conor McGregor as well as boxers Saul 'Canelo' Alvarez and Oscar De La Hoya, giving the trio derogatory nicknames such as 'Conor McQuitter' and 'Golden Girl'.
READ MORE:'Khabib fight is happening next year, then I want McGregor again' – Mayweather (VIDEO)
Posting with the 'Throwback Thursday' social media hashtag '#TBT' on Instagram, Mayweather attacked Mexican Canelo first, ripping into the boxer's recent multi-fight $365 million mega deal with streaming service Dazn, and referencing his ban for performance enhancing drugs in March.
The two shared 12 rounds in the ring back in 2016, with Mayweather winning by majority decision.
"It didn't matter if Canelo ate his PED steak or not this night, this was by far the easiest fight of my career! Connor [sic] McQuitter was a way better fighter than Canelo's cheating ass and I beat the brakes off him too!" he wrote.
"It takes me 36 mins or less to make $300 million plus. It literally takes me 1 night and 1 fight to make what you might make in 5 years and 11 fights! So really, who's still winning? You do the math!"
READ MORE: The crazy life of Khabib Nurmagomedov: From brawls & bans to 50 Cent & Floyd (VIDEO)
Then 'Pretty Boy' Floyd, who retired undefeated with a record of 50-0, gave McGregor an extremely backhanded complement by declaring "McQuitter was a way better fighter than Canelo's cheating ass".
Mayweather defeated former UFC champion McGregor by tenth-round TKO in 2017 in a hybrid fight under boxing rules, but apparently took offense to the the Irishman's submission defeat to Khabib Nurmagomedov earlier this month.
Soon after and Floyd was at it again, this time multi-weight world champion fighter Oscar De La Hoyawas the target. Floyd posted a scandalous picture of the Mexican-American wearing a fishnet suit and boxing gloves and bringing up their 2007 fight, which Maywetaher won by split decision.
"11yrs ago,I fought her and her name is Oscar "Golden Girl" Dela Hoya. Please leave the most disrespectful caption you can think of," the 41-year-old wrote.
De La Hoya at first denied at the time they surfaced, but later admitted, that the photographs were authentic and taken after a night of drinking and partying.
READ MORE: 'Oh, we fighting': Mayweather 'looking at 9-figure payday' for Khabib bout (VIDEO)
Ever the king of self-promotion, Floyd made sure the two attention-grabbing posts came sandwiched in between an advert for an autograph signing meet and greet with the man himself in Las Vegas.
Mayweather has recently discussed staging another crossover match with a UFC star in the boxing ring, all but confirming a fight with Russian champ Khabib Nurmagomedov, with a rematch with the man he dubbed 'McQuitter' also mooted as a possibility.