'I still have lots of questions about UFC involvement in bus incident' – Khabib Nurmagomedov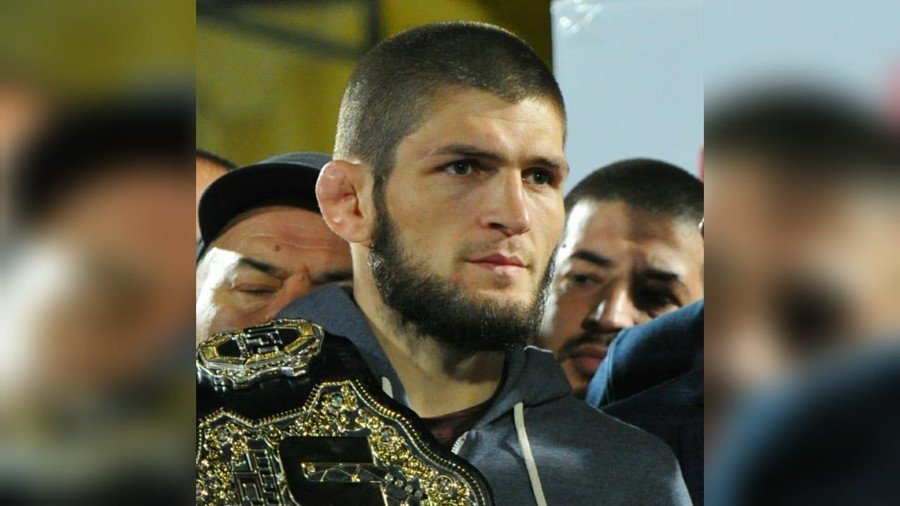 UFC lightweight champion Khabib Nurmagomedov says he has "a lot of questions" about the promotion's role in Conor McGregor's infamous Brooklyn bus attack prior to UFC 223 in April.
Nurmagomedov, 30, made global headlines after his dominant victory over MMA superstar McGregor in Las Vegas on October 6 – although much of the attention has focused on the post-fight brawl, rather than the Russian fighter's performance in the octagon.
READ MORE: Massive post-fight brawl mars Khabib win over McGregor at UFC 229
Immediately after he submitted McGregor, Nurmagomedov walked toward the Irishman's corner, apparently exchanging insults with his team, before leaping out of the cage and launching himself at McGregor's Jiu-Jitsu coach, Dillon Danis.
While the details of the heated verbal exchange still remain the subject of speculation, one of the biggest incidents in the feud between McGregor and Nurmagomedov – the Brooklyn bus attack – has been widely detailed, and was even used by the UFC in the promo videos of the pair's megafight.
At the time of the incident, Nurmagomedov was preparing to fight for the lightweight title at UFC 223, and was staying in the same hotel as McGregor's friend and sparring partner, Artem Lobov, who was also scheduled to take part in the event.
A few days before the fight, Nurmagomedov and his team were filmed confronting Lobov, who had previously called Nurmagomedov a "coward" and a "p***y" in an interview.
READ MORE: Khabib Nurmagomedov & Artem Lobov in explosive confrontation – but what sparked it?
The video showed Nurmagomedov grabbing Lobov by his neck and warning him not to mention his name again.
In an apparent reaction to that episode, McGregor flew over to Brooklyn from Ireland and attacked the bus carrying Nurmagomedov and other UFC fighters, leaving two injured and off the event card as a result. 'The Notorious' was later arrested but avoided jail time, entering a plea deal after negotiations with the office of the Brooklyn District Attorney.
READ MORE: Conor McGregor avoids jail, pleads guilty to disorderly conduct
Talking on Russia's main TV channel, Perviy Kanal (Channel One) on Saturday, Nurmagomedov said that he was angered by the UFC's decision to use footage of the bus attack to promote the fight with McGregor, while raising questions regarding the UFC's involvement in the incident.
"Let me tell you how that all played out," said the Dagestani fighter.
"I had a team of about 20 men. We had a bus just like that, hired (for us) to go to the gym, press conferences all the media activities and so on.
"But you know what's interesting – on that day the UFC told me that on that media day I had to arrive alone. So I was traveling with all the other fighters who would fight from the red corner. I was in the red corner as well as a favorite. With me there was only one person (from my team) and my manager.
"And if you watch the footage, you can see that the bus almost gets to the gate, and then suddenly it stops and pull back. Why? If you see that some people are attacking the bus, then you should keep moving and get outside (from the parking lot). But then you stop and pull back. Why? For me there are a lot of questions. I don't know whether the UFC made it all on purpose or not.
"But they started to attack (the bus), break (windows). It was a crowd of around 20 men. Inside (the bus) we had three security guards. And as you can see (in the video), there were security guards outside as well, trying to stop Conor. In my opinion, I give 70 percent that it was a set-up.
READ MORE: McGregor went to 'dark places' with his trash talk, and paid the price – MMA analyst Robin Black
"I wanted to get outside, and all the fighters who were in the bus, already confirmed it in their interviews, as well as all the managers. It all happened in about one or two minutes. I don't know, but this incident leaves a lot of questions for me," said Nurmagomedov.
The undefeated Russian questioned the fact that Conor had carried out the attack publicly, rather than contacting him and arranging to meet elsewhere.
"One more thing that I want to mention. Back in 2017 we were talking (on Twitter private messages), before he moved to the lightweight division. And (those messages) still exist. We had a good relationship back then. After what had happened (between me) and his team, if he thought that I crossed the line, why couldn't he just message me and say, 'hey, we need to figure things out.' But he flies over (from Ireland) and comes with cameras and his PR team, who were filming the whole thing.
"And one more thing. It was Barclays Center, a big arena for 20,000 spectators. How did they find out where exactly we were? It's for one. For two, when around 20-30 furious men entered the arena, the UFC staff didn't ask any questions? Conor wasn't part of that media day. They should have informed the (arena's) security that 20 to 30 men had just entered the building. They didn't say anything. Instead they led them to our bus. You know some people think that I am just an athlete. But I am an educated man, and during 15 years of my career I have never even been knocked out. So believe me, my brain works well," concluded Nurmagomedov.
You can share this story on social media: