Khabib Nurmagomedov & Artem Lobov in explosive confrontation – but what sparked it?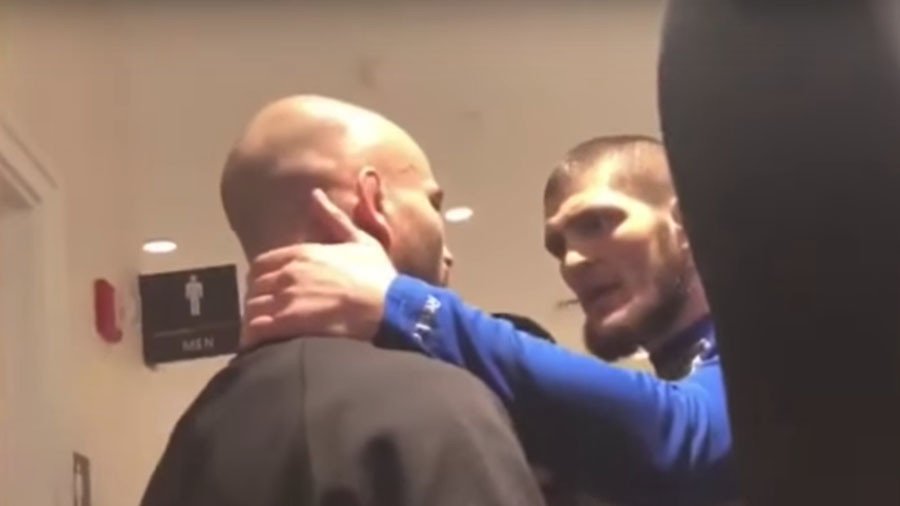 Footage of the explosive confrontation between UFC fighters Khabib Nurmagomedov and Artem Lobov at the fighters' hotel ahead of UFC 233 in Brooklyn emerged last night. RT Sport breaks down what was behind the bust-up.
The altercation at Brooklyn's Marriott Hotel, where fighters from the UFC 223 card are staying, was captured on a Facebook livestream by Rick Little on Tuesday.
The footage later wet viral across the internet, making headlines in the MMA media.
However, the heated row was conducted in Russian, meaning many fans and journalists were left wondering what it was all about.
The seeds of the conflict were sown last summer, when Lobov, who is a friend and sparring partner of Conor McGregor, gave an interview with Russia's Sport 24, where among other things he was asked about Nurmagomedov.
In particular, Lobov was quizzed on whether McGregor had ever reacted to Nurmagomedov's famous octagon interview after his fight at UFC 205, in which he called the Irishman a "chicken who tapped."
Lobov explained that McGregor had faced a number of situations when he could have pulled out from fights due to health issues, but hadn't done so.
He contrasted that with Nurmagomedov, who has previously been forced to cancel fights due to health issues.
"Khabib pulled out like six times already. He gets some minor health issues, in his ass or something, and he pulls out. He can't even make weight. He doesn't even care about his fans," Lobov told the Russian sports outlet.
"So who is the chicken here? Who is afraid?
"One is a champion and will come out no matter what, and the other one is a p****, who would pull out any time."
In the video from the Marriott hotel, Nurmagomedov tells Lobov to stop mentioning his name, and asks if he called him "a p****," while holding his palm on Lobov's head.
"I didn't say that," replies Lobov.
"How come you didn't say that? You've said it on (camera)," says Nurmagomedov, adding: "Don't ever say things like that about me."
Lobov was them led away by one of the people trying to prevent a fist fight from breaking out before Saturday's event, in which Nurmagomedov will face Max Holloway for the lightweight title. Russian-born Irishman Lobov will fight Alex Caceres.
You can share this story on social media: