'I thought, oh my God, what is Khabib doing?' – Nurmagomedov cousin recalls cornering at UFC 223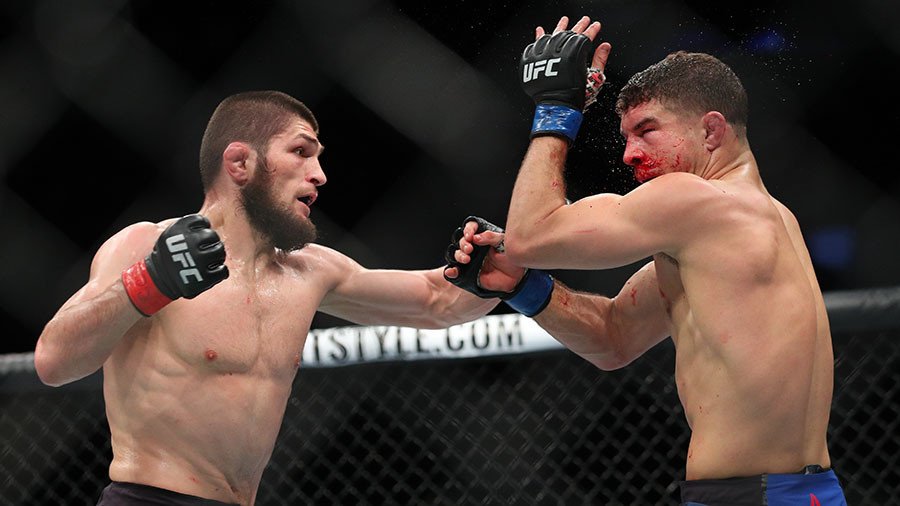 The cousin of UFC champion Khabib 'The Eagle' Nurmagomedov, Abubakar, spoke exclusively to RT Sport about the long road to victory, cornering in the title fight, code words, and growing up in Dagestan.
While champions get most of the attention from the media and fans, teamwork is invariably what lays the foundation for success. Coaches, managers, sparring partners, nutritionists, cornermen, and many others are behind any fighter who is in the limelight.
READ MORE: Khabib Nurmagomedov becomes Russia's first UFC champion
Abubakar Nurmagomedov, Khabib's younger cousin, is one of the men integral to The Eagle's historic victory at UFC 223, which made him the first Russian champion in modern UFC history (in 1995, Oleg Taktarov won the UFC's eight-man tournament, in which all the fights were staged on the same day).
RT Sport met with Abubakar in a cafe in Makhachkala, the capital city of Dagestan, a day after Khabib's team arrived back in the fighter's homeland.
Talking about his cousin, Abubakar follows Russian tradition and constantly refers to the UFC champion as his "brother" – a fact which often causes confusion among international fan unfamiliar with the custom. On top of that, "brother" is even more commonly used in the southern republic of Dagestan, with its predominantly Muslim population.
RT: First of all, congratulations on Khabib's victory. We know that you helped him during the camp, you were in his corner during the fight itself. How do you feel after that tremendous win?
Abubakar Nurmagomedov: It's hard to describe my feelings. But we're really happy that we made it. It did take a lot of work. On February 18 I flew to the US to help my brother and sparring partner to prepare for the fight. We had a nice two-month training camp, after which we claimed the victory.
RT: What was the most difficult part of the intense preparations for the fight?
AN: The most difficult moment is when the fighter needs to cut the remaining 2 or 3kg (4-6lbs), as water still remains in the body and you need to get rid of it. During this weight cut you need to fully control the fighter and take care of him as if he were a child. Because when someone doesn't drink and eat anything to lose weight, his body could react unpredictably. The fighter could become panicky. And in order to avoid that, you need to divert his attention from problems to make him stay calm and positive. Everybody thinks that this is easy, but it's not easy at all. You know quite well what it feels like when you're thirsty and hungry.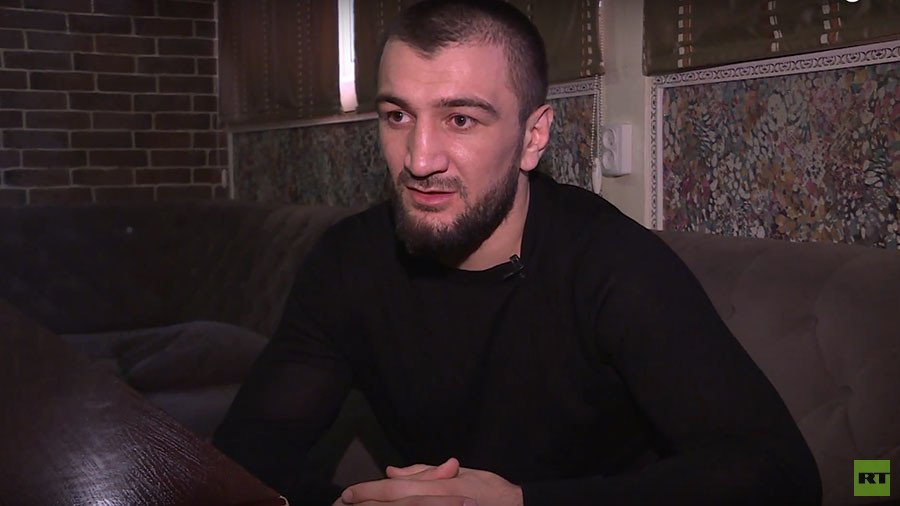 RT: Khabib said in many of his interviews that the weight cutting process for him is the most difficult part of the whole fight game. He recently changed his tactics and started to follow a diet long before the fight. How was it this time around? Was it easier for him to cut weight?
AN: Of course if you stick to certain rules it's always easier [to cut weight], but when the time frame is limited, your body can collapse. Normally, when Khabib starts losing weight we write down everything: when and what he ate, how many kilos he lost. And we try to stick to the plan, otherwise many problems can occur, and could lead to him pulling out from the fight. Thank God there were no injuries and health problems before the fight. We fully controlled Khabib's training, offering him sparring partners according to his current weight at each moment. Khabib worked with Islam Makhachev and Zubaira Tukhugov when he was 80kg, and later fought against Omar Nurmagomedov [Khabib's cousin] when his weight was reduced to 74-75kg. We always try to have sparring partners with suitable weight proportions in order to avoid any injuries. Everything went smoothly this time around, despite the fact that we were forced to change our dietologist after we found out that Khabib would fight Max Holloway, because he also works with Max. He was replaced by Islam Makhachev, who proved to be a really good dietologist himself.
RT: Who made the decision regarding the dietologist?
AN: We made this decision all together. I don't what to say anything bad about the guy, I'm sure he's an excellent specialist and a decent person. But we decided that we shouldn't have a person working with our opponent in our team.
RT: How difficult was it to watch Khabib from the corner during the fight, given that your team had so much on the line that night?
AN: Everything went more or less smoothly. At least in the beginning, I was very calm when Khabib kept Iaquinta on the ground in the first two rounds and worked according to our plan. But when he started throwing those jabs in the further rounds… I guess he watched Muhammad Ali too much before the fight. I realized – this guy wants to fight all five rounds tonight. He has never fought all five rounds before, and he wants to try it now. When we realized that, we started shouting to him to raise his hands to keep the distance. To move to the right, avoiding the opponent's right hand shots. I thought 'Oh my God, what is he doing?' I got really nervous in those rounds. I lost my voice that night. It's probably still somewhere around the cage and the arena [laughs]. So after he won the belt we told him that he owes us a special dinner, for giving us this stress.
RT: What did Javier Mendez tell him after the fight? Did he criticize Khabib for improvising in the cage? Because we know that his father did.
AN: Javier Mendez also said that Khabib made him nervous. We had two code words for this fight: 'Cain Velasquez', which means that Khabib should keep stand-up fighting, and 'DC' [Daniel Cormier], which meant that he should look for a takedown and wrestle with his opponent. But when I realized that he wasn't following the plan, I thought, 'Damn, what should I say to him now?' Then I remembered his fight with Thiago Tavares, when he imitated a takedown attempt and then threw a left uppercut, which eventually knocked down Tavares. So I started to shout, 'Thiago Tavares, Thiago Tavares!' and in fact he managed to repeat that move a couple of times.
RT: We know that sometimes a member of the fighter's team is sent to the opponent's corner to listen to what he's being told during the break. Did you have a person who informed you of what was going on in Al Iaquinta's corner?
AN: No we didn't, because you know the UFC is the number one promotion in the world and everything was staged at a high professional level. Having Bruce Buffer and commentators sitting to the right and guests to the left of the cage, there's no option of leaving your corner during the fight. And security guards will not allow you to go anywhere. Maybe in Russia it's possible to do that, but in the UFC it's impossible.
RT: Talking about Cain Velasquez and Daniel Cormier, we know that you train together at the AKA [American Kickboxing Academy] gym in California. What sort of relationship do you have with those fighters?
AN: American fighters are very positive and have a great sense of humor. When DC is out of the gym the training process is very calm, but once he enters the gym and starts making jokes the entire gym becomes engulfed in laughter. He jokes with everyone, from the freshmen to the champions. Cain Velasquez on the other hand jokes and talks to people he personally knows, he doesn't communicate with people he hardly knows. He's calmer and quieter, sometimes you don't even notice him in the gym. But once Velasquez brought a hot pepper to the gym, telling us we should eat it and take part in the challenge. He showed us the video where he eats it, and said that we were next. But I said, 'No I'm good' [laughing]. In AKA we're like a true family, all the fighters are very close-knit and positive.
RT: Khabib said a year ago that he plans to bring members of the AKA team to the Eagles MMA gym in Moscow. Do you know if this plan is still alive?
AN: We haven't discussed training at our gym in particular, but yes, they do want to come to Russia. They want to visit Dagestan, to see the Caspian Sea, to see where we come from. But now all of them are getting ready for their fights. Cain Velasquez and Daniel Cormier have already been to Russia, but our coach Javier Mendez wants to see Dagestan, wants to see our people, our customs, try our food and so on. He told me, 'Hey, when you win that million dollars, you're going to buy me a round trip ticket.' I said, 'Ok, no problem.'
RT: Speaking of the $1 million price, we know that you'll take part in the Professional Fighting League [PFL] Grand Prix, the winner of which will make $1 million. But before that there was information about your signing with the UFC. Why did you move to the PFL after all?
AN: Yes, everything had already been planned with the UFC, but at the last moment my opponent pulled out from the fight. And I was left without a contract. So we decided to stay in Professional Fight League, which was previously named The World Series of Fighting, and participate in the $1 million Grand Prix. Soon I'll go the States to take a part in a PFL press conference, where I'll meet the fighters taking part in the Grand Prix. My fight is scheduled for July 5 in the States. I don't know the name of my opponent yet, I don't even know where the fight take place. All of it will be announced later.
RT: How do you like the format of Grand Prix fights, where everything depends on your results, and your media activity is less important?
AN: Yes, they have a different system [compared to the UFC], but I wouldn't say that the media part is absolutely excluded in the PFL. It's still there, like in any professional sport today. I haven't talked to PFL management yet, but I know they have big plans for this league. They have a Grand Prix system for each weight category, and this is very good for the popularization of mixed martial arts all over the world.
RT: Do you still want to enter the UFC at some point?
AN: I can't predict the future, anything could happen. I could get an injury for example. But I definitely wouldn't mind testing myself against the best fighters in the world at some point. But now I'm with the PFL, and I want to show my best [in this organization]. I'll train hard and later we'll see where fate leads me.
RT: Now that Khabib has become UFC champion, it's logical that MMA fans and journalists will compare you with your older cousin. Does it bother you at all?
AN: Honestly, I've never even thought about it. Of course I have a similar fighting style to Khabib. We're both wrestlers, and watch each other fighting, point out the mistakes we see, and correct them. But MMA is comprised of different fighting styles – if you're a former Thai boxer, this doesn't mean that you will only show Thai boxing in the cage. MMA is a mixture of styles, where you're doing ground and pound, submissions. If you want to keep stand-up fighting, maybe you should switch to boxing. But once you choose MMA, you need to be a universal fighter. Kicking, striking, wrestling – this is what I think about MMA. And Khabib has the same opinion.
RT: Another fighter from Dagestan who's making the headlines a lot recently is Zabit Magomedsharipov. Do you know each other?
AN: Yes, of course, we know each other. We live in the same city [Makhachkala]. We've known each other for quite a long time. He's our compatriot who represents the Dagestani school of Wushu Sanda. Wushu Sanda is his base, but he also knows wrestling and grappling very well. I'd even say that in his weight category, he's one of the best when it comes to wrestling. Because everyone in Dagestan is born as a wrestler, and makes their first steps on the wrestling mat.
RT: How many fighters from Russia, in your opinion, will follow in Khabib's footsteps and become UFC champions in the near future?
AN: I'd say Zabit Magomedsharipov has the best chance of becoming a champion in the near future. He has no gaps in his fighting, The way he throws his heavy punches, which destroy the plans of his opponents. The way he wrestles. He's a complete fighter. Islam Makhachev has a very good chance. And I really don't see anybody who can challenge him in the 155 division. But that's only after Khabib vacates his belt [laughing]. Alexander Volkov proved that he's a very good heavyweight. I think he'll have a title fight soon. Not right now, as Stipe Miocic will fight Daniel Cormier next. But I believe after one more victory, he'll get a title shot.
RT: There's talk about a possible UFC event in Russia. Have you heard anything about that?
AN: If they have already booked a venue in Moscow, I guess that means something. I've heard that one of the possible options is to have a card of Russian fighters against the rest of the world. But there is no official confirmation so far. Maybe this will happen, maybe not. We don't know what will happen to us tomorrow. But it would be great if they come to Russia and promote this sport in the country. It's better if your young generation participates in sports, rather than some [negative] things.
by Denis Geyko for RT Sport
You can share this story on social media: