'Unacceptable': Aussie footballers' blackface as Williams sisters sparks fresh racism storm (PHOTOS)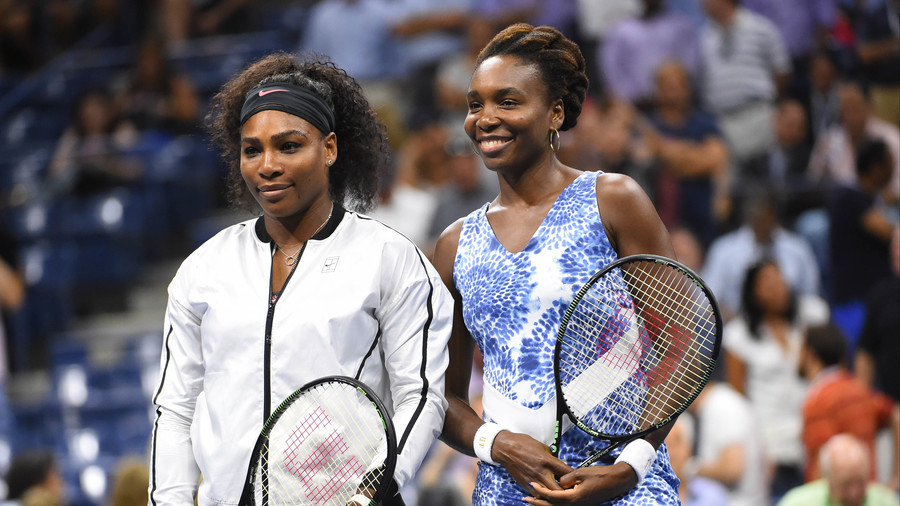 As the racism row over Serena Williams' cartoon depiction in an Australian newspaper rolls on, Aussie footballers have sparked outrage by 'blacking up' as the 23-time Grand Slam winner and her sister Venus in a fancy dress prank.
Tasmanian Penguins Football Club players used blackface to dress as the Williams sisters and Kenyan-born Sydney Swans Australian Rules footballer Aliir Aliir for the traditional 'Mad Monday' fancy dress knees-up. A photo of the trio was posted in the Mad Monday Facebook group, which has over 120,000 followers, but the picture was quickly deleted.
The players dressed as the tennis siblings, identified as Mitch Stanley and Matt Chamberlain, donned pristine white tennis outfits, pink rackets and curly black wigs to complement their blackface efforts and complete their controversial costumes.
Just when you thought we could relax because Australia at least hasn't had a blackface situation for a while.... along comes Tasmania to save the day.

— MGH (@MichelleGHunder) September 19, 2018
A third player, Beau Grundy, stands in the middle dressed as Aliir complete with the player's bright red Swans jersey. Grundy even appeared to use the image as his Facebook profile picture, before the photo was deleted.
The players have since apologized, while their club stated they were not aware the three "intended to dress in this manner" and that their behavior was "unacceptable in this day and age", HuffPost Australia reported.
The Australian Football League (AFL) condemned the players' actions in a statement. "It is not acceptable behaviour and we vehemently disapprove of it," it said, the Sydney Morning Herald reported.
READ MORE: 'They have to do their job' - Federer has say on Serena US Open umpire 'sexism' row
"We will be working with the league and club to get more information and to see how we can assist in providing education for the players."
Australian indigenous feminist and unionist Celeste Liddle tweeted that the players' actions and the consequent media coverage demonstrated the country was "a nation of racist slow learners."
Oh look: a mere week after that racist cartoon of Serena Williams, another blackface scandal hits the Australian press bc white dudes decided to "dress up" like her. Meanwhile, three Aboriginal people died in custody in the same time period. What a nation of racist slow learners.

— Celeste Liddle (@Utopiana) September 19, 2018
Tasmanian Penguin's sponsors, watch out for a boycott of your products

— luciferal (@DrHsantana) September 19, 2018
The image comes little over a week after Herald cartoonist Mark Knight faced a fierce backlash over a caricature of Williams during her US Open match versus Naomi Osaka, in which she unleashed a tirade of abuse against umpire Carlos Ramos.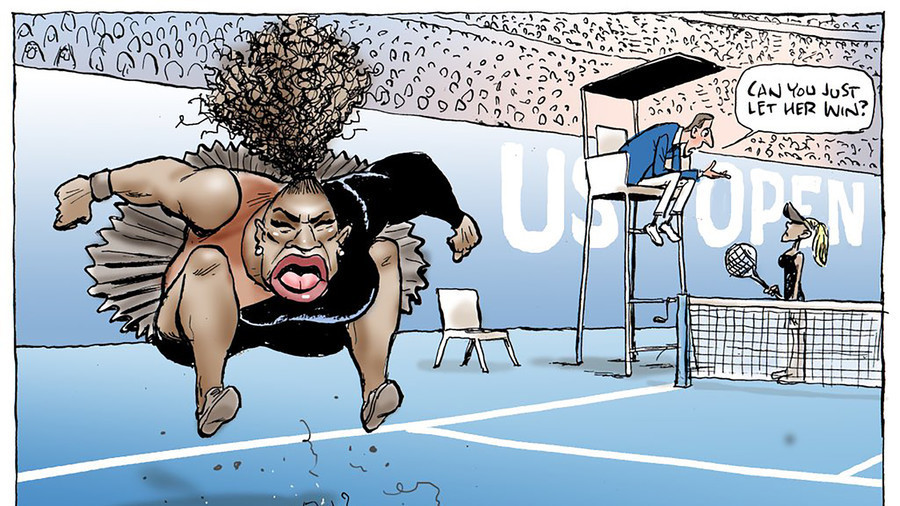 Some dubbed the toon "Jim Crow Memorabilia" and criticized Williams' exaggerated features as well as the apparent lightened skin tone and hair of Osaka, who has Japanese and Haitian heritage.
Knight subsequently suspended his Twitter account, but the paper defended the image, defiantly publishing an ironic front page comprised of other various cartoons lampooning famous figures as a retort to the abuse.
During the US Open final at Arthur Ashe Stadium, Williams hurled abuse at umpire Ramos after he issued a code violation to the American for receiving coaching from the stands. Williams called the official a "liar" and "thief" and was further penalized a point and a game on her way to a straight sets loss, missing the opportunity to break the sports' all-time Grand Slam record.
READ MORE: Where's HER apology? Why scathing Serena Williams should say sorry to Naomi Osaka
In her post-match press conference, Williams accused Ramos of sexism, claiming she was the victim of unfair treatment. She was later fined $17,000 for her on-court misdemeanors and the International Tennis Federation (ITF) spoke out in support of Ramos, whom they called an "experienced and resected" umpire.
You can share this story on social media: