'Jim Crow memorabilia': Australian cartoonist attacked for 'racist' Serena Williams caricature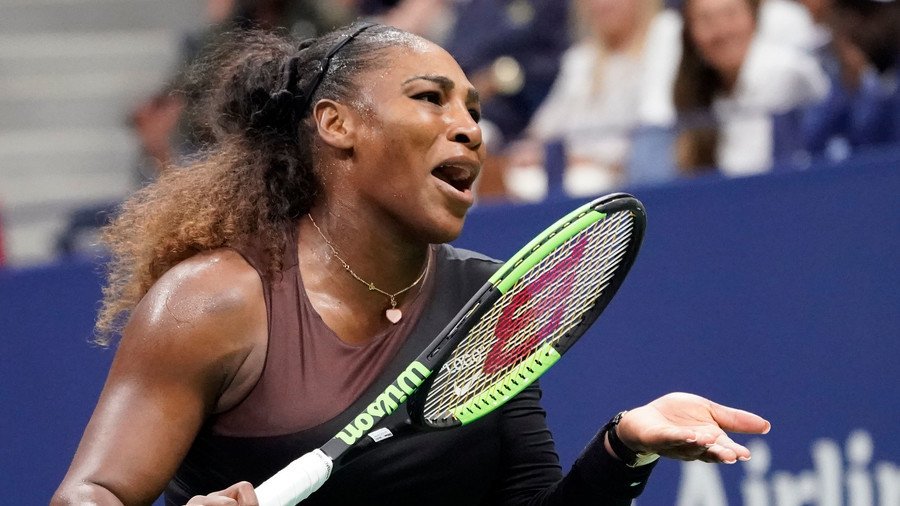 Australian cartoonist Mark Knight has been attacked as being a "racist" for depicting Serena Williams, currently at the center of a storm over her on-court antics at the US Open, as a baby jumping on her racket.
READ MORE: 'Liar & thief': Serena Williams launches shocking tirade at umpire in US Open final defeat
Williams was fined $17,000 for violations that included calling the umpire a "liar" and "thief" during her final loss to Naomi Osaka at Arthur Ashe Stadium on Saturday, for which she was docked a game for verbal abuse and had a point penalty for racket smashing and a code violation for coaching.
Contributing to the Herald Sun, a morning newspaper covering news in Melbourne and Victoria, Knight portrayed Williams as having spat out her dummy and jumping onto her downed racket while umpire Carlos Ramos asks opponent Naomi Osaka "Can you just let her win?" in the background. Knight has been attacked as a "racist" by some Twiter users for his depiction of Williams.
Some went as far as to brand the cartoon suitable for "Jim Crow Museum of Racist Memorabilia", calling for Knight's resignation and even attacking the outlet itself for harboring alleged racist tendencies for allowing the publication of the toon.
Others tried to pick holes in the authenticity of the cartoon, such as Williams never having actually jumped into the air and onto her racket during her tirade. Osaka's decpition as having blonde hair despite her Haitian and Japanese heritage was also called out, although the player does sport blonde highlights in her natural dark curls.
Knight however remained steadfast and defended the drawing by pointing to his recent lampooning of Australian player Nick Kyrgios' on-court US Open tantrum as proof his work touched on all aspects of bad behavior, regardless of gender.
Answering a comment from Julie Di Caro, Knight wrote: "Well Julie here's a cartoon I drew a few days before when Australian male tennis player Kyrgios at the US Open was behaving badly. Don't bring gender into it when it's all about behaviour. I'll accept your apology in writing," signed off with a smiling face emoji. His sentiments were backed by some, who thought the cartoon was nothing to do with gender or race.
Williams was met with a backlash from fans and sections of the media, however her allegations of sexism were supported by the Women's Tennis Association (WTA), who claimed the matter "brought to the forefront the question of whether different standards are applied to men and women in the officiating of matches."
READ MORE: WTA backs Serena Williams' sexism claims amid US Open controversy
You can share this story on social media: