'Liar & thief': Serena Williams launches shocking tirade at umpire in US Open final defeat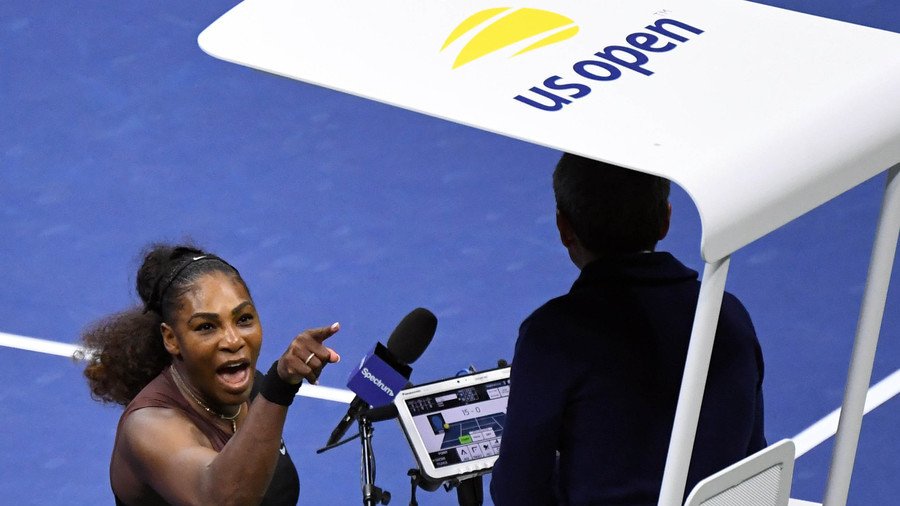 The US Open women's final was marred by shocking scenes as Serena Williams clashed with the match umpire, branding him a "thief" and a "liar" as the American suffered defeat against Japan's Naomi Osaka.
Osaka, 20, became Japan's first-ever Grand Slam singles winner, beating Williams 6-2, 6-4 at Flushing Meadows – although much of the attention was focused on an extraordinary clash between Williams and umpire Carlos Ramos.
The Portuguese official handed Williams code violations for receiving coaching from the stands and smashing her racket, sparking anger from the US star which culminated in a scathing attack on Ramos at the changeover while 4-3 down in the second set.
"You are a liar. You will never be on a court of mine as long as you live. When are you going to give me my apology? Say you are sorry," Williams, 36, shouted at Ramos.
The crowd also vented their fury at the umpire's chair as the scenes at Arthur Ashe Stadium quickly became toxic.
The outburst led Ramos to dock Williams the next game, and Osaka went on to wrap up victory to seal her maiden Grand Slam title.
Although Williams was gracious in defeat during the presentation ceremony, Osaka appeared visibly upset over the incident, pulling her visor over her face to cover her tears.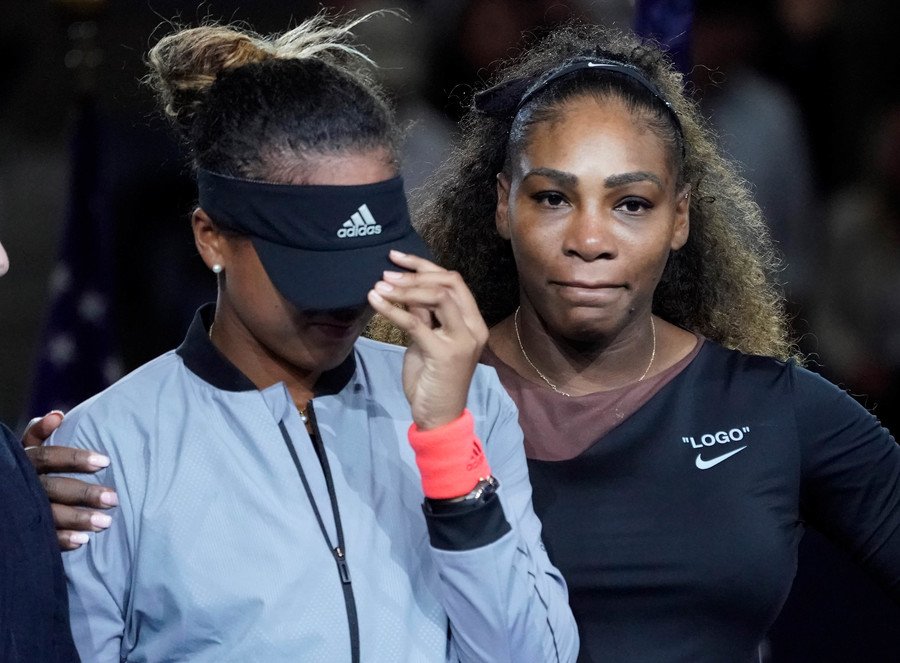 After the match, Williams continued her extraordinary attack on Ramos, branding him "sexist."
"I've seen other men call other umpires several things… I'm here fighting for women's rights and for women's equality and for all kinds of stuff," Williams said at the post-match press conference.
"For me to say 'thief,' and for him to take a game, it made me feel like it was a sexist remark. He's never taken a game from a man because they said 'thief'.
"For me, it blows my mind, but I'm going to continue to fight for women."
READ MORE: Ex-Iran president tweets support for Serena Williams over French Open 'catsuit' ban
The 23-time Grand Slam champions' ire was initially sparked when Ramos issued her a code violation for receiving coaching from Patrick Mouratoglou in the stands.
Williams lashed out, saying: "You owe me an apology. I have never cheated in my life! I have a daughter and I stand for what's right for her.
"I don't cheat to win. I'd rather lose," Williams added.
Her coach, Frenchman Mouratoglou, later told ESPN that "I was coaching but I don't think she looked at me," adding: "Sash [Osaka's coach Sascha Bajin] was coaching as well. Everybody does it."
Williams was docked a point for smashing her racket at 3-2 down in the second set as she continued to unravel, prompting her to exclaim "this has happened to me before" – in reference to previous incidents at the US Open, including her 2009 semi-final defeat to Kim Clijsters.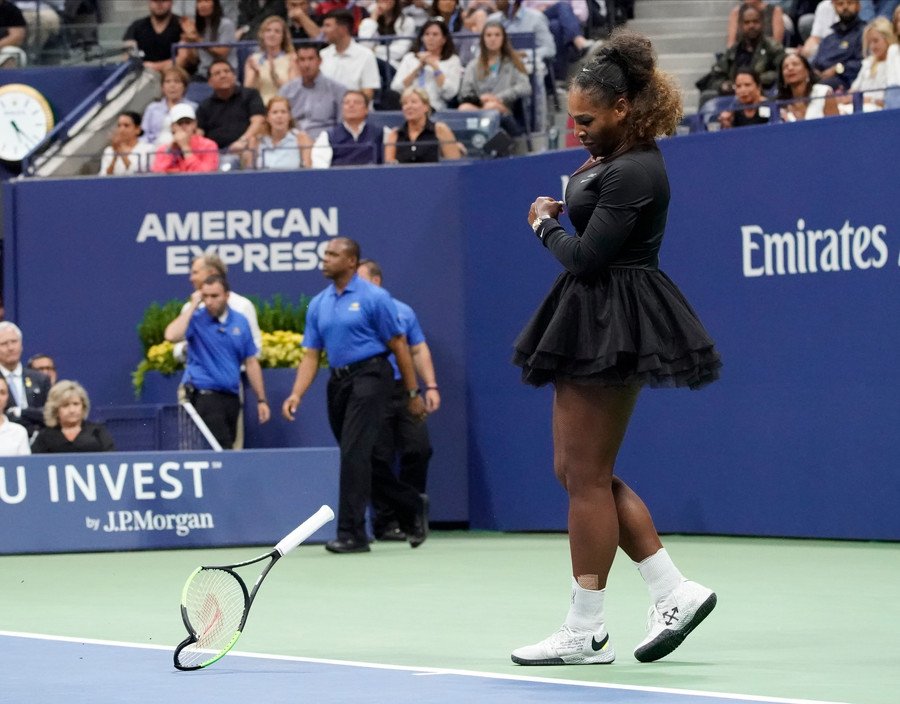 She refused to shake hands with Ramos after the game, and the umpire was absent from the presentation ceremony in an apparent bid to quell the angry crowd.
Following the outburst, Williams was fined $17,000 by the tournament referee's office for "verbal abuse" of Ramos, getting coaching and smashing her racket. The fine is deducted from the $1.85 million which Williams receives as the runner-up of the US Open.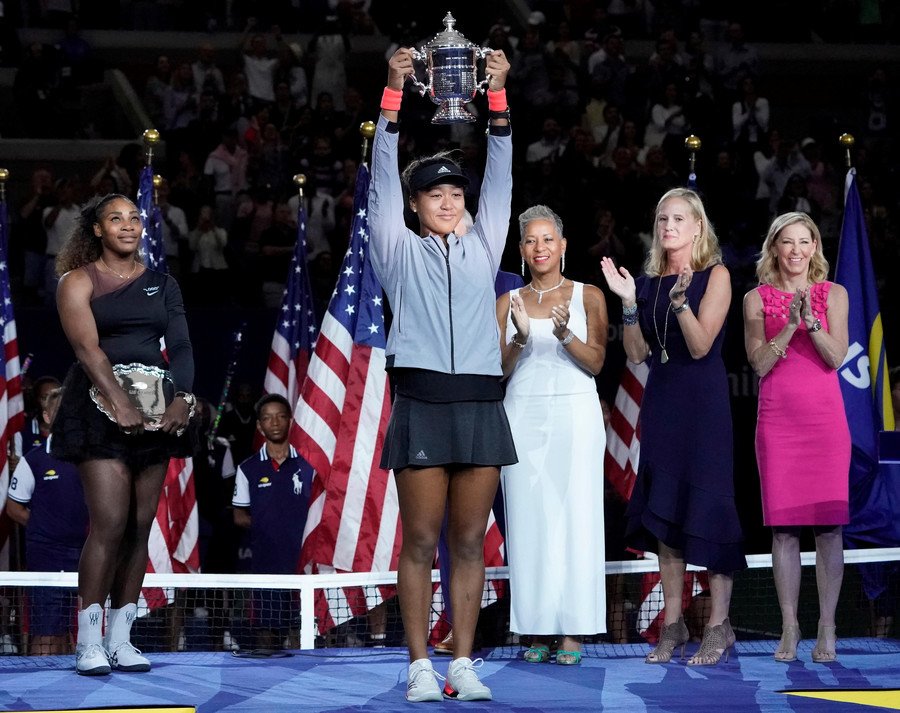 After the match, Williams won support online from prominent figures in the sport, with many feeling that there are inconsistencies between how umpires approach coaching from the stands, in particular when issuing violations to male and female players.
Two-time Grand Slam champion Victoria Azarenka tweeted her support, while tennis legend Billie Jean King also weighed in.
If it was men's match, this wouldn't happen like this. It just wouldn't

— victoria azarenka (@vika7) September 8, 2018
(1/2) Several things went very wrong during the @usopen Women's Finals today. Coaching on every point should be allowed in tennis. It isn't, and as a result, a player was penalized for the actions of her coach. This should not happen.

— Billie Jean King (@BillieJeanKing) September 9, 2018
(2/2) When a woman is emotional, she's "hysterical" and she's penalized for it. When a man does the same, he's "outspoken" & and there are no repercussions. Thank you, @serenawilliams, for calling out this double standard. More voices are needed to do the same.

— Billie Jean King (@BillieJeanKing) September 9, 2018
Others showed disappointment that Osaka's achievement had been overshadowed by the row.
A New Star is born in the Women's game! What a performance from @Naomi_Osaka_ . She stood toe to toe with @serenawilliams. All the headlines unfortunately will be about the point,game penalty & chair umpire, but we should remember the extraordinary performance from Naomi Osaka

— Greg Rusedski (@GregRusedski1) September 8, 2018
Others, however, felt that the umpire had been right to issue the violations and questioned Williams' outburst.
Serena Williams smashes her racquet; points aggressively & calls the umpire a liar and thief & that he's sexist. She gets the crowd behind her & they start booing. Her coach later admits on ESPN he was coaching from the side. Naomi Osaka on the other hand was all class. #usopen

— Lance Alexander (@LanceCNA) September 9, 2018
Serena Williams was fined $175,000 after the 2009 #USOpen s/f meltdown v Clijsters. This will be hefty too. Not sure how any unbiased observer who knows the rules and history of tennis can look at what happened and defend Serena.

— Andrew Castle (@AndrewCastle63) September 8, 2018
Ok, so let's say the umpire decides to rescind his coaching coach violation against Serena Williams. Serena never goes on her tirade, stays composed and wins the match in three sets. Osaka would be filthy at the special treatment Williams received. Right? #USOpen

— Mark Gottlieb (@MarkGottliebFOX) September 9, 2018
US Open bosses were criticized at this year's tournament when female French player Alize Cornet was issued a code violation for adjusting her shirt on-court during a game, although men can change clothing freely. That prompted an apology from organizers and a clarification over the rules.
READ MORE: Players were talking about making a revolution if I got fined – Cornet on US Open sexism row
Williams was also caught up in another sexism row just before the tournament, when French Open bosses announced they would ban the 'catsuit' she wore at Roland Garros earlier this year.
READ MORE: 'You have to respect the game': French Open bosses ban Serena Williams' skin-tight catsuit
On that occasion, Williams had dismissed the decision as "no big deal."
You can share this story on social media: