Nike shares take a knee, boycott mooted as Kaepernick protesters prove idiocy knows no bounds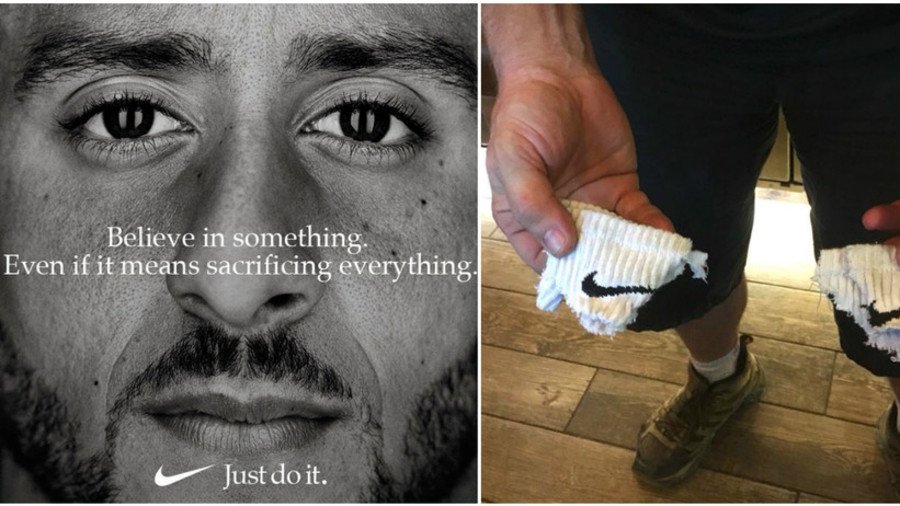 Nike's shares have dropped 2 percent after the company's decision to use Colin Kaepernick as the face of a new ad campaign, though the step has proved idiocy still knows no bounds as protesters 'boycott' and sabotage merchandise.
READ MORE: #JustBurnIt: Furious Nike customers destroy sports gear over Kaepernick ad (VIDEOS)
Kaepernick was recently announced as one of the faces of Nike's 30th anniversary "Just Do It" campaign, posting a black-and-white close-up of himself on Instagram on Monday featuring the Nike logo and "Just do it" slogan, along with the quote: "Believe in something. Even if it means sacrificing everything."
As a direct result, it has been reported that shares in the Oregon-based Nike Inc. fell more than 2 percent, reportedly as much as around 2.85 percent. That is as a boycott has been strongly mooted online.
On Tuesday, the hashtag 'NikeBoycott' was one of the most trending topics on Twitter, being tweeted by over 30,000 people.
I just unfollowed someone for saying they were going to buy Nike now.I don't need that level of ignorance on my timeline. #NikeBoycott

— Hotep Jesus 🧠 RIP POPSON (@VibeHi) September 4, 2018
Kaepernick has been sponsored by the sportswear manufacturing giant since 2011 but has penned a new deal that will see him bag a signature shoe and apparel deal.
READ MORE: 'What sacrifice exactly?' Nike's choice of Kaepernick for 'Just Do It' campaign backfires
The former San Francisco 49ers quarterback has become one of the most talked-about figures in sport in the US, since he became the first NFL player to kneel during the national anthem as a protest against injustice in the country.
However, many interpret his actions, which have subsequently been copied by dozens of other NFL players and sports stars in different disciplines, as a lack of respect to the country's flag as well as servicemen and women. Soon Twitter was inundated by reports of former customers who refused to further do business with Nike.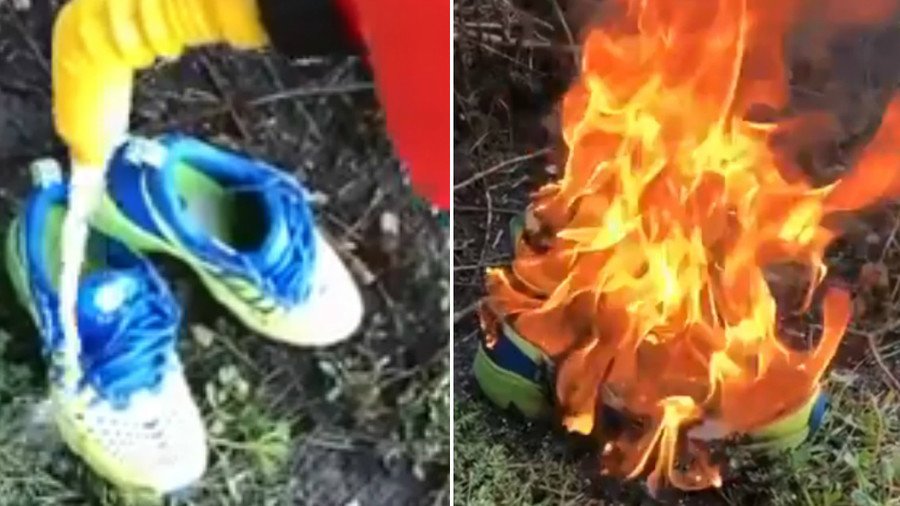 Those who have been offended by Kaepernick being signed to the ad deal have expressed their displeasure, although some have been met with hilarious consequences - with many pointing out that previous customers of Nike were simply destroying their own sneakers, cleats and socks.
I will take a guess here that @nike considered this and still decided to do this because you are just NOT that significant in the larger picture, I don't usually buy Nike because they are expensive but I will buy 5 pairs now to offset your soundman, awww boohoo..

— Rob (@Unpersuaded112) September 4, 2018
Destroying things you already own is neither boycott nor meaningful protestIt might feel symbolic, but mostly it looks like you think burning shoes takes money out of the shoemaker's pocket(It doesn't)In fact, you're likely helping their profits with free advertising. #Nike

— Offbeat Bloom (@OffbeatBloom) September 4, 2018
Instead of burning your Nike gear, give it to the people who need clothing/shoes etc. 🤷🏾‍♂️

— Tony Jefferson (@_tonyjefferson) September 4, 2018
Some saw the whole situation as an opportunity to simply poke fun.
However, some were more sombre in their protests against Kaepernick's image being used, expressing their belief that other sports stars should receive attention, notably ex-Arizona Cardinals safety Pat Tillman, who lost his life in 2004 serving in Afghanistan after turning his back on his football career to join the US Army.
I normally keep politics off Twitter, but as a Marine, I felt I had to share this. @Nike , some punk kneeling for a false cause isn't sacrificing anything. It isn't heroic. It isn't anything. Pat Tillman however, is someone your company should look more into. pic.twitter.com/N3umvuq6Xg

— Justin King (@kingjustin1996) September 4, 2018
However, that avenue of the debate was closed when Tillman's widow respectfully asked for his image not to be used in arguments against Kaepernick's advertisement. Nike has not yet released any statement on reports of some consumers burning their merchandise, or the news of its share price nosedive.
You can share this story on social media: