Getting shirty: Adidas pull plug on Iran football team jersey deal, follow in Nike's footsteps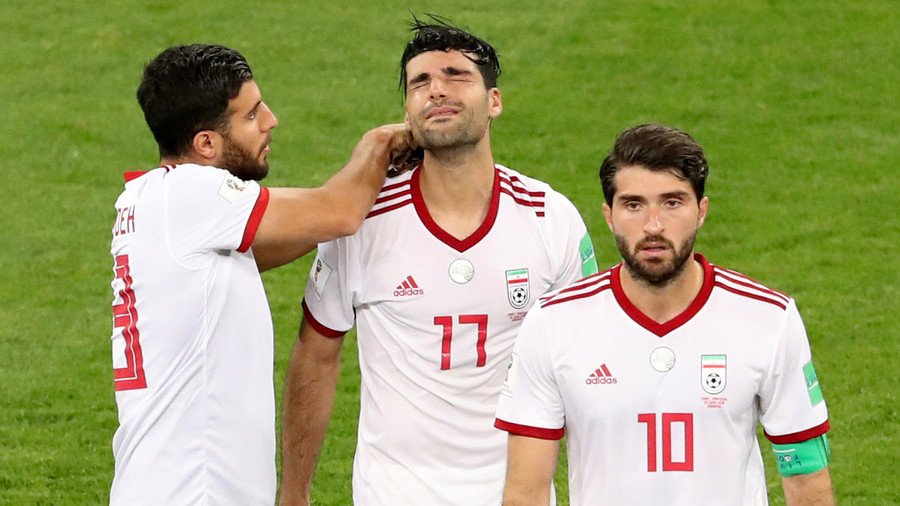 They are two sportswear giants usually considered main rivals but Adidas has decided to follow in Nike's footsteps and refuse to supply sporting gear to the Iranian national football team.
READ MORE: Iran hits back after Nike refuses to supply players with boots due to US sanctions
The German sports powerhouse provided jerseys to the Iran team at the 2018 World Cup, where they exited at the group stage, but have recently announced they are severing ties with 'Team Melli' ahead of the AFC Asian Cup next year. Some reports suggest that a deal between the two had been made impossible amid US sanctions against Tehran.
"Adidas has notified the Football federation of the Islamic Republic of Iran that we will not extend the existing commercial agreement beyond the agreed term," Adidas said in a statement.
According to state-run daily Tehran Times, the Football Federation of the Islamic Republic of Iran (FFIRI) president Mehdi Taj accused Adidas of disrespecting the Iranian people and demanded a formal apology from the manufacturer.
He said: "Given the improper and indecorous step taken by Adidas AG with regards to the sacred name of dear Iran on its website, it is necessary to take prompt and punitive measures against such conduct that violates human rights and sign a contract with an alternative prior to the Asian Cup."
Shortly before the World Cup began in Russia, Nike announced that it would not provide cleats to players amid the Trump administration's move to withdraw from the Iran nuclear deal. However, the Portland, Oregon-based brand later said the decision was down to pre-existing laws.
READ MORE: Iranian women watch World Cup match in stadium for 1st time in 40 years (VIDEO)
"US sanctions mean that, as a US company, NIKE cannot supply shoes to players in the Iranian National team at this time. Sanctions applicable to NIKE have been in place for many years and are enforceable by law," the company's spokesperson told RT.
Iran will now be forced to find a replacement jersey provider before the tournament in UAE, where they have been drawn in Group D alongside Iraq, Yemen and Vietnam.
Despite exiting at the first phase of the tournament in Russia, Iran recorded a win, a draw and a loss in their three games, including a 1-1 draw against Portugal. Iranian fans subsequently belittled Nike's decision to cut ties, with "we just did it without you", a play on Nike's slogan 'Just Do It', becoming popular on social media. Nike also sponsor the French national football team, the eventual winners of the tournament.
READ MORE: 'Iranian Messi' Azmoun retires from international football at age 23, says insults made mother ill
Following Nike's decision, Iran manager Carlos Queiroz commented, "it's not right to change [the cleats] a week before such important matches," and added that the team would "call on FIFA" to aid them as regards the issue.
You can share this story on social media: