'So much love': Mesut Ozil thanks Arsenal fans for support in wake of racism row
Published time: 27 Jul, 2018 13:47
Edited time: 27 Aug, 2018 14:49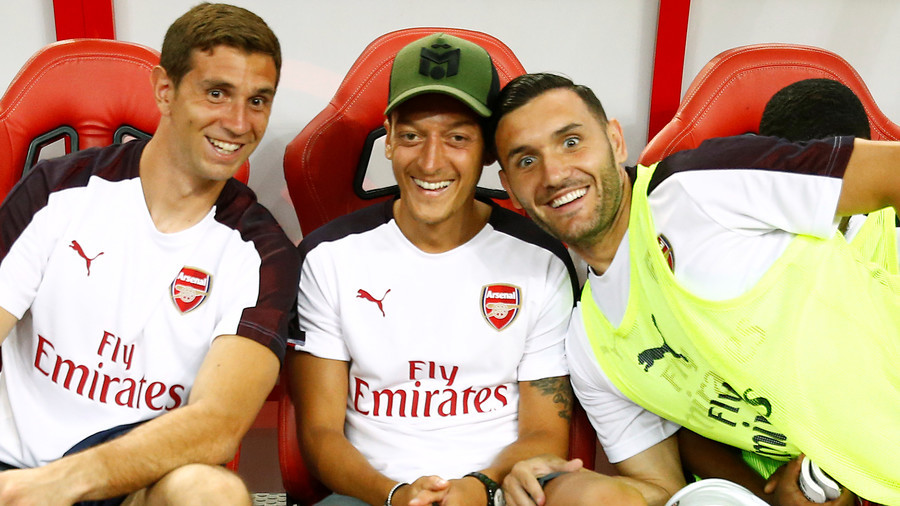 After a tumultuous few days in which he retired from international football after receiving 'racist' abuse online, Ozil has thanked Arsenal fans for their "love" at a pre-season friendly in Singapore.
READ MORE: Some in German media are using my Turkish background as right-wing propaganda – Ozil
While he didn't play during Arsenal's 3-1 defeat on penalties to Atletico Madrid at Singapore National Stadium, Ozil received an ovation from the crowd when he was featured on the stadium screen. "Thanks to the Gunners in Singapore for showing so much love tonight," Ozil tweeted following the match.
The 2014 World Cup winner revealed that he was prematurely ending his international career with Germany on July 22, tweeting that he "no longer wanted to wear the German national team shirt" after he became the target of online abuse for posing for a photograph with Turkish President Recep Tayyip Erdogan in May, after which he claims he received a torrent of "racism and disrespect".
READ MORE: 'Racism & disrespect': Germany's Mesut Ozil announces shock international retirement
Ozil, who is of Turkish ancestry, also stated that he believed he was being unfairly singled out for Germany's poor showing at the World Cup in Russia, in which they were eliminated at the group stages.
Unai Emery, the new Arsenal coach, and members of his squad have been vocal in their support for the creative midfielder. Henrikh Mkhitaryan, Ozil's teammate at the Emirates Stadium said to AFP: "Of course everybody supports Mesut. We're with him, we're trying to help him."
"Everyone knows that Arsenal is a team with a lot of foreign players and foreign employees. It doesn't matter which country you represent, it's like family and we support each other."