Leading US sports clubs cut ties with Papa John's in wake of n-word scandal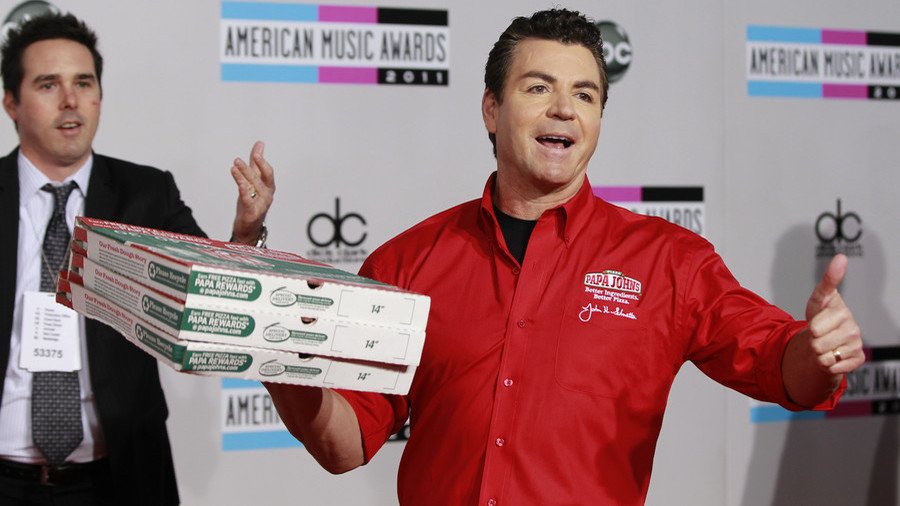 Major franchises from professional US sports leagues have terminated their cooperation with pizza maker Papa John's after the company's CEO was embroiled in a racial slur scandal.
Clubs from Major League Baseball (MLB), the National Football League (NFL), and the National Basketball Association (NBA) have severed ties with the pizza giant in the wake of the n-word controversy.
Last week, Forbes magazine published an article citing comments made by Papa John's founder, John Schnatter, during a May conference call dedicated to the prevention of future public relations scandals.
When asked how he would dissociate himself from racist groups online, Schnatter said that KFC founder Colonel Sanders had "called blacks n****s" and had never faced public backlash.
Schnatter admitted using the offensive racial slur and resigned as chairman of Papa John's company soon after the report was published.
"News reports attributing the use of inappropriate and hurtful language to me during a media training session regarding race are true," Schnatter said. "Regardless of the context, I apologize. Simply stated, racism has no place in our society."
Schnatter was under fire last autumn after he criticized NFL players for their anthem protests, linking the company's declining sales to the pre-game demonstrations that had swept the league. Schnatter's criticism of the anthem protests inspired American neo-Nazi website the Daily Stormer to proclaim Papa John's the official pizza of the so-called 'alt-right' – a political movement which has been accused of racism and anti-Semitism.
Since the controversy flared up on social media multiple professional sports clubs have suspended their partnership with the pizza franchise, describing Schnatter's comments as hurtful and unacceptable.
READ MORE: Papa John's apologizes for blaming declining sales on NFL protests
MLB suspended its "Papa Slam" promotion which granted discounts on pizza when players hit grand slams. MLB teams the New York Yankees, Baltimore Orioles, Miami Marlins, Washington Nationals, Minnesota Twins, Seattle Mariners, Atlanta Braves and Tampa Bay Rays are among the clubs to have ended their partnership with the company after the scandal erupted.
The NFL's Seattle Seahawks and NBA's Orlando Magic also suspended their relationship with the pizza sponsor.
US college sports also reacted to the report, with Oregon State, Louisville, and the University of Kentucky discontinuing their financial relationship with Papa John's.
READ MORE: Pizza companies reject Papa John's criticism of NFL over sales downturn
The University of Louisville announced Friday it would remove the name of the pizza company from its stadium, which now will be called Cardinal Stadium.
You can share this story on social media: