NFL pizza sponsor Papa John's blames $70mn loss on anthem protests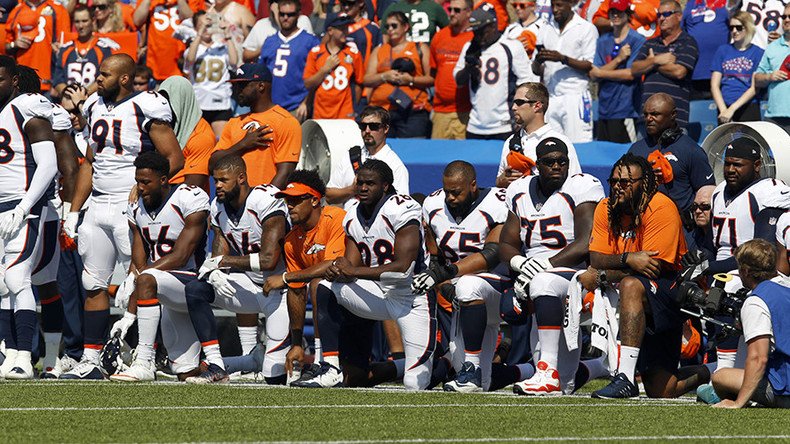 Official National Football League (NFL) sponsor Papa John's Pizza has blamed its $70mn loss on the widespread national anthem protests in the league.
The company's third-quarter financial report released on Tuesday indicated a $70 million downturn in less than 24 hours, leading to an 8.5 percent stock value decline on Wednesday.
"The NFL has hurt us by not resolving the current debacle. We are disappointed the NFL and its leadership did not resolve this," Papa John's founder and CEO John Schnatter said on a conference call on Wednesday.
READ MORE: Almost entire NFL team 'takes a knee' in protest at owner's 'inmates' remark
"Leadership starts at the top, and this is an example of poor leadership," Schnatter added.
Papa John's has pulled much of its NFL TV advertising since television audiences decreased by almost five percent compared with figures from last year, and by almost 18 percent compared with the 2015 season.
Company executives refused to specify how much money the company lost. The NFL's plummeting ratings means consumers are not ordering Papa John's for NFL game days.
Sports rating figures are down across America this year. However, it's not clear whether it's directly connected with the 'take a knee' demonstrations, as ratings have fallen in practically all sports, including NASCAR racing.
Last week, Dallas Cowboys owner Jerry Jones, who threatened to bench any player of his team who would not stand for the national anthem in October, commented that the league is "suffering negative effects from these protests."
"I have a great responsibility to the people who support us.We all get great benefits from having a lot of people watch our games. All of us do," he added.
Last Friday, almost the entire Houston Texans team kneeled before Sunday's game against the Seattle Seahawks, responding to owner Bob McNair's quote, "we can't have the inmates running the prison" at an NFL owners meeting two weeks ago.
You can share this story on social media: